Along with social justice issues and arts titles embracing Bob Dylan and Salman Rushdie, May brings a history and future of quarantine to give us context.
Heylin, Clinton. The Double Life of Bob Dylan: A Restless, Hungry Feeling, 1941–1966. Little, Brown. May 2021. 704p. ISBN 9780316535212. $35. MUSIC
A leading authority on Bob Dylan—his Dylan Behind the Shades has remained in print for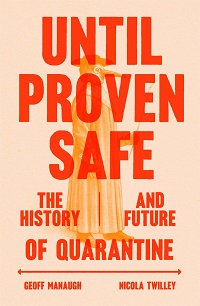 two decades and has been revised twice—Heylin plumbed the depths of the personal archive Dylan recently sold to the George Kaiser Foundation to offer this new look at the Nobel Prize laureate. Note that here Heylin takes us only through 1966.
Jones, Kimberly. How We Can Win: Race, History and Changing the Money Game That's Rigged. Holt. May 2021. 128p. ISBN 9781250805126. $22.99. AFRICAN AMERICAN STUDIES
After George Floyd's murder, Jones, who hosts the Atlanta chapter of the Well-Read Black Girl book club, explained the social and economic injustices faced by Black people thus: "So if I played 400 rounds of monopoly with you and I had to play and give you every dime that I made, and then for 50 years, every time that I played, if you didn't like what I did, you got to burn it like they did in Tulsa and like they did in Rosewood, how can you win? How can you win?" And she's got answers. With a 150,000-copy first printing.
Nordell, Jessica. The End of Bias: A Beginning: The New Science of Overcoming Unconscious Bias. Metropolitan: Holt. May 2021. 320p. ISBN 9781250186188. $27.99. RACE & DISCRIMINATION
Science and culture journalist Nordell delves into cognitive science, social psychology, and developmental research to explain how we can change implicit bias, that is, unintentional prejudiced behavior that contradicts our consciously held beliefs. With a 100,000-copy first printing.
Rushdie, Salman. Languages of Truth: Essays 2003–2020. Random. May 2021. 368p. ISBN 9780593133170. $28. Downloadable. LITERARY/ESSAYS
Collecting pieces he wrote in the first two decades of the 21st century, some never before published, Booker Prize winner Rushdie surveys issues of migration, multiculturalism, and censorship in a tumultuous time. He also peers at favorite writers, from Shakespeare to Toni Morrison, and considers the very nature of truth.
Thorp, Jer. Living in Data: A Citizen's Guide to a Better Information Future. MCD: Farrar. May 2021. 320p. ISBN 9780374189907. $28. TECHNOLOGY STUDIES
By creating a pair of algorithms that would allow the names inscribed on Manhattan's 9/11 Memorial in Manhattan to have meaningful adjacencies among family members, business partners, and coworkers, data artist Thorp beat out a bunch of high-flying financial analysts whose plan satisfied only 93 percent of adjacencies vs. his 99.99 percent. Here, he shows that putting data in a human context doesn't just solve more problems but creates a healthier relationship between humans and our data. With a 25,000-copy first printing.
Twilley, Nicola & Geoff Manaugh. Until Proven Safe: The History and Future of Quarantine. MCD: Farrar. May 2021. 320p. ISBN 9780374126582. $28.
Quarantine: it's come to stay, but where did it come from as an idea? BLDGBLOG founder Manaugh and Twilley, cohost of the award-winning podcast Gastropod, track its history from the lazarettos and quarantine islands of Venice—built before anyone knew what a communicable disease really was—to NASA, the CDC, and the scientists now envisioning ways to make future quarantines more effective. With a 50,000-copy first printing.