Bullock-Prado is a thoroughly knowledgeable and extremely fun teacher; fans of Chung's cooking and Chinese food in general will find much to enjoy; recommended for medium and large collections where farm-to-table cookbooks are in demand; a delicious introduction to Iranian life and food; Hood's warm, humorous, touching, and wonderfully readable book will appeal to fans of ­culinary biographies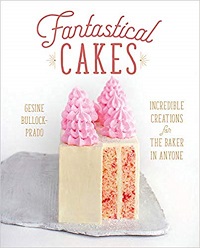 Bullock-Prado, Gesine. Fantastical Cakes. Running Pr. Nov. 2018. 256p. photos. index. ISBN 9780762463435. $30; ebk. ISBN 9780762463428. COOKING
In this accessible, fun-to-read resource, accomplished pastry chef Bullock-Prado (Bake It Like You Mean It), owner of the Vermont-based baking school Sugar Glider Kitchen, methodically and clearly outlines the tools, ingredients, and techniques necessary for consistent success in baking cakes. Beginning with pans and other equipment, followed by make-ahead recipes, the author presents different methods of mixing and matching batter before addressing fillings and icings. Gorgeous illustrations of breathtaking cakes, such as royal purple velvet mirror glaze cake, double-barreled wedding cake, and a whimsical take on a Swiss roll are a bonus.
VERDICT Bullock-Prado is a thoroughly knowledgeable and extremely fun teacher for readers dreaming of taking their baking to the next level, and who are prepared to apply the time and effort required to do so. Those simply preferring to eat cake will also enjoy flipping through these beautifully illustrated pages.—­Courtney McDonald, Univ. of Colorado Boulder Lib.
Chung, Shirley. Chinese Heritage Cooking from My American Kitchen: Discover Authentic Flavors with Vibrant, Modern Recipes. Page Street. Oct. 2018. 192p. photos. index. ISBN 9781624146770. pap. $21.99; ebk. ISBN 9781624146800. COOKING
Chung is the owner of Ms. Chi Café, Culver City, CA, and was a finalist on the popular television show Top Chef. This delightfully visual cookbook provides at-home opportunities to try the Beijing-born author's recipes. Most notable is Chung's personal and humorous writing style, as she introduces the work with a brief biography about her beginnings as a chef and her path to success, including a section on Chinese ingredients and an illuminating "To Wok or Not To Wok" article. The work is organized nicely into categories such as "Meat Dishes from My Chinese American Kitchen" and "Everyone Can Cook Fish and Shellfish" and concludes with a useful index. Each recipe shows the completed dish in an exquisite full-color photograph on the facing page. Chung's instructions adhere to a similar template as her recipes: the name of the dish, followed by a paragraph describing the meal, most often with a personal anecdote. A column of required ingredients and serving sizes accompanies a highly detailed set of written steps.
VERDICT Fans of Chung's cooking and Chinese food in general will find much to enjoy and attempt with these clever recipes.—Jason L. Steagall, formerly with Gateway Technical Coll. Lib., Elkhorn, WI
Crump, Jeff & Bettina Schormann. Earth to Table Every Day: Cooking with Good Ingredients Through the Seasons. Penguin Canada. Oct. 2018. 288p. photos. index. ISBN 9780735233485. $26.99; ebk. ISBN 9780735233492. COOKING
In this solid follow-up to 2009's well-received Earth to Table: Seasonal Recipes from an Organic Farm, chefs Crump and Schormann, founders of Earth to Table: Bread Bar, a champion of good food and local ingredients with locations in Ontario, Canada, continue their quest to help readers create the best food possible with the best ingredients available, sharing 140 of their most popular recipes. Intermediate chefs should be right at home with recipes for relatively simple breads, baked goods, robust salads, filling soups, easy sandwiches, and shared appetizers. For the most part, the main dishes, which include braised chicken thighs with green olives and pappardelle and roasted lamb shoulder with polenta, are great for gatherings and can be served family style. Crump and Schormann also highlight a versatile selection of staples, such as salad dressings, mayonnaise variations, spice blends, sauces, brines, and garnishes that can be used to improve favorite recipes.
VERDICT An attractive and well-executed work. Recommended for medium and large collections where farm-to-table cookbooks are in demand.—Emily Patti, Fox Lake Dist. Lib., IL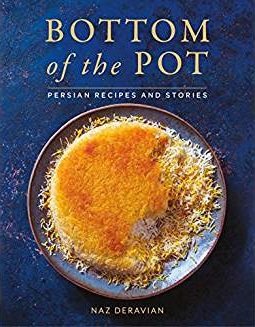 Deravian, Naz. Bottom of the Pot: Persian Recipes and Stories. Flatiron: Macmillan. Sept. 2018. 384p. photos. index. ISBN 9781250134417. $37.50; ebk. ISBN 9781250190765. COOKING
Deravian relates her personal journey from Iran to Los Angeles via Italy and Canada in a work that is primarily a cookbook, with chapters outlining pivotal segments of her life tied in with descriptions of her family's deep relationship with food and cooking. This personal background as well as brief descriptions preceding each recipe provides context and makes for a much more engaging read. The dishes themselves cover a broad range, literally from soup to nuts. This is not fusion cooking; it's the real deal. While most ingredients are readily available, some recipes call for harder-to-find items such as dried rose petals and dried limes. Instructions for dishes such as fresh herb stew and saffron chicken are presented in a conversational tone, with tips on substitutions and cooking techniques scattered throughout. Well organized with a solid index, the book is also nicely illustrated with gorgeous close-up photography of the recipes.
VERDICT A delicious introduction to Iranian life and food. Recommended for all cookbook collections.—Susan Hurst, Miami Univ. Libs., Oxford, OH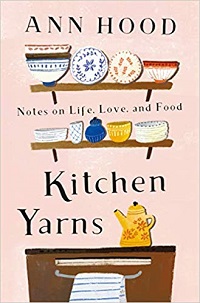 Hood, Ann. Kitchen Yarns: Notes on Life, Love, and Food. Norton. Dec. 2018. 256p. ISBN 9780393249507. $24.95; ebk. ISBN 9780393249514. COOKING/memoir
Novelist Hood (The Book That Matters Most) recounts the events of her life in a series of autobiographical essays that center on the foods she loves and craves and the dishes that have helped her through hardship. The author grew up in Providence, RI, in an Italian American family, where her grandmother cooked gallons of red sauce every week, and her mother crafted delicious meatballs and "fancy lady sandwiches" that Hood took to school functions. Hood details her teenage years working for the department store Jordan Marsh and subsequent 15 years as a TWA flight attendant. As her travels allowed her to explore more sophisticated foods around the world, it was the simple dishes from her childhood (e.g., her father's Indiana fried chicken made from three simple ingredients: flour, salt, and pepper) to which she always returned. Hood writes movingly about her failed marriage, the tragic deaths of her father, brother, and five-year-old daughter, and the recipes that kept her going through these difficult periods.
VERDICT This warm, humorous, touching, and wonderfully readable book will appeal to food lovers and fans of ­culinary biographies.—­Phillip Oliver, formerly with Univ. of North Alabama, Florence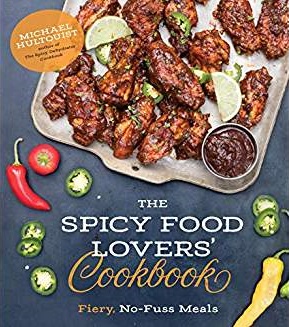 Hultquist, Michael. The Spicy Food Lovers' Cookbook: 75 Fiery, No-Fuss Meals. Page Street. Oct. 2018. 192p. photos. index. ISBN 9781624146398. pap. $21.99; ebk. ISBN 9781624146404. COOKING
Hultquist (The Spicy Dehydrator Cookbook) presents a variety of fiery meal ideas with a focus on "flavor first, heat second." Tantalizing color photos accompany each recipe along with a sidebar showing prep time, cook time, and heat level (mild, medium, hot). "Tweak the heat" notes help home cooks manage the flavor for each dish depending on one's taste. Highlighted entries include Chicago-style meatball subs with spicy giardiniera, easy crab cakes with spicy remoulade, and chilaquiles verdes. Beer brat soup and spiced lentil soup with Spanish chorizo are featured for the slow cooker. For the pressure cooker, there's sweet and spicy pulled pork and spicy Caribbean oxtail stew. "Spicy Food Lovers' Secret Weapons" lists items such as gochujang, sriracha, and harissa. Other feisty sauces covered include chipotle-honey-tequila BBQ and spicy pineapple-mango pepper.
VERDICT If you're looking to turn up the heat on your next meal, you're sure to find some sizzling new dishes here. Hultquist's latest is guaranteed to be popular.—Barbara Kundanis, Longmont P.L., CO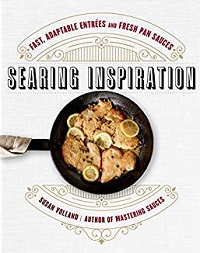 Volland, Susan. Searing Inspiration: Fast, Adaptable Entrees and Fresh Pan Sauces. Norton. Nov. 2018. 240p. photos. index. ISBN 9780393292411. $29.95; ebk. ISBN 9780393292428. COOKING
In this handy guide, Volland (Mastering Sauces) outlines the three fundamentals of sauce making: maximize flavor, manipulate texture, and season confidently, with a focus on "techniques, not just recipes" and practical strategy ("always heat the empty skillet first and then add the oil"). Advice on temperature recommendations and tools and equipment is offered along with Volland's fondness for glass pie plates and oval platters. Recipes include "this sauce also goes well with" notes to aid in flexibility. Featured meals span pan fried oysters with bloody Caesar sauce, chicken "con queso," and steak with simple red wine and herb sauce. Other standouts are kielbasa with ketchup and curry sauce, bangers with onion and brown ale gravy, and seared eggplant with walnut and roasted red pepper puree. Tables list entrée suggestions, pan aromatics, and deglazing liquids.
VERDICT Public libraries should have a variety of current titles on this topic. Cooks will appreciate the simplicity of the style and gain confidence with these accessible recipes.—Barbara Kundanis, Longmont P.L., CO