Great recipes and great insight into the confluence of food and culture.
Click here for additional new Prepub Alert columns
Barrymore, Drew with Pilar Valdes. Rebel Homemaker: Food, Family, Life. Dutton. Nov. 2021. 240p. ISBN 9780593184103. $30. Downloadable. HEALTHY LIVING
Beranbaum, Rose Levy. The Cookie Bible. Houghton Harcourt. Nov. 2021. 448p. ISBN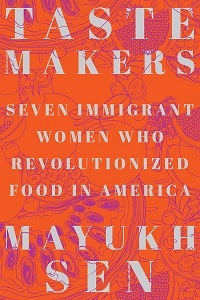 9780358353997. $35. BAKING
Bittman, Mark & Kerri Conan. Bittman Bread: No-Knead Whole-Grain Baking for Every Day. Houghton Harcourt. Nov. 2021. 256p. ISBN 9780358539339. $35. BAKING
Oliver, Jamie. Together: Memorable Meals, Made Easy [American Measurements]. Flatiron: Macmillan. Nov. 2021. 360p. ISBN 9781250821799. $35.
Sen, Mayukh. Taste Makers: Seven Immigrant Women Who Revolutionized Food in America. Norton. Nov. 2021. 304p. ISBN 9781324004516. $26.95. BIOGRAPHY/CULINARY
Terry, Bryant, ed. Black Food: Stories, Art, and Recipes from Across the African Diaspora [A Cookbook]. 4 Color: Random. Oct. 2021. 320p. ISBN 9781984859723. $40.
With more than three dozen recipes and a dozen personal stories, Barrymore's Rebel Homemaker offers inspiration and ideas drawn from her hour-long daytime talk show, which premiered in fall 2020 and returns in fall 2021. The award-winning author ofThe Cake Bible, Beranbaum now offers The Cookie Bible, with treats from Caramel Surprise Snickerdoodles to Brownie Doughnuts (40,000 copy first printing). In Bittman & Conan's Bittman Bread: No-Knead Whole Grain Baking for Every Day, a culinary star shows us an easy new way to make luscious, healthy, let-your-teeth-tear-into-them baked goods (40,000 copy first printing). Together, from superstar chef Oliver (his estimated TV audience reach is 67 million viewers across 182 territories), offers 130 get-together recipes that cut down on kitchen time so that cooks can spend more with guests. James Beard Award–winning Sen's Taste Makers profiles groundbreaking chefs who have revolutionized the American food scene, from Mexican-born Elena Zelayeta; to Norma Shirley, who champions Jamaican cuisine; to Marcella Hazan, the diva of Italian cooking. In Black Food, James Beard Award–winning chef Bryant Terry reveals the depth of Black culinary creativity and the breadth of the African diaspora by compiling recipes, essays, artwork, and poetry from more than 100 Black cultural figures.