Publishers, authors, and librarians find new ways to talk about books during the pandemic.
As COVID-19 ramps up its grip on the nation, the fight to connect virtually through books is ramping up, too. Publishers are offering new programs, authors are conducting tours and conversations in cyberspace, and online book clubs are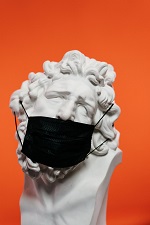 becoming the hot new way for readers to meet.
Libraries are also getting into the act. When its live event featuring Scottish American debut author Douglas Stuart had to be canceled, the Greenwich Library, CT, refashioned the event as a Zoom chat conducted by LJ reviewer Stephen Schmidt. Defining his novel Shuggie Bain (Grove) as a love story about a struggling Glasgow family, Stuart explained that it's typically Scottish "to talk about things very truthfully and very directly, …[but]hope is an important part of that struggle."
In addition, the DC Public Library is currently modeling a special DC Reads book club featuring Printz Award–winning Elizabeth Acevedo's With the Fire on High, billed as appropriate for both YAs and adults. Discussion questions are posted weekly, unlimited ebooks are available, and Twitter chats occur each Saturday at 2 p.m. through April 8. DC's #StayHomeDC is also generating considerable traffic.
Many authors are talking about books online, including a big roster from Macmillan. You can still catch Louise Penny's March 26 Facebook discussion of All the Devils Are Here, her new "Chief Inspector Gamache" mystery, publishing in September. Other authors to check out include Anna Weiner, a New Yorker contributing writer whose Uncanny Valley unpacks her experiences in the tech industry; Jesse Wegman , a member of the New York Times editorial board and author of Let the People Pick the President; debut novelist Jessi Jezewska Stevens on The Exhibition of Persephone Q; and Katherine Stewart on her new book The Power Worshippers: Inside the Dangerous Rise of Religious Nationalism .
These events have already been livestreamed but remain available for viewing. Key forthcoming events include Julia Spencer-Fleming discussing Hid from Our Eyes, her new "Clare Fergusson/Russ Van Alstyne Mystery," on April 7. On April 16, Taylor Brown will discuss his new novel, Pride of Eden, about a Vietnam veteran taking on the breeders, smugglers, and trophy hunters exploiting wildlife.
Brown has just helped the Southern Independent Booksellers Alliance launch its new Zoom-based "Reader Meet Writer" series, one of several new author series now testing the waters. Others include a remote reading series launched by Catalyst Press on its YouTube channel, featuring its authors reading from their new books. For now, the authors are sending in videos, but live readings and Q&As are in the offing. Also launching: Torrey House's " That Thing with Feathers: Hope and Literature in a Time of Pandemic," featuring pieces by its authors and opened by Karin Anderson (Before Us Like a Land of Dreams).
With the cancellation of her tour for American Zion: Cliven Bundy, God & Public Lands in the West, Torrey House author Betsy Gaines Quammen joined with award-winning science writer David Quammen (Spillover: Animal Infections and the Next Human Pandemic) to livestream Facebook conversations about the misinformation and conspiracy theories that have surrounded COVID-19. These events are being hosted by the bookstores where she was going to appear, including a recent appearance at Bozeman, Montana's Country Bookshelf. Meanwhile, the publisher is offering all books in its online store for $10 with the code stayhomeandread.
From Andrew Krivak discussing his buzzing The Bear (Bellevue Literary) in an April 22 Facebook Live Virtual Book Club with Reading Group Choices to authors Joseph Fink and Jeffrey Cranor moving online to celebrate the release of their new Night Vale novel, The Faceless Old Woman Who Secretly Lives in Your Home, authors are online to share their books and ideas. Recent Windham-Campbell award-winning novelist Yiyun Li is doing something different by joining with A Public Space to cohost #TolstoyTogether, a discussion of War and Peace.
Poetry lovers have their own little corner of cyberspace. Aside from its many workshops, Poets House is livestreaming a craft talk with Diane Glancy on April 2 and pulling from its archives to feature poets from Marilyn Chin to Joshua Bennett to a talk on feminism with Erica Hunt, Eileen Myles, Brenda Hillman, and Alicia Ostriker. The New York–based nonprofit House of Speakeasy, billed as a place where authors and audiences come together inventively, opens its new series "From the SpeakEasy Archives" with a September 2015 presentation by Whiting and Anisfield Wolf–winning poet Rowan Ricardo Phillips. And though the author himself is long gone, you can catch Sir Patrick Stewart reading a Shakespeare sonnet a day on Facebook, Twitter, and Instagram.
Publishers are continuing to find innovative ways to connect audiences and books. The HarperCollins library team has updated its outreach to include "Door to Door," a presentation of new and forthcoming reads every Tuesday and Thursday at 2 p.m. EDT on the Library Love Fest site. The Penguin Random House library team gathers every morning at 11 a.m. EDT for an hour-long Morning Book Buzz. It's a free event, so join in here.
Finally, Simon & Schuster's Education & Library and Book Club Favorites team is offering nearly 40 authors from William Kent Krueger to JR Ward to book clubs for online discussion. Those interested can contact the publisher at bookclubfavorites @simonandschuster.com and specify two or three authors from the publisher's list, the preferred time for the meeting (month and week), and the platform (e.g., Zoom, Skype). To make the process run more smoothly, book clubs are encouraged to request authors whose book members have already read.
In these difficult times, book events are springing up daily. If you know of any you would like to share, contact Barbara Hoffert at bhoffert@mediasourceinc.com.