Spring is a big time for debut novels, as this list reveals.
Blau, Jessica Anya. Mary Jane. Custom House: Morrow. May 2021. 320p. ISBN 9780063052291. $27.99. LITERARY
In 1970s Baltimore, 14-year-old Mary Jane gets a summer job nannying a psychiatrist's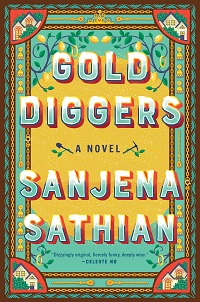 daughter and enters a gone-wild household utterly unlike that of her straight-arrow family. She introduces basics like regular mealtimes (and no cereal for dinner) while learning plenty when a famous rock star moves in to dry out with the psychiatrist's help. From the author of The Summer of Naked Swim Parties; with a 125,000-copy first printing.
Caritj, Anna. Leda and the Swan. Riverhead. May 2021. 352p. ISBN 9780525540144. $28. Downloadable. LITERARY/RELATIONSHIPS
Waking up in new love interest Ian's bed the night after a wild Halloween party at her East Coast college, Leda wonders what really happened the night before. And soon she starts wondering about Charlotte, once Ian's girlfriend, who vanished after the party. Where's Charlotte? And is Leda herself in danger? Debut novelist Caritj has already won awards.
Feng, Linda Rui. Swimming Back to Trout River. S. & S. 272p. ISBN 9781982129392. $26. LITERARY
In a Chinese village in1986, ten-year-old Junie is dismayed to receive a letter from her father, who promises to return soon from America and take her to her new home. But Junie would rather stay with her grandparents, and she doesn't even know that her parents, who came of age during the Cultural Revolution, are now estranged. A debut from University of Toronto professor Feng; with a 60,000-copy first printing.
Gnuse, A.J. Girl in the Walls. Ecco. May 2021. 336p. ISBN 9780063031807. $27.99. LITERARY
Having lost her parents in a car crash, Elise lives surreptitiously within the walls of her former family home, whose every creak, nook, and cranny she knows intimately. Soon, though, the new family's teenage sons get the sense that she's around and plan to out her—with unanticipated and possibly dangerous consequences. Debuter Gnuse, a former Kenyon Review Peter Taylor Fellow, merits a 100,000-copy first printing.
Leitch, Will. How Lucky. Harper. May 2021. 304p. ISBN 9780063073098. $25.99. LITERARY
With a decent online job for a regional airlines and a decent social life in the university town of Athens, GA, Daniel is happy even though he cannot talk and is confined to a wheelchair after a terrible childhood illness. Then he thinks he sees the kidnapping of a college woman he always watches as she goes by and sets out to solve the mystery. From New Yorker contributing editor Leitch; with a 40,000-copy first printing.
McPhail, Will. In: A Graphic Novel. Houghton Harcourt. May 2021. 272p. ISBN 9780358345541. $28. LITERARY/GRAPHIC NOVEL
Young illustrator Nick feels that he's faking his way through life, mystified by human relationships; in this graphic novel, his external life appears in black-and-white, while his rich interior life appears in color. Then something happens that lets him "in," and he comes to understand the worlds of others. From New Yorker cartoonist McPhail; with a 40,000-copy first printing.
Nelson, Caleb Azumah. Open Water. Black Cat: Grove Atlantic. May 2021. ISBN 9780802157942. pap. $16. LITERARY
At a jam-packed London pub, two young Black British people meet and fall in love, both having attended prestigious private schools as scholarship students and both now trying to make it as artists, he as a photographer, she as a dancer. But ugly forces beyond their control might tear them apart. British-Ghanaian writer/photographer Nelson was short-listed for the BBC National Short Story Prize 2020, and his British publisher won this book in a nine-way auction.
Sathian, Sanjena. Gold Diggers. Penguin Pr. May 2021. 352p. ISBN 9781984882035. $27. lrg. prnt. Downloadable. LITERARY
Flouting expectations, second-generation Indian American teenager Neil Narayan prefers hanging out to striving mightily for success. And soon he's hanging out with Anita Dayal, helping her use stolen jewelry to create an alchemical potion drawing on the ambitions of the jewelry's original owner. Like many chemical experiments, this one blows up dangerously, but there's a second act. Iowa Writers' Workshop grad Sathian lays waste to American stereotypes in a magic realist–touched debut.