Big names like Elly Griffiths and Alexander McCall Smith add more to popular series, but the season does dictate the publication of holiday mysteries.
Andrews, Donna. Owl Be Home for Christmas: A Meg Langslow Mystery. Minotaur: St. Martin's. Oct. 2019. 304p. ISBN 9781250305312. $24.99; ebk. ISBN 9781250305336. CD. MYSTERY
Meg's family is gathered at the Caerphilly Inn for her grandfather's scientific conference on owls, but it's right before Christmas, which surely means a guest-stranding blizzard. And that surely means there will be a murder. The 26th book and sixth Christmas mystery in Andrews's bird-bright series.
Crombie, Deborah. A Bitter Feast. Morrow. Oct. 2019. 384p. ISBN 9780062271662. $25.99; ebk. ISBN 9780062271686. lrg. prnt. MYSTERY
Can Scotland Yard DS Duncan Kincaid and his wife, DI Gemma James, sit back and enjoy their Cotswolds weekend at Beck House, a lovely estate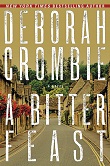 belonging to the family of Gemma's detective sergeant? Not when a car smashup and several unexpected deaths proclaim trouble for the celebrated chef catering a glittery charity luncheon at the estate. With a 100,000-copy first printing.
Griffiths, Elly. Now You See Her. Mariner: Houghton Harcourt. (Magic Men Mysteries). Oct. 2019. 352p. ISBN 9781328971593. pap. $15.99; ebk. ISBN 9781328974846. MYSTERY
Several girls have disappeared, and Det. Edgar Stephens and magician friend Max Mephisto (back from America) are on the case. But the real movers here are Edgar's wife, Emma, restless at home and eager to prove that she's still the best detective around, and a new woman on the force wanting to stake her place. Next in Griffiths's "Magic Men" series.
Hand, Elizabeth. Curious Toys. Mulholland: Little, Brown. Oct. 2019. 336p. ISBN 9780316485883. $27; ebk. ISBN 9780316485890. lib. ebk. ISBN 9780316452786. Downloadable. MYSTERY
Winner of multiple Shirley Jackson, World Fantasy, and Nebula awards, Hand goes for gritty mystery with the story of 15-year-old Pim, who disguises herself as a boy and hides out in 1915 Chicago's Riverview Park. There she spots a man enter the Hell Gate ride with a girl and depart without her. Now she and renowned if slightly crazed outsider artist Henry Darger are after a serial killer. With a 25,000-copy first printing.
Limón, Martin. GI Confidential. Soho Crime. Oct. 2019. NAp. ISBN 9781641290388. $26.95; ebk. ISBN 9781641290395. MYSTERY
In 1970s Korea, the U.S. military seems to be soft-pedaling a murder at a robbery-ridden local bank that may have been committed by U.S. soldiers, so Sergeants George Sueño and Ernie Bascom take it upon themselves to investigate. Another problem: a tabloid story claiming that top military brass is engaged in both sex trafficking and treason. Fourteenth in a popular series.
McCall Smith, Alexander. To the Land of Long Lost Friends. Pantheon. Oct. 2019. (No. 1 Ladies' Detective Agency. No. 20). 240p. ISBN 9781524747824. $25.95; ebk. ISBN 9781524747831. MYSTERY
Mma Ramotswe tries to help an old friend with a troublesome daughter, Mr. J.L.B. Matekoni tries to help a client who wants to throw his own no-good brother out of the house, and Charlie's girlfriend, Queenie-Queenie, seems to be falling for Fanwell. Can Mma Makutsi clean up these messes? The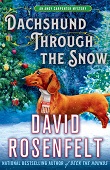 Ladies's Detective Agency enjoys its 20th outing.
Rosenfelt, David. Dachshund Through the Snow. Minotaur: St. Martin's. Oct. 2019. 368p. ISBN 9781250237682. $24.99; ebk. ISBN 9781250257383. CD. MYSTERY
Dog-loving lawyer Andy Carpenter is especially touched by one of the wishes posted in lieu of ornaments on the local pet store Christmas tree: young Adam wants a coat for his mother, dog chow for his dachshund, and the return of his father. Then Andy gets especially busy when he learns that Adam's father is on the run from a murder charge Adam's mom swears he didn't commit.