From England and Ireland to Texas and California, the holidays never arrive without a hitch. But in the end they will glow.
Colgan, Jenny. Christmas at Rosie Hopkins' Sweetshop. Morrow. Oct. 2019. 432p. ISBN 9780062952219. $26.99; pap. Morrow Paperbacks. ISBN 9780062371195. $14.99; ebk. ISBN 9780062371201. lrg. prnt. WOMEN'S
Things are good as Rosie Hopkins eagerly counts the days to Christmas: her sweetshop is thriving, her boyfriend has a new job in town, their families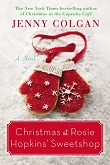 are gathering for the holidays, and there is even a new dog. Then there's a tragedy that ends up clarifying the togetherness that the holiday is all about. With a 100,000-copy paperback and 25,000-hardcover first printing.
Hayes-McCoy, Felicity. The Mistletoe Matchmaker. Harper Perennial. Oct. 2019. 384p. ISBN 9780062954466. $26.99; pap. ISBN 9780062799067. $15.99; ebk. ISBN 9780062799074. WOMEN'S
Cassie Fitzgerald has just arrived on Ireland's Finfarran peninsula from Toronto and is looking forward to celebrating her first Irish Christmas in the town where her father was born. But she's puzzled by the emotional undercurrents between her grandparents, even as she delights in the attention of handsome, determined-to-please Shay. With a 100,00-copy paperback and 20,000-copy hardcover first printing.
Novak, Brenda. Christmas in Silver Springs. Mira: Harlequin. Oct. 2019. 384p. ISBN 9780778308256. $26.99; pap. ISBN 9780778308126. $7.99. ROMANCE
Shucked off by her rocketing-to-the-top rock-star husband, Elle Devlin decides to celebrate Christmas by taking her two daughters to her sister's home in Novak's iconic Silver Springs. There she meets Tobias, who's trying to set himself straight after a long prison stint he keeps secret from Elle, whom he sees as a kindred spirit. Wouldn't you know that husband shows up to spill the beans, but here's betting love wills out—especially over the holidays. With a 400,000-copy paperback and 10,000-copy hardcover first printing.
Schaler, Karen. Finding Christmas. Morrow Paperbacks. Oct. 2019. 304p. ISBN 9780062883711. pap. $14.99; ebk. ISBN 9780062883704. ROMANCE
Emmie loves Christmas, but boyfriend Grant is playing workaholic, so she plans a holiday-themed scavenger hunt for him that will end in a romantic, holiday-themed weekend at the little town of Christmas Point. Instead, best-selling mystery writer Sam follows the clues (he thinks they're from his agent). So what happens when Sam meets Emmie—and when Grant finally does materialize? With a 100,000-copy first printing.
Wilde, Lori. The Christmas Dare: A Twilight, Texas Novel. Avon. Oct. 2019. 384p. ISBN 9780062952622. $26.99; pap. ISBN 9780062468314. $7.99; ebk. ISBN 9780062468321. ROMANCE
In this next in the "Twilight, Texas" series, Kelsey's dream Christmas wedding turns dark and soggy when she's left at the altar. But her best friend tells her to embrace the holiday spirit anyway, and that includes once again embracing high school sweetheart Noah MacGregor. With a 400,000-copy paperback and 25,000-copy hardcover first printing.