Wide-ranging chills for autumn.
Click here for additional new Prepub Alert columns
Child, Lee & Andrew Child. Better Off Dead: A Jack Reacher Novel. Delacorte. Oct. 2021. 400p. ISBN 9781984818508. $28.99. CD/downloadable. THRILLER
Jack Reacher is back, ready to fight the good fight against a bunch of criminals who only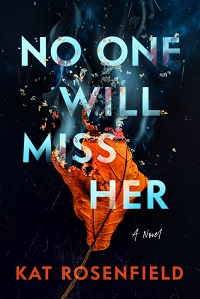 think they can best him, and Andrew Child is back in the franchise's handover from brother Lee. The brothers' first collaboration, Better Off Dead, was a No. 1 New York Times best seller.
Connolly, John. The Nameless Ones: A Thriller. Emily Bestler: Atria. Oct. 2021. 432p. ISBN 9781982176976. $28. CD. THRILLER
Four associates of the notorious assassin known only as Louis are found brutally slaughtered in a house along a quiet Amsterdam canal, and the culprits—Serbian war criminals—scurry back home with the conviction that they will never be apprehended. Louis easily tracks down five of the killers, but there's a sixth to uncover—and somehow Connolly stalwart Charlie Parker gets dragged into this chase. With a 75,000-copy first printing.
French, Nicci. The Unheard. Morrow. Oct. 2021. 464p. ISBN 9780063137769. $27.99; pap. ISBN 9780063137745. $16.99. THRILLER/PSYCHOLOGICAL
Having shut down the popular Frieda Klein series in 2018, French (the wife-and-husband team Nicci Gerrard and Sean French) have gone the stand-alone route. Here, Tess is concerned when daughter Poppy returns from a weekend with her father and his new wife and draws a crude, violent picture, proclaiming "He did kill her." Poppy's father insists that it was a placid visit, but Tess is not convinced. With a 50,000-copy paperback and 30,000-copy hardcover first printing.
Grant, Kimi Cunningham. These Silent Woods. Minotaur: St. Martin's. Oct. 2021. 288p. ISBN 9781250793393. $27.99. THRILLER
For eight years, Cooper has been on the run with a dark secret, living in the remote recesses of Appalachia with his young daughter, Finch. No one knows they are there but the somewhat intrusive hermit Scotland and Cooper's friend Jake, who brings supplies each winter. But one year Jake fails to arrive, even as Finch begins resisting their extreme isolation, and Cooper must decide whether he should finally confront his past. From an award-winning poet who has published fiction and memoir with small presses and is breaking out here with a 75,000-copy first printing.
Howard, Catherine Ryan. 56 Days. Blackstone. Aug. 2021. 450p. ISBN 9781982694654. $24.99. CD. THRILLER
In this timely thriller, Ciara and Oliver meet at a Dublin supermarket just as COVID-19 descends and, once lockdown is imposed, decide to move in together. Fifty-six days after they first meet, the police arrive at their apartment to find a rapidly decomposing body. Who's dead, and why? From CWA John Creasy short-listed, Edgar finalist Howard.
Laskowski, Tara. The Mother Next Door: A Novel of Suspense. Graydon House: Harlequin. Oct. 2021. 320p. ISBN 9781525804700. pap. $16.99. THRILLER
A bunch of take-charge neighborhood mothers dubbed the Ivy Five always plan the annual block party for the suburban cul-de-sac Ivy Woods Drive. But for years there have been only four of them, and therein hangs a tale. After a new mother moves in and is invited to round out the group, anonymous missives start arriving that threaten to reveal secrets about the neighborhood implicating our do-gooding moms. Laskowski won Agatha, Anthony, and Macavity first-book honors for One Night Gone; with 75,000-copy first printing.
Nesbø, Jo. The Jealousy Man and Other Stories. Knopf. Oct. 2021. 560p. tr. from Norwegian by Robert Ferguson. ISBN 9780593321003. $28.95. lrg. prnt. SHORT STORIES
A No. 1 New York Times best-selling author with an unparalleled capacity for freezing our blood, Nesbø offers a packed story collection. A man may have murdered his twin in a fit of jealousy, a woman decides to stare down deep-seated personal issues after an encounter with a male voyeur, a grieving father considers the role of vengeance in a post-pandemic world, and two passengers on a flight to London instantly bond—but bonds can strangle. Be prepared; Hollywood has already grabbed three of these stories.
Patterson, James & Candice Fox. 2 Sisters Detective Agency. Grand Central. Oct. 2021. 400p. ISBN 9781538704592. $31; pap. ISBN 9781538704585. $17.99. CD/downloadable. CRIME
The coauthors of the "Harriet Blue" series bring on something new: the story of two sisters who join the family business—chasing down killers—that they never knew existed. Like Hush, the last "Harriet Blue" title, this one comes in two formats; a 400,000 copy paperback and 25,000-copy hardcover first printing.
Rosenfield, Kat. No One Will Miss Her. Morrow. Oct. 2021. 304p. ISBN 9780063057012. $27.99. THRILLERS/PSYCHOLOGICAL
When town outcast Lizzie Oullette is found dead and her husband missing, the trail leads detectives from rural Maine to big-city Instagram influencer Adrienne Richards, blonde, beautiful, and the wife of a media-sullied billionaire. Adrienne has been renting Lizzie's downscale lake house as an escape, and as Lizzie relates from beyond the grave, the two women forged a darkly competitive connection. Coauthor with Stan Lee of the New York Times best-selling A Trick of Light and an Edgar finalist YA mystery writer, Rosenfield breaks into the adult mystery market with a 100,000-copy first printing.
Schulman, Alex. The Survivors. Doubleday. Oct. 2021. 240p. tr. from Swedish by Rachel Wilson-Broyles. ISBN 9780385547567. $25. Downloadable. THRILLERS/PSYCHOLOGICAL
After their mother's death, three brothers retreat to a lakeside cottage at Midsommar, though they find no comfort: two decades previously, a tragic accident occurred there that has forever altered their lives. The eldest brother, Nils, fled the family when he could; the youngest, Pierre, copes with having been bullied; and in-the-middle Benjamin, ever watchful amid the competition for parental love, now seems stuck in the past. There's a fuse here that's about to be lit. Best-selling author Schulman, co-host of Sweden's most popular podcast, makes his international debut with a book already sold to 30 countries.
Unger, Lisa. Last Girl Ghosted. Park Row: Harlequin. Oct. 2021. 352p. ISBN 9780778311041. $27.99. CD. THRILLER/PSYCHOLOGICAL
A woman meets a man she spotted on a dating app, quickly falls for him, but later finds herself ghosted—his phone has been disconnected, and his profile has vanished like smoke. Then she learns about other women who have had the same experience she did—and have since vanished as well. Now she's investigating. With a 100,000-copy first printing; Unger was an Edgar finalist in 2019 for her paperback original Under My Skin and her story "The Sleep Tight Motel," and 2020's Confessions on the 7:45 was an international and USA Today best seller.