September launches with strong literary historical fiction from Tracy Chevalier and Alice Hoffman, plus major chills from Stephen King and Catherine Ryan Howard. Nonfiction ranges widely from Roxane Gay on writing and Alexandra Horowitz on the dog-human bond to Dina Nayeri on the refugee experience and James Poniewozik on television and the politics of illusion.
Chevalier, Tracy. A Single Thread. Viking. Sept. 2019. 336p. ISBN 9780525558248. $27; ebk. ISBN 9780525558255. LITERARY/HISTORICAL
After her brother and fiancé are killed in the Great War, Violet Speedwell dreads staying home with her grief-wasted mother and moves to Winchester, England, where she finds companionship among the women known as broderers—those who embroider the kneelers for the town's great cathedral, continuing a centuries-old tradition. Alas, the sense of self she discovers is threatened by social forces and a looming second war. From the London-based author, as always in historical fiction mode.
Gay, Roxane. Untitled. Harper. Feb. 2020. 2019. 256p. ISBN 9780062845931. $26.99; ebk. ISBN 9780062845962. LANGUAGE ARTS
The celebrated author of Hunger, Bad Feminist, An Untamed State, and more, Gay is frequently asked for writing advice by fans eager to bring their own voices to the fore. Here she responds with frank, direct, encouraging advice, arguing that with energy and commitment anyone can write—and ambitious newbies should not feel constrained by what's in the canon now. Advice on getting published, too; with a 100,000-copy first printing.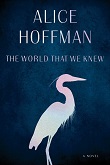 Hoffman, Alice. The World That We Knew. S. & S. Sept. 2019. 384p. ISBN 9781501137570. $27.99. CD. LITERARY/HISTORICAL
In 1941 Berlin, Hanni Kohn determines to save daughter Lea from the Nazis by taking her to a celebrated rabbi whose daughter, Ettie, creates a golem named Ava meant to protect Lea. As Ettie prepares to become a resistance fighter, Lea and Ava travel to Paris and thence to a convent blessed with silver roses and a village that ends up saving 3,000 Jews, countering danger with extraordinary resilience. With a 200,000-copy first printing and an eight-city tour.
Horowitz, Alexandra. Our Dogs, Ourselves: How We Live with Dogs Now. Scribner. Sept. 2019. 352p. ISBN 9781501175008. $28. CD. PETS
Author of the No. 1 New York Times best-selling Inside of a Dog, Horowitz, head of the Dog Cognition Lab at Barnard College, examines how our relationship with canines changed the course of human development and how our relationship with our rambunctious, lovable pets shape our lives today. Lots of dog lovers out there ready to grab this; with a 150,000-copy first printing and a national tour to the Berkshires (MA), Boston, New York, Philadelphia, Raleigh-Durham, San Francisco, Seattle, and Washington, DC. Love the title.
Howard, Catherine Ryan. Rewind. Blackstone. Sept. 2019. 300p. ISBN 9781538519707. $24.99. THRILLER
Irish author Howard follows up 2016's Distress Signal, short-listed for the Irish Crime Novel of the Year and the CWA John Creasey New Blood Dagger, and 2019's Edgar Award nominee, Liar's Girl, with the creepy story of the Shanamore Holiday Cottages, where the manager spies on his only guest via a hidden camera. One night he watches someone sneak into the room and murder its occupant. Why was the victim staying alone at the winter-shrouded inn? And can this tape be rewound? Featured at LJ's Day of Dialog and BookExpo.
King, Stephen. The Institute. Scribner. Sept. 2019. 576p. ISBN 9781982110567. $30; ebk. ISBN 9781982110598. CD. THRILLER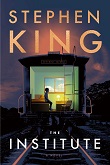 Silently whisked away after his parents are murdered, Luke Ellis wakes up in a creepy place called the Institute, surrounded by kids like him with special gifts of telekinesis and telepathy that the sadistic staff want to exploit for its own purposes. Cooperate, and you get treats; resist, and you are exiled to the "Back Half" and never emerge. Luke just wants to get out, but how? With a 1,250,000-first printing, and, yes, you read that correctly.
Nayeri, Dina. The Ungrateful Refugee: What Immigrants Never Tell You. Catapult. Sept. 2019. 336p. ISBN 9781948226424. $26. POLITICAL SCIENCE
Nayeri (Refuge) left Iran with her mother at age eight, attained asylum in America after doing time in an Italian refugee camp, and attended Princeton, Harvard, and the Iowa Writers Workshop before becoming an award-winning novelist. In "The Ungrateful Refugee," one of the most widely shared 2017 Long Reads in the Guardian, Nayeri proclaimed, "We have no debt to repay." In this expansion of that piece, she takes us through the different phases of the refugee's long journey to explode misconceptions and help us understand the actual experience.
Poniewozik, James. Audience of One: Donald Trump, Television, and the Politics of Illusion. Liveright: Norton. Sept. 2019. 304p. ISBN 9781631494420. $27.95. MEDIA
Chief television critic of the New York Times, Poniewozik looks at the history of media and particularly TV to understand where we are today politically. His dual storyline combines an understanding of how television grew from a monotone mass media giant to a fractured, refractory kingdom of extreme ideas and insults. In parallel, Trump has reinvented himself over the decades from gazillioniare business mogul to reality TV star to Twitter-mad, divisive president. There are lessons here.