Nobel Prize winners Paul Nurse and Frank Wilczek and TV chemistry guru Kate Biberdorf are among the authors who help us understand science better.
Ashley, Dr. Euan Angus. The Genome Odyssey: Medical Mysteries and the Incredible Quest To Solve Them. Celadon: Macmillan. Feb. 2021. 368p. ISBN 9781250234995. $28. LIFE SCIENCES
Biberdorf, Kate. Chemistry on Fire: The Surprising and Extraordinary Science Behind Our Lives. Park Row: Harlequin. Feb. 2021. 352p. ISBN 9780778389422. $27.99. CHEMISTRY
Frank, Matthew Gavin. Flight of the Diamond Smugglers: A Tale of Pigeons, Obsession, and Greed Along Coastal South Africa. Liveright: Norton. Feb. 2021. 272p. ISBN 9781631496028. $25.95. NATURE/BIRDS
Lalkhen, Abdul-Ghaaliq. An Anatomy of Pain: How the Body and the Mind Experience and Endure Physical Suffering. Scribner. Feb. 2021. 256p. ISBN 9781982160982. $28. ANATOMY & PHYSIOLOGY
Nurse, Paul. What Is Life?: Five Great Ideas in Biology. Norton. Feb. 2021. 144p. ISBN 9780393541151. $20. BIOLOGY
Stephen, Michael J. Breath Taking: What Our Lungs Teach Us About Our Origins, Ourselves, and Our Future. Atlantic Monthly. Jan. 2020. 320p. ISBN 9780802149312. $26. ANATOMY & PHYSIOLOGY
White, Tracie with Ronald W. Davis. The Puzzle Solver: A Scientist's Desperate Hunt to Cure the Illness That Stole His Son. Hachette. Jan. 2021. 304p. ISBN 9780316492508. $28. Downloadable. DISABILITIES
Wilczek, Frank. Fundamentals: Ten Keys to Reality. Penguin Pr. Jan. 2021. 272p. ISBN 9780735223790. $26. PHYSICS
In The Genome Odyssey, Stanford professor Ashley, who led the team that carried out the first medical interpretation of a human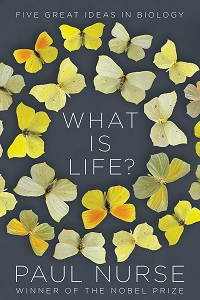 genome, explains how genome sequencing will help us prevent and treat disease (60,000-copy first printing). A University of Texas professor frequently seen in the media—Buzzfeed calls her "the new, cooler Bill Nye"—Biberdorf reveals all about her favorite subject in Chemistry on Fire. In Flight of the Diamond Smugglers, Frank (Preparing the Ghost) investigates illegal aspects of the South African diamond trade, particularly the use of trained pigeons to smuggle out diamonds as workers whose life span averages 37 years struggle to survive. In An Anatomy of Pain, pain management expert Lalkhen explains that pain isn't monolithic, involving not just nerve endings but how you're feeling mentally, who and where you are, and your cultural expectations as that headache or hatchet comes down (50,000-copy first printing). Nobel Prize winner Nurse, director of the Francis Crick Institute in London, explains biology—and, essentially, What Is Life?—through five key ideas: the cell, the gene, evolution by natural selection, life as chemistry, and life as information. At a crucial time—not just because of COVID-19 but as lung disease rises generally—pulmonologist Stephen's Breath Taking explains the evolutionary beginnings of breathing, the connection between the lungs and the immune system, and new research and treatment of pulmonary disease. Award-winning science journalist White helps award-winning Stanford geneticist Davis—The Puzzle Solver—tell the story of searching for a cure for Chronic Fatigue Syndrome, which deeply afflicts his son (30,000-copy first printing). In Fundamentals, Nobel Prize winner and MIT professor Wilczek, author of the Wall Street Journal column "Wilczek's Universe," argues for a new worldview (beyond the conceptions we carry around from childhood) based on ten principles he elucidates here.