Award winners Becky Chamber and Jay Kristoff, Chu walking with the walking dead, plus Chinese icon Jin Yon, upcoming Bob Proehl, and R.A. Salvatore continuing his new series.
Chambers, Becky. To Be Taught, If Fortunate. Harper Voyager. Sept. 2019. 144p. ISBN 9780062936011. pap. $12.99; ebk. ISBN 9780062936028. SF
Having racked up Hugo, Arthur C. Clarke, and (intriguingly) Bailey's Women's Prize honors for the first two books in her "Wayfarer" series, Chambers
turns in a stand-alone novella set in the 22nd century, when astronauts in outer space can survive hostile environments through the use of synthetic biological supplements. But now happy voyagers Ariadne O'Neill and her three crewmates may return to a world that's forgotten them.
Chu, Wesley. Robert Kirkman's The Walking Dead: Typhoon. Atria. Sept. 2019. 400p. ISBN 9781982117801. $28; ebk. ISBN 9781982117825. HORROR
In this latest by John W. Campbell Award finalist and Alex Award winner Chu, set in Robert Kirkman's creep-inducing world, a rural farmer, an urban military veteran, and a Chinese American grad student are swept away by a veritable typhoon of undead walkers as the virus causing the undead phenomenon hits China. With a 50,000-copy first printing.
Jin Yong. A Hero Born. St. Martin's. (Legends of the Condor Heroes, Bk. 1) Sept. 2019. 416p. tr. by Anna Holmwood. ISBN 9781250220608. $27.99; ebk. ISBN 9781250220615. FANTASY
In this multigenerational kung fu epic, a classic of Chinese fantasy being published in the United States for the first time, Guo Jing is the son of a murdered Song patriot, growing up humbly amid Genghis Khan's army yet destined to become a hero—after he confronts a wily, far more gloriously raised opponent skilled in the martial arts.
Kristoff, Jay. Darkdawn. St. Martin's. (Nevernight Chronicle, Bk. 3). Sept. 2019. 512p. ISBN 9781250073044. $28.99; ebk. ISBN 9781466885059. CD FANTASY
Nevernight heroine Mia Corvere has trained as an assassin so that she can wreak vengeance on those in power for her family's destruction. Now, as five-time Aurealis winner Kristoff, also a Locus nominee, wraps up his New York Times best-selling "Nevernight Chronicle," the Godsgrave games have ended in spectacular murder and Mia is on the run, helped by lover Ashlinn, brother Jonnen, and a mysterious benefactor. Originally scheduled for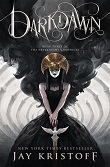 September 2018.
Proehl, Bob. The Nobody People. Del Rey: Ballantine. Sept. 2019. 496p. ISBN 9781524798956. $27; ebk. ISBN 9781524798963. Downloadable. LITERARY SF
When individuals with special gifts start emerging, Avi Hirsch frantically realizes that daughter Emmeline is one of them. It's a terrifying thought, for these "nobody people" are being seen as a threat to national safety and face both discriminatory laws and blood in the streets. Following A Hundred Thousand Worlds.
Salvatore, R.A. Boundless: A Drizzt Novel. Harper Voyager. Sept. 2019. 432p. ISBN 9780062688637. $27.99; ebk. ISBN 9780062688620. FANTASY
A male dark elf in the matriarchal drow society redeemed only by his standing as a great warrior, Zaknafein has been dead for centuries. But now he's back, completely unprepared for son Drizzt's sunnier world and companions, which include dwarves, elves, and—egads!—a human wife. But Zaknafein gladly takes up his sword to fight beside Drizzt when darkness hits the Realms. Second in the new "Drizzt" series; with a 75,000-copy first printing.