Women and men having to remake their lives: absorbing fiction from top sellers, with a debut from a daughter of Cypriot refugees.
Bushnell, Candace. Is There Still Sex in the City? Grove. Aug. 2019. 272p. ISBN 9780802147264. $26. WOMEN'S
Owing to Bushnell's iconic Sex and the City, we know all about the dating habits of energized young urbanites at the turn-of-the 21st-century. Two decades later, Bushnell observes herself and her friends to bring us sharp-eyed observations about women 50-plus and wrestling with marriage, motherhood, divorce, Tinder dates, stalkers on bikes, and insanely expensive face creams. Currently billed as fiction, but we'll see.
Cruz, Melissa de la. The Birthday Girl. Dutton. Aug. 2019. 352p. ISBN 9781524743772. $27; ebk. ISBN 9781524743796. WOMEN'S
Handsome husband, terrific children, a high-profile fashion career, and fancy homes in Los Angeles, Park City, and Palm Springs: of course Ellie de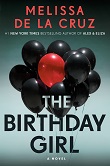 Florent-Stinson has reason to celebrate at her extravagant 40th birthday party. But a dark secret about events at another party, long ago, are clouding the horizon. From a No. 1 New York Times best-selling author getting back into adult mode.
Jio, Sarah. All the Flowers in Paris. Ballantine. Aug. 2019. 304p. ISBN 9781101885055. $27; ebk. ISBN 9781101885062. Downloadable. WOMEN'S
Awakening in a Paris hospital, Caroline has no memory and tries to piece together what appears to have been a lonely life spent in a large apartment, with a man and child lost somewhere along the way. Even as she befriends a neighborhood chef, what truly changes her life is the discovery of letters written by a young Jewish widow in occupied Paris whose life (along with those of loved ones) is threatened when a German officer discovers her heritage. The No. 1 best-selling author's follow-up to Always.
Lefteri, Christy. The Beekeeper of Aleppo. Ballantine. Aug. 2019. 304p. ISBN 9781984821218. $27; ebk. ISBN 9780593128169. Downloadable. WOMEN'S
Beekeeper Nuri and his wife, an artist named Afra who has gone blind from the horrors she's witnessed, must flee Aleppo and travel dangerously through Turkey and Greece on to Great Britain, where Nuri's cousin Mustafa has established an apiary and is training other refugees to tend bees. London-raised Lefteri, the daughter of Cypriot refugees, was inspired by her work at a refugee center in Athens t to write this debut.
Steel, Danielle. The Dark Side. Delacorte. Aug. 2019. 288p. ISBN 9780399179419. $28.99; ebk. ISBN 9780399179426. WOMEN'S
Having watched her parents tend desperately to her dying sister,l then divorce in the aftermath, Zoe Morgan works hard at school and in a successful nonprofit career focused on disadvantaged children. But love and motherhood force her to recall her painful past. Obviously, high demand.
Wiggs, Susan. The Oysterville Sewing Circle. Morrow. Aug. 2019. 384p. ISBN 9780062425584. $26.99; ebk. ISBN 9780062425614. lrg. prnt. WOMEN'S
With her New York fashion career up in flames and suddenly the legal guardian of two young orphans, Caroline Shelby returns home to Oysterville, WA, hoping for some peace. Instead, she finds aging parents, conflicted siblings, the childhood friend who fell for someone else, and a beloved sewing circle some of whose members hide the bruises of domestic violence. With a 150,000-copy first printing.