Many libraries are outdated, worn, and inadequate to accommodate changing demographics, expanding population, and the corresponding need for new services and programs.
By David R. Moore II, AIA, ALA, LEED AP BD+C, Principal, McMillan Pazdan Smith Architecture, and Heather Mitchell, AIA, LEED AP BD+C, President, BOUDREAUX
(with credit to Melanie Huggins, Richland Library Executive Director, who posed questions and moderated panel that formed the basis for this article)

Is your building holding you back? Many libraries are outdated, worn, and inadequate to accommodate changing demographics, expanding population, and the corresponding need for new services and programs. How can librarians redesign their existing space, whatever its challenges, to meet the needs of current and future users? During our design collaboration on the renovation of four community libraries for Richland Library along with its Main location in Columbia, SC, our team encountered recurring themes related to the reinvention of existing space. At the May 2019 Library Journal Design institute, we were asked to share our insights. Below is a summary of advice we shared at the Institute with the hope that it will inspire you as you contemplate your own space renovation challenges.

Engage and listen first – Your customers can be the inspiration. By scheduling community forums, advertising them broadly and listening to the input, a vision for your renovation will take shape. Likewise, your staff and community partners are sources of ideas and feedback. This process should build on your organization's mission, vision, and strategic plan and create opportunity to open minds toward change. Taking the time to develop a shared vision and guiding principles will inform decisions and priorities throughout the process.

Identify the physical framework – Your design team will study your existing building, its structure, its systems, and its code deficiencies. This analysis will help determine which aspects are most economical to leave in place and which need to be upgraded. This becomes the framework around which transformation can take place. While you as a library leader stay focused on the big picture vision, you can trust your design team to figure out the details of codes, engineering coordination and building systems, and ways for your existing building to work for you instead of against you.

Budget for building challenges – Most libraries old enough to need a renovation were designed more for materials and less so the people. Spaces lack flexibility, making it hard to adapt to new technologies, services, and programs. The upper levels of older, multi-floored libraries lack the structural capacity to meet current codes, and the available power and data are limited. Many existing libraries have deferred maintenance issues that need to be remedied in an upcoming renovation. These deficiencies are identified by the design team and factored into the budget analysis and estimate for the cost of the work.

Prioritize your needs – Through the Community Engagement process and the development of the library's programmatic goals, often the wants/needs list is larger than the building and budget. Tough decisions ensue, and the question becomes, "How does a library determine what remains and what is cut?" To begin, identify any and all non-negotiables. If only one or two things can be added, what are those items you cannot live without? These are the programmatic elements that are most closely tied to the library's vision and values. Next, it is helpful to identify which programmatic spaces can serve more than one purpose. Rather than "cutting" a desired element, consider planning several multi-use spaces. If, however, something does not make the final cut, plan for the next expansion so the option remains a possibility and becomes the impetus for future fundraising.

Maximize multi-use – As stated above, there is never enough square footage for all the identified needs. Strategies for maximizing a single space for multiple uses include the incorporation of moveable, lightweight furnishings with nearby storage, flexible power and technology, operable partitions, appropriate acoustical treatments, and adjustable lighting. All are strategies to facilitate easy transformation of an area that will allow it to serve one function in the morning and a different function in the afternoon. Also, consider connecting interior spaces to outdoor gathering areas in order to maximize programming opportunities and increase capacity.

Stay open or not? – While moving to a temporary facility removes staff and patrons from the disruptions of construction, appropriate space may not be available and—if it is—the rent, upfit costs, and moving expenses may be costly. By the same token, however, remaining in the library throughout construction impacts the patrons and staff with noise and dust, safety concerns, as well as an increased construction duration and cost. If it is necessary to remain open throughout construction, the design team—with input from the library— develops a phasing plan that outlines a sequence for performing the work. Objectives include minimizing the disruption to library services and providing constant access to entrances, toilets and emergency exits, all coordinated with the building's mechanical and electrical systems. Developing a phasing plan early in the process is critical to formulating accurate cost estimates as the number of phases and the "down" period between the phases needed for the staff to shift collections and resources all have an impact on the contractor's schedule and overhead.

Be a steward of the environment – Keep in mind that the decision to renovate an existing facility requires fewer natural resources, less energy, and less money than building anew. Renovation also becomes an opportunity to reduce operation costs. For example, installing LED lighting fixtures and higher efficiency HVAC units reduces energy costs. Your design team can help you calculate the payback period and craft the sustainability story as part of the justification for your renovation.

Don't dismiss the existing library too soon – Sometimes it is hard to believe a tired, dated, inflexible, uninspiring building designed for books and not people is worth the renovation effort or even possible. Trust your design team. Architects are your creative partner and provide a fresh set of eyes. Renovations take months and are a mix excitement, fear, discomfort, and a longing for it to be over. However, the day will come when staff and patrons will enter and declare that they can't believe it is the same library.
Envisioned as a vibrant café, this flexible space is at the heart of Richland Library's transformed North Main location. Photo by Kris Decker/Firewater Photography; Design a collaboration by BOUDREAUX, McMillan Pazdan Smith, and Margaret Sullivan Studio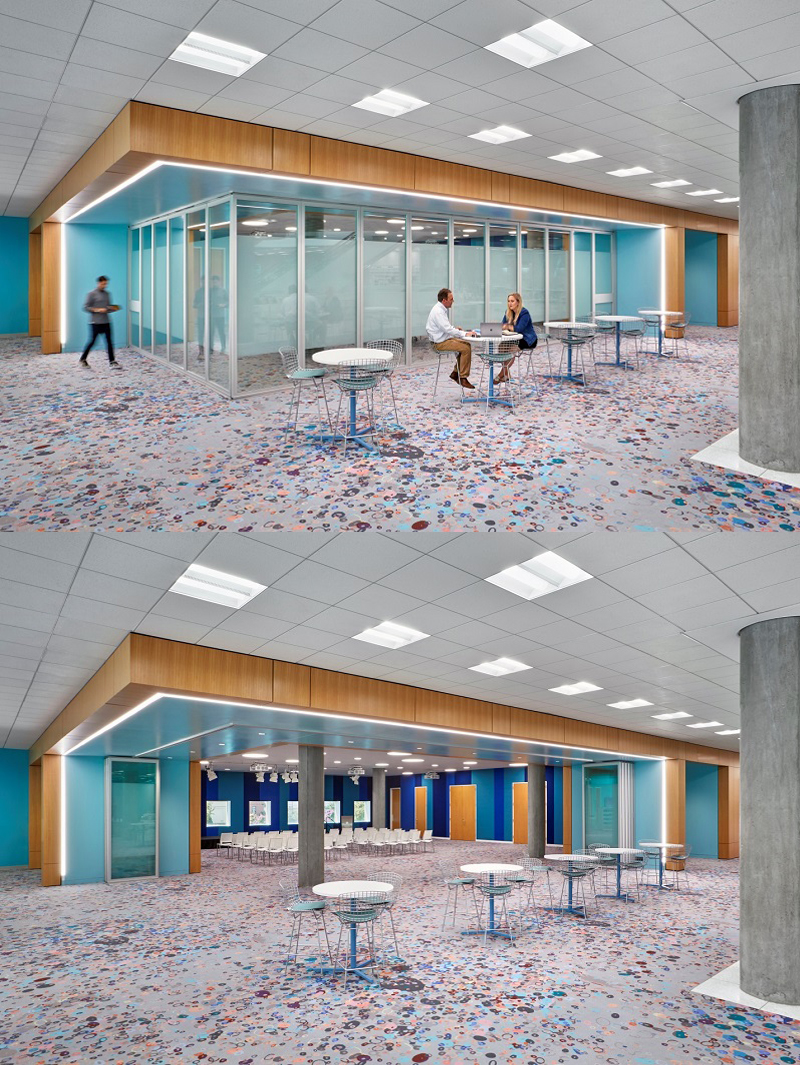 Operable glass walls allow the auditorium space at Richland Library's recently renovated Main location to go from a quiet conference to a lively performance venue that spills out into adjacent space. Theatrical lighting, portable stage, adjacent green room, catering prep and furniture storage all enhance functionality and flexibility. Photo by Garrett Rowland Photography; Design a collaboration by BOUDREAUX, McMillan Pazdan Smith, and Margaret Sullivan Studio
Fresh and fun, Richland Library Main's renovation gives teens their own maker space to transform for creative pursuits of all kinds. Photo by Garrett Rowland Photography; Design a collaboration by BOUDREAUX, McMillan Pazdan Smith, and Margaret Sullivan Studio


SPONSORED BY