Best practices on forming habits and resisting negativity, diet tips from Wheat Belly author William Davis and Body Love author Kelly LeVeque, getting older but better the French way, and more.
Brach, Tara. Radical Compassion: Learning To Love Yourself and Your World with the Practice of RAIN. Viking. Dec. 2019. 288p. ISBN 9780525522812. $28; ebk. ISBN 9780525522829. Downloadable. PSYCHOLOGY
One of America's most popular mindfulness instructors (her podcast is downloaded over a million and a half times a month), Brach explains how we can all get ahead by following the meditation practice called RAIN (Recognize, Allow, Investigate, Nurture). Personal stories from her students and Brach herself show how RAIN helps deal with trauma and loss.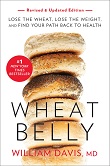 Davis, William. Wheat Belly: Lose the Wheat, Lose the Weight, and Find Your Path Back to Health. rev. ed. Rodale: Random. Dec. 2019. 384p. ISBN 9781984824943. pap. $17.99; ebk. ISBN 9781984824950. HEALTH/NUTRITION
Published in 2011, Wheat Belly has since sold more than 1 million copies across formats. This update offers 40 percent new material, including a spruced-up recipe section that embraces popular new devices (e.g., the spiralizer) and ingredients (e.g., coconut wraps), and recent scientific research has been integrated into existing chapters while inspiring new ones. All to make those who want to go grain-free more confident.
De Maigret, Caroline & Sophie Mas. Older, but Better, but Older. Doubleday. Dec. 2019. 256p. ISBN 9780385544863. $25; ebk. ISBN 9780385544870. Downloadable. SELF-HELP/FASHION & STYLE
Having delighted us with the best-selling How To Be Parisian Wherever You Are, international model De Maigret (who's been plumping for Chanel since 2013) and film producer Mas explain how to be ineffably chic post-40—without having to modify by much the badass behavior they embrace. It's all here, from beauty and seduction to work and family to finding passion and peace.
Fogg, BJ. Tiny Habits: The Small Changes That Change Everything. Houghton Harcourt. Dec. 2019. 288p. ISBN 9780358003328. $28; ebk. ISBN 9780358003991. SELF-HELP/TIME MANAGEMENT
Founder and director of Stanford's Behavior Design Lab and one of Fortune's "10 New Gurus You Should Know," Fogg draws on 20 years' worth of research and experience coaching 40,000-plus people to show us how we can break bad habits and make better ones to lead a happier and healthier life. Along the way, he persuades us that it's not about willpower and that you change your life by starting small. With a 150,000 copy first printing.
Hay, Tina. Napkin Finance: Build Your Wealth in 30 Seconds or Less. Dey Street: HarperCollins. Dec. 2019. 272p. ISBN 9780062915030. $25.99; ebk. ISBN 9780062915023. PERSONAL FINANCE
Struggling at Harvard Business School with terminology and numbers-laden concepts that fellow students with a banking background breezed through, Hay devised a visual learning strategy using sketches and infographics that helped her conquer all. Then she founded the multimedia company Napkin Finance to help anyone understand essential concepts of money without fear or glazed eyes. Michelle Obama's Better Make Room campaign is among her clients. Including 60 learning modules in a seven-inch square format, with each module including a four-color Napkin (hmm, that's new) plus explanations and visual elements; a 75,000 copy first printing.
LeVeque, Kelly. Body Love Every Day: Choose Your Life-Changing 21-Day Path to Food Freedom. Morrow. Dec. 2019. 272p. ISBN 9780062870803. $27.99; ebk. ISBN 9780062870827. HEALTH/NUTRITION
Active on countless diet, fitness, and lifestyle sites, a guest on countless podcasts, and beautifully connected in the wellness and celebrity worlds, LeVeque made her name among readers with Body Love, which has sold more than 55,000 copies across formats. Her "you're not really dieting" approach to weight loss via clean eating centers on protein, fat, fiber, and greens, and her new book focuses on finding the balance of ingredients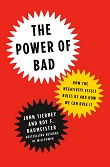 that's right for four different types of cautious eaters—Red Carpet Ready, Girl on the Go, Domestic Goddess, and the Plant-Based Devotee. (And if you're a Plant-Devoted, Red-Carpet Girl on the Go with Goddess pretensions, there's a diet plan here for you, too.) With a 100,000-copy first printing.
Tierney, John & Roy F. Baumeister. The Power of Bad: How the Negativity Effect Rules Us and How We Can Rule It. Penguin Pr. Dec. 2019. 336p. ISBN 9781594205521. $28; ebk. ISBN 9781101616468. Downloadable. PSYCHOLOGY
If there's one thing that the best-selling authors of Willpower know, it's that, as Baumeister said in a linchpin paper, "Bad Is Stronger Than Good." Financial losses matter more to people than financial gains; one nasty comment about your hair, your presentation, or your book will outweigh all the glowing praise you have received. (Don't I know.) Here, Tierney and Baumeister show us how to combat the kneejerk awful feelings that arise with the bad and use our rational minds to get to a better place.