February thrills include key names and imaginative setups ranging from assisted suicide to academic competition.
Bauer, Belinda. Exit. Atlantic Monthly. Feb. 2021. 336p. ISBN 9780802157881. $26. THRILLER
Retired and a widower for more than 10 years, Felix Pink is waiting to die, meanwhile volunteering to assist the terminally ill who have chosen suicide. Then something goes wrong with one of his cases, and he's on the run for murder. A CWA Dagger in the Library winner (for her oeuvre), Bauer was recently long-listed for the Man Booker Award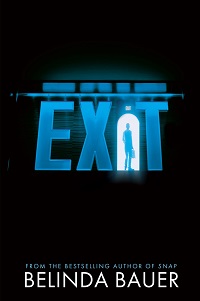 (Snap).
Berenson, Alex. The Power Couple. S. & S. Feb. 2021. 432p. ISBN 9781982103699. $28. CD. THRILLER
Washington, DC, power couple Rebecca and Brian Unsworth decide to jump-start their flailing marriage by taking the children on a grand tour of Europe. In Barcelona, when daughter Kira doesn't come home from a dance hall, her parents scurry to find out who abducted her—even as it emerges that Kira had ideas of her own. With a 200,000-copy first printing.
Berry, Steve. The Kaiser's Web. Minotaur: St. Martin's. Feb. 2021. 400p. ISBN 9781250140340. $28.99. CD. THRILLER
In Cotton Malone's latest case, a newly surfaced dossier from a World War II–era Soviet spy could profoundly impact the race for Germany's chancellorship between a longtime public servant and a nationalist ranter. The dossier suggests that Hitler and henchman Martin Bormann survived the war and that billions in Nazi gold remained unaccounted for. With a 350,000-copy first printing.
Cooper, Helen. The Downstairs Neighbor. Putnam. Feb. 2021. NAp. ISBN 9780593190388. pap. $17. THRILLER
In this debut from Cooper, runner-up for several short story prizes in the UK, teenage Freya has disappeared from her family's apartment in the London suburbs. As her parents are questioned, stories of another vanished child and a decades-old murder emerge, and the apartment building's residents all feel the rising tension.
de Rosnay, Tatiana. Flowers of Darkness. St. Martin's. Feb. 2021. 272p. ISBN 9781250272553. $27.99. CD. THRILLER
Novelist Clarissa Katsef has just moved into CASA, the flashy new artists' residence in Paris with a smashing view of the city, but she's not relaxed. Who actually built CASA, why does Clarissa feel she's being watched, and is the betrayal that precipitated her divorce affecting her perspective? From the New York Times best-selling author of Sarah's Key; with a 50,000-copy first printing.
Gentry, Amy. Bad Habits. Mariner: Houghton Harcourt. Feb. 2021. 352p. ISBN 9780358126546. $25; pap. ISBN 9780358408574. $14.99. THRILLER
At an academic conference, Claire "Mac" Woods's sense of newfound glory dims considerably when she runs into Gwendolyn Whitney, the wealthy sophisticate underprivileged Mac first met in high school. Eventually, they ended up in the same prestigious grad school program, competing for professorial attention and a crucial fellowship. How far did Mac go to get ahead? From the author of the New York Times best-selling Good as Gone; with a 30,000-copy paperback and 3,000-copy hardcover first printing.
Hart, John. The Unwilling. St. Martin's. Feb. 2021. 384p. ISBN 9781250167729. $27.99. CD. THRILLER
Home from Vietnam and then by three years in prison, hardened Jason wants to reconnect with younger brother Gibby, so he invites him on an outing with two women and some whiskey. But trouble erupts, and Gibby must investigate Jason's dark, heroin- and gun-laced past. From the only author to win two best novel Edgars consecutively; originally scheduled for June 2020.
Jance, J. A. Missing and Endangered: A Brady Novel of Suspense. Morrow. Feb. 2021. 384p. ISBN 9780062853462. $28.99. lrg. prnt. CD. THRILLER
Sophomore college student Jennifer Brady worries that trouble awaits her homeschooled first-year roommate, Beth, who's both naïve and eager for experience. And sure enough, Beth disappears. Jennifer's mom, Sheriff Joanna Brady, helps find her, but meanwhile Jennifer is being stalked by an angry criminal bent on revenge for her intervention. With a 250,000-copy first printing.
Johansen, Roy & Iris Johansen. Blink of an Eye. Grand Central. Feb. 2021. 352p. ISBN 9781538762882. $28. CD/downloadable. THRILLER
When pop sensation Delilah Winter is kidnapped in the middle of a show at the Hollywood Bowl, Dr. Kendra Michaels is called in to find her. Kendra is joined by Delilah's former bodyguard, Jessie Mercado, and agent-for-hire Adam Lynch in a hunt that turns bloody. With a 75,000-copy first printing.
Koryta, Michael. Never Far Away. Little, Brown. Feb. 2021. 448p. ISBN 9780316535939. $28. CD/downloadable. THRILLER
New York Times best-selling, Los Angeles Book Prize–winning Koryta returns, presumably landing in the heartlands that he vivifies so well. No plot details, but a 75,000-copy first printing.
Youers, Rio. Lola on Fire. Morrow. Feb. 2021. 400p. ISBN 9780063001008. $27.99. lrg. prnt. THRILLER
British Fantasy nominee Youers goes hard-edged with the story of hapless Brody Ellis, who robs a convenience store so he can buy his sister's medications. But then he loses his wallet, which the woman who found it will return only if he retrieves her late mother's diamonds from her mean stepmother. The bloodbath he finds at the stepmother's house bespeaks setup, and it gets even more complicated—but why? With a 100,000-copy first printing.