Grabbed-from-the-headlines picks include Susan Fowler's Whistleblower, about her challenge to Uber's management; Adrienne Martin on running for local office and winning; Tanya Selvaratnam on her abuse by New York State Attorney General Eric Schneiderman; and independent reporter Frank Smyth on the NRA. More newsworthy titles include several election runup books on the liberal side and Ross Douthat representing a more conservative view about society today.
In the News Picks
Fowler, Susan. Whistleblower: My Journey to Silicon Valley and Fight for Justice at Uber. Viking. Mar. 2020. 288p. ISBN 9780525560128. $28; ebk. ISBN 9780525560135. Downloadable. MEMOIR
In 2017, after being told that she was the problem when she and eventually other women complained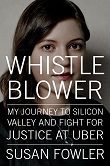 about the sexism, harassment, and racism at Uber, entry-level engineer Susan Fowler posted a blog detailing her treatment there. The blog went viral and resulted in the ouster of Uber's CEO and 20 other employees. Meanwhile, Fowler appeared on the cover of Time as a 2017 Person of the Year issue as one of the "Silence Breakers" spearheading the #metoo movement. Now she's the technology op-ed editor at the New York Times.
Martin, Adrienne. Somebody's Gotta Do It: Why Cursing at the News Won't Save the Nation, but Your Name on a Local Ballot Can. Holt. Mar. 2020. 240p. ISBN 9781250247636. $25; ebk. ISBN 9781250247629 POLITICAL SCIENCE
Frustrated after the 2016 election, award-winning journalist Martin was told by the friend of a friend that she should run for office. That year, she was one of 26,000 women (vs. 960 the year before) who contacted Emily's List about seeking office. Now she's the representative for District 12 to the Otsego County Board of Representatives in upstate New York, never mind that she's a progressive in a red county helping manage a rural county with a $130 million budget and big issues about highway repair, soil and water conservation, the need for a coroner, and more. As she says, someone's gotta do it, whatever your political persuasion.
Selvaratnam, Tanya. Assume Nothing: A Story of Intimate Violence. Holt. Mar. 2020. 288p. ISBN 9781250214249. $28; ebk. ISBN 9781250214232. SOCIAL SCIENCE/SEXUAL ABUSE
A journalist, author (The Big Lie), and Emmy-nominated and Webby-winning producer, Selvaratnam uses her headlines-making abuse by former New York State Attorney General Eric Schneiderman to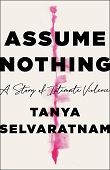 investigate the issue of intimate partner violence. She addresses both recognizing such violence, showing how abusers act to entrap, isolate, demean, control, and abuse their victims in a pattern that recalls her own situation, and finding ways to end it. In her own case, going to the police was not so easy, as Schneiderman was the state's top law enforcement official, and here she offers a wide range of tools for victims.
Smyth, Frank. The NRA: The Unauthorized History. Flatiron: Macmillan. Mar. 2020. 320p. ISBN 9781250210289. $28.99; ebk. ISBN 9781250210296. POLITICAL SCIENCE
An award-winning independent journalist writing his first book, Smyth offers a history of the National Rifle Association, one of our oldest and largest civic institutions and the reason our gun policy diverges so baldly from that of other developed nations. As he shows, the NRA, once focused primarily on marksmanship and supportive of most governmental gun-control measures, has moved to opposing any attempt to restrict guns. That Smyth is a gun owner and Second Amendment adherent who also worked as an arms-trafficking investigator for Human Rights Watch and broke the role of France in arming Rwanda before its genocide suggests the kind of balance he should bring to this story.
More Newsworthy Stories
Murdoch, Sierra Crane. Yellow Bird: Oil, Murder, and a Woman's Search for Justice in Indian Country. Random. Feb. 2020. 384p. ISBN 9780399589157. $28; ebk. ISBN 9780399589164. Downloadable. TRUE CRIME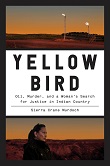 Released from prison in 2009, Lissa Yellow Bird found the Fort Berthold Indian Reservation in North Dakota profoundly changed—indeed, corrupted—by the Bakken oil boom. Several years later, when she began searching for vanished white oil worker Kristopher "KC" Clarke, she found herself caught between her own, newly wealthy tribe and the non-Native oilmen struggling in the wake of recession. Yellow Bird is touted as a bold and unorthodox heroine, and American West–based Crane Murdoch spent eight years investigating her story.
Daley, David. Unrigged: How Americans Are Battling Back To Save Democracy. Liveright: Norton. Mar. 2020. 272p. ISBN 9781631495755. $26.95. POLITICAL SCIENCE
Having shown in the best-selling Ratf**ked how a dedicated group of Republicans have recently rigged American elections, Daley turns around to discuss a counter-phenomenon: efforts to battle gerrymandering from states as far-flung as Michigan, Florida, and Maine. In Michigan, for instance, millennials showed their clout by launching a statewide redistricting revolution with a Facebook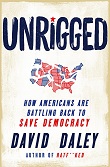 post.
Douthat, Ross. The Decadent Society: How We Became a Victim of Our Own Success. Avid: S. & S. Mar. 2020. 272p. ISBN 9781476785240. $27; ebk. ISBN 9781476785264. POLITICAL SCIENCE
New York Times columnist Douthat (Bad Religion) looks at America and sees a country that has stopped moving forward despite great wealth and technological accomplishment owing to economic and political stagnation, cultural waywardness, and demographic decline—he's worried about our birthrate. Bound to stir discussion; with a 75,000-copy first printing.
Emanuel, Rahm. The Nation City: Why Mayors Are Now Running the World. Knopf. Mar. 2020. 240p. ISBN 9780525656388. $25.95; ebk. ISBN 978052565639. Downloadable. POLITICAL SCIENCE
Around for millennia, cities are our oldest political institutions, and they are better at offering effective and forward-looking governance than the hog-tied federal government. So argues the two-term mayor of Chicago, who provides nonpartisan examples from cities nationwide forging ahead in education, infrastructure, environmental issues, and other key issues. With a six-city tour to Chicago, New York, Washington, Los Angeles, San Francisco, and Boston.
Holley, Joe. Sutherland Springs: God, Guns, and Hope in a Texas Town. Hachette. Mar. 2020. 288p. ISBN 9780316451154. $28; ebk. ISBN 9780316451116. POLITICAL SCIENCE
After the November 5, 2017, shooting at the First Baptist Church in Sutherland Springs, TX, which killed 26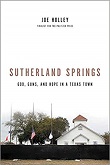 people in the largest mass shooting in a place of worship in America, Holley, the roving "Native Texan" columist for the Houston Chronicle, stayed in town to understand those who died, those who survived, and those who helped. He also looks at Sutherland Springs itself, faded since its vibrant beginnings in the 1850s, as a microcosm of America.
Karl, Jonathan. Front Row at the Trump Show. Dutton. Mar. 2020. 320p. ISBN 9781524745622. $28. lrg. prnt. Downloadable. POLITICAL SCIENCE
As ABC News chief Washington correspondent and chief White House correspondent, the Emmy Award-winning Karl has a front-row seat at the "Trump show," and he argues that while Trump pointedly denigrates the press, he's obsessed with the news. He just enjoys playing the game, which makes reporting on the White House more important than ever.
Plouffe, David. A Citizen's Guide to Beating Donald Trump. Viking. Mar. 2020. 256p. ISBN 9781984879493. $25; ebk. ISBN 9781984879509. Downloadable. POLITICAL SCIENCE
Campaign manager for President Barack Obama's primary and general election victories in 2008, then senior adviser at the White House tasked with assuring Obama's reelection in 2012, Plouffe has advice for those opposed to President Trump's reelection in 2020. His defeat won't come about through debates or ads, argues Plouffe, but through something more intimate: one person talking to another. And here are some great talking points.
Schwartz, Nelson D. The Velvet Rope Economy: How Inequality Became Big Business. Doubleday. Mar. 2020. 352p. ISBN 9780385543088. $27.95; ebk. ISBN 9780385543095. Downloadable. SOCIAL
CLASSES
In a book that is sure to grab attention, New York Times business reporter Schwartz addresses the "velvet rope" that separates most Americans from the big-privileged wealthy, who can easily secure plane seats, hospital beds, and places for their children in college or the amusement park line, not to mention private firemen who'll hose down their houses while letting the house next door burn down. How did this come about, and what are the consequences?