Icelandic crime king Jónasson wraps up his series starring Detective Inspector Hulda Hermannsdóttir with a visit to a snowed-in cabin, and Steiner continues her successful new series with Det. Manon Bradshaw of the Cambridgeshire police investigating a mysterious hanging. Plus multiple series starts from well-known authors (e.g., Hart, Sears), British-set work ranging from the medieval era to today, and more big chills.
Mystery Picks
Jónasson, Ragnar. The Mist. Minotaur: St. Martin's. Jun. 2020. 336p. ISBN 9781250768117. $27.99; ebk. ISBN 9781250768124. MYSTERY/INTERNATIONAL
What has Detective Inspector Hulda Hermannsdóttir got to do with a remote farmhouse in eastern
Iceland, where a couple shut in by a blizzard has foolishly let in a stranger? Read up to find out, but know that not everyone emerges alive, and this scenario will trouble Hulda for the rest of her career. Iceland's premier crime writer wraps up the "Hidden Iceland" series, begun with The Island and The Darkness.
Steiner, Susie. Remain Silent: A Manon Bradshaw Novel. Random. Jun. 2020. 320p. ISBN 9780525509974. $27; ebk. ISBN 9780525509981. Downloadable. MYSTERY/LITERARY
In her third outing after the best-booked Missing, Presumed and the multi-starred Persons Unknown, Det. Manon Bradshaw is just married, already burned out on marital spats and child care, and finding some peace by working part-time in the cold cases department of the Cambridgeshire police. Then, walking around her quiet suburban neighborhood with her toddler, she comes across a Lithuanian immigrant dangling from a tree. Suicide? Murder? She's off and running.
Series Starts
Brett, Simon. The Clutter Corpse. Crème de la Crime: Severn House. Jun. 2020. 192p. ISBN 9781780291246. $28.48. MYSTERY/CONTEMPORARY
Burton, Jeffrey B. The Finders: A Mystery. Minotaur: St. Martin's. Jun. 2020. 288p. ISBN 9781250244536.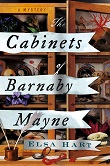 $26.99; ebk. ISBN 9781250244543. MYSTERY/AMATEUR SLEUTH
Clark, Cassandra. The Hour of the Fox. Severn House. Jun. 2020. 256p. ISBN 9780727889584. $28. MYSTERY/MEDIEVAL
Hart, Elsa. The Cabinets of Barnaby Mayne: A Mystery. Minotaur: St. Martin's. Jun. 2020. 320p. ISBN 9781250142818. $26.99; ebk. ISBN 9781250142825. CD. MYSTERY/HISTORICAL
Sears, Michael. Tower of Babel. Soho Crime. Jun. 2020. NAp. ISBN 9781641291958. $27.95; ebk. ISBN 9781641291965. MYSTERY/PRIVATE INVESTIGATOR
Taylor, Sarah Stewart. The Mountains Wild. Minotaur: St. Martin's. Jun. 2020. 416p. ISBN 9781250256430. $27.99; ebk. ISBN 9781250754134. MYSTERY/INTERNATIONAL
In The Clutter Corpse ("Decluttering" series), CWA Diamond Dagger winner Brett goes Marie Kondo with a professional declutterer who encounters a corpse during a cleanup and ends up trying to prove that the homeowner's ex-con son was not the perpetrator. Chessman/Eulogist author Burton's The Finders ("Mace Reid K-9 Mystery" series) introduces Mason "Mace" Reid, a specialist in human remains detection who's mourning the death of both his dog and his marriage when he starts training golden retriever Vira, soon to be tested in a case involving a serial killer. In The Hour of the Fox ("Brother Chandler Mystery"), Clark, author of the genial "Hildegard of Meaux" series, brings us an engaging novice who investigates a nun's death while secretly serving as a spy for King Richard's cousin Henry Bolingbroke. Having introduced herself with the stunning, Chinese borderlands–set "Li Du" series, Hart travels to early 1700s London, where botany-prone Cecily Kay goes to rummage through The Cabinets of Barnaby Mayne and finds the famed collector murdered. Edgar-nominated, Shamus Award–winning former Wall Streeter Sears changes gears and publishers with Tower of Babel, starring a disgraced lawyer working as a foreclosure profiteer in his old stomping ground—multiethnic Queens—and here investigating the murder of his slightly shady case sourcer (PLA and ALA promotion). And in "Sweeney St. George" author Taylor's The Mountains Wild, Maggie D'Arcy, who decided to become a detective after weeks spent in Ireland helping the Gardaí hunt for her missing cousin Erin, returns decades later when Erin's scarf is finally found.
British-Set
Casey, Eliza. Lady Rights a Wrong. Berkley. Jun. 2020. 320p. ISBN 9781984803900. pap. $16; ebk. ISBN 9781984803917. MYSTERY/COZY
Clare, Alys. The Indigo Ghosts. Severn House. Jun. 2020. 256p. ISBN 9780727890276. $28.99.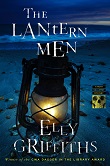 MYSTERY/HISTORICAL
Goldberg, Leonard. The Art of Deception: A Daughter of Sherlock Holmes Mystery. Minotaur: St. Martin's. Jun. 2020. 320p. ISBN 9781250224200. $26.99; ebk. ISBN 9781250224217. CD. MYSTERY/HISTORICAL
Griffiths, Elly. The Lantern Men. Houghton Harcourt. Jun. 2020. 356p. ISBN 9780358237044. $27; ebk. ISBN 9780358237006.
Montclair, Allison. A Royal Affair: A Sparks & Bainbridge Mystery. Minotaur: St. Martin's. Jun. 2020. 320p. ISBN 9781250178398. $26.99; ebk. ISBN 9781250178404. MYSTERY/HISTORICAL
Ramsay, Caro. The Red, Red Snow. Severn House. Jun. 2020. 256p. ISBN 9780727889232. $28.48.
In Casey's Lady Rights a Wrong, second in the "Manor Cat Mystery" series, Lady Cecilia Bates of Danby Hall eagerly joins the Woman's Suffrage Union and winds up investigating the murder of its leader. Veteran historical fiction author Clare takes us to 1604 England, where former ship's surgeon–turned–country physician Gabriel Taverner stumbles upon a body when asked by his old captain to investigate The Indigo Ghosts reputedly spotted by the captain's frightened crew. Goldberg's The Art of Deception again features the daughter of Sherlock Holmes, joining with Dr. John Watson and his son to investigate multiple art slashings that lead to murder. In Griffiths's The Lantern Men, forensic archaeologist Ruth Galloway tries to locate a serial killer's victims, supposedly buried near the fens, where ghostly figures with lanterns are said to lure people to their deaths (20,000-copy first printing). Following the multi-starred The Right Sort of Man, Montclair's A Royal Affair has the proprietors of the start-up The Right Sort Marriage Bureau drafted to check out rumors regarding the Greek prince of great interest to Princess Elizabeth. And in Ramsay's The Red, Red Snow (note the recent The Suffering of Strangers, deemed "hard to put down" by LJ), Detectives Anderson and Costello are back, fretting over a killer who has left no footprints in the snow after a Christmas party turned bloody.
More Top Mysteries
Carlisle, Kate. The Grim Reader. Berkley. Jun. 2020. 336p. ISBN 9780451491435. $26; ebk. ISBN 9780451491459. MYSTERY
Connolly, Sheila. The Secret Staircase. Minotaur: St. Martin's. Jun. 2020. 304p. ISBN 9781250135902.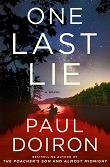 $26.99; ebk. ISBN 9781250135919 MYSTERY
Cotterill, Colin. The Delightful Life of a Suicide Pilot. Soho Crime. Jun. 2020. 288p. ISBN 9781641291774. $27.95; ebk. ISBN 9781641291781. MYSTERY/AMATEUR SLEUTH
Doiron, Paul. One Last Lie. Minotaur: St. Martin's. Jun. 2020. 320p. ISBN 9781250235077. $27.99; ebk. ISBN 9781250235084. CD. MYSTERY
Qiu Xiaolong. Hold Your Breath, China. Severn House. Jun. 2020. 240p. ISBN 9780727890436. $28.43. MYSTERY/INTERNATIONAL
In Carlisle's The Grim Reader, San Francisco book restorer Brooklyn Wainwright was looking forward to a local book fair with wine-and-book pairings (who wouldn't?), but the palm readers' predictions of theft and murder prove all too true. In New York Times best-selling author Connolly's third "Victorian Village Mystery," Kate Hamilton runs into a snag while happily renovating the Barton mansion in Asheboro, MD; there's a skeleton on The Secret Staircase, murdered in the 1880s. In The Delightful Life of a Suicide Pilot, CWA Dagger in the Library recipient Cotterill wraps up his beloved Dr. Siri Paiboun series with the good doctor drawn into an investigation of dangerous World War II secrets by a mysterious diary written in Lao and Japanese. In One Last Lie, Edgar Award finalist and Barry/Strand winner Doiron brings back Mike Bowditch, who finds that the disappearance of his mentor, retired game warden Charley Stevens, is linked to a 15-year-old cold case. Qui's Hold Your Breath, China again features Chief Inspector Chen, who must infiltrate an environmental group protesting pollution in China while also chasing a serial killer.