Baker probes the Freedom of Information Act, Conn offers a tale of two Syrian brothers, Deresiewicz assays the artist's life in the 21st century, Lozado reads 150 books about Trump, and Thompson considers the issues surrounding the 2016 Dallas police shooting. Plus more public issues of importance.
Picks
Baker, Nicholson. Baseless: My Search for Secrets in the Ruins of the Freedom of Information Act. Penguin Pr. Jul. 2020. 464p. ISBN 9780735215757. $30; ebk. ISBN 9780735215771. Downloadable. POLITICAL SCIENCE
Researching a book on the possible U.S. deployment of biological weapons during the Korean War, Baker (Vox, Double Fold)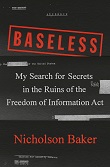 found himself repeatedly waylaid by the Freedom of Information Act (FOIA), often waiting for years to receive material so heavily redacted that it might be unreadable. So instead he wrote a book about the process itself, condemning the limitations of FOIA and revealing dangerous programs he did discover involving chemical weapons, experiments on civilians, and the intentional spread of disease.
Conn, Jordan Ritter. The Road from Raqqa: A Story of Brotherhood, Borders, and Belonging. Ballantine. Jul. 2020. 272p. ISBN 9781984817181. $28; ebk. ISBN 9780525482710. Downloadable. BIOGRAPHY/CULTURAL HERITAGE
With the tensions following the 1982 Hama massacre, Riyad Alkasem left Syria to study law in the United States, then took a different road, marrying and becoming the chef-owner of Nashville's Café Rakka (he's from a family of cheese, butter, and yogurt makers) while battling the loneliness and discrimination immigrants face. Meanwhile, his brother Bashar became a lawyer in the Assad regime, with a comfortable lifestyle if uncomfortable conscience, and as war exploded, Riyad returned home to find him. From rising-star journalist Conn, who first befriended Riyad when he needed a translator.
Deresiewicz, William. The Death of the Artist: How Creators Are Struggling To Survive in the Age of Billionaires and Big Tech. Holt. Jul. 2020. 336p. ISBN 9781250125514. $27.99; ebk. ISBN 9781250125521. CULTURAL CRITICISM
Distinguished critic Deresiewicz, a New York Times best-selling author (Excellent Sheep) and winner of National Book Critics Circle honors for excellence in reviewing, reveals how 21st-century technology has changed the artist's life, even as funding dribbles away. Painters and poets now post on Instagram, and filmmakers record their work on iPhone and upload to YouTube; creators are no longer simply crafters but entrepreneurs, responsible for every aspect of their work. What's the personal cost, and what can be done to help them?
Lozada, Carlos. Reckless Minds: A Brief Intellectual History of the Trump Era. S. & S. Jul. 2020. 320p. ISBN 9781982145620. $28. POLITICAL COMMENTARY
For his job, the Pulitzer Prize–winning nonfiction book critic of the Washington Post has read 150 books on Donald Trump and lived to tell this story. Along with books about Trump himself, he's considered works on the white working class (Hillbilly Elegy), resistance manifestoes (On Tyranny), and diversity studies (How To Be an Antiracist). His conclusion? These books are shaped by exactly the passions and proclivities that got Trump elected in the first place, telling us less about what to do (whatever our political leanings) than who we really are. With a 75,000-copy first printing.
Thompson, Jamie. Standoff: Race, Policing, and a Deadly Assault That Captivated a Nation. Holt. Jul. 2020. 336p. ISBN 9781250204219. $27.99; ebk. ISBN 9781250204202. SOCIOLOGY
An Edward R. Murrow Award–winning journalist, Thompson expands her Washington Post coverage of the 2016 Dallas shooting that killed five police officers and injured more at a protest over the killing of two black men by white police officers. With portraits of the shooter, the veteran black officer who (controversially) kept him occupied until SWAT officers could eliminate him, the black surgeon who operated on the victims, and more, Thompson considers what being safe in this country really means.
More Current Events
Dezember, Ryan. Underwater: How Our American Dream of Homeownership Became a Nightmare. Thomas Dunne: St. Martin's. Jul. 2020. 288p. ISBN 9781250241801. $28.99; ebk. ISBN 9781250241818. POLITICAL SCIENCE/PUBLIC POLICY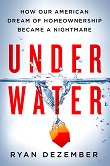 Douglas, Lawrence. Will Trump Go?: And What We Will Do When He Won't. Twelve. Jul. 2020. 160p. ISBN 9781538751886. $22; ebk. ISBN 9781538751879. lib. ebk. ISBN 9781538702376. Downloadable. POLITICAL SCIENCE/CAMPAIGNS
Gold, Judy. Yes, I Can Say That: When They Come for the Comedians We're All in Trouble. Dey Street: HarperCollins. Jul. 2020. 224p. ISBN 9780062953759. $22.99; ebk. ISBN 9780062953773. POLITICAL SCIENCE/HUMOR
Montross, Christine. Waiting for an Echo: The Madness of American Incarceration. Penguin Pr. Jul. 2020. 352p. ISBN 9781594205972. $28; ebk. ISBN 9780698152762. Downloadable. PSYCHIATRY
Young, Jeff. Appalachian Fall: Dispatches from Coal Country on What's Ailing America. Tiller: S. & S. Jul. 2020. 256p. ISBN 9781982148867. $24.99. SOCIAL SCIENCE
In Underwater, Wall Street Journal reporter Dezember offers a unique perspective on the long-term consequences of the 2008 housing-market crash by reflecting on his own situation as an underwater homeowner. Will Trump Go?: Constitutional lawyer Douglas considers what might happen if Trump loses the next election and refuses to absent the White House. Asserting Yes, I Can Say That, award-winning comedian Gold condemns a growing trend to censor comedians, arguing that those barbed jokes are the best way to discuss controversial topics (75,000-copy first printing). From psychiatrist Montross (Falling into the Fire), who has worked in prisons, Waiting for an Echo protests placing the mentally ill in punitive settings while also arguing that prison can lead to mental illness for prisoners, guards, and doctors alike. Young, a former Nieman Fellow with the Ohio Valley ReSource, a regional journalism collaborative reporting on Kentucky, Ohio, and West Virginia, uses Appalachian Fall to discuss coal country as the industry fades and environmental concerns, opioid addiction, and white nationalism rise. From a new nonfiction imprint at S. & S.