Books to ponder in the run-up to the election.
Gessen, Masha. Surviving Autocracy: A Status Report. Riverhead. Jun. 2020. 400p. ISBN 9780593188934. $26. lrg. prnt. Downloadable. POLITICAL SCIENCE
In a June title recently announced but unmissable, the National Book Award–winning Gessen considers the damage Trump has done to our country's key institutions and how rapidly our national identity has changed in just a few years. Once we saw ourselves as a nation of immigrants, but now we build walls and fear desperate refugees. Given Gessen's Soviet childhood and ongoing study of the resurgence of totalitarianism in Russia today, she's finely tuned to the creeping rise of autocracy here.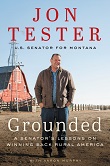 Smith, Mychal Denzel. Stakes Is High: Life After the American Dream. Bold Type: Hachette. Sept. 2020. 192p. ISBN 9781568588735. $26. POLITICS
Smith follows up the New York Times best-selling Invisible Man, Got the Whole World Watching: A Young Black Man's Education, an impressive debut title, by expanding his aim to include educating all of us. Tops on his list in a book of wide-ranging, interlinked essays: a look at how white America prefers its mythologies to actual history, and how that affects everyone. Originally scheduled for January 2020.
Tester, Jon with Aaron Murphy. Grounded: A Senator's Lessons on Winning Back Rural America Ecco. Sept. 2020. 336p. ISBN 9780062977489. $29.99. lrg. prnt. MEMOIR/POLITICS
A three-term Democratic senator from Montana, Tester shows by example how his party can reclaim the allegiance of rural voters and working-class people; after all, he handily won his last election while pitted against a heavily funded candidate who had Trump's direct support. Seen as a unifier, Tester argues for accountability and proves to have bedrock values; he's the only senator with a full-time job outside the Senate, managing his 1,800-acre farm, in his family for more than a century. With a 150,000-copy first printing.
Yergin, Daniel. The New Map: Energy, Climate, and the Clash of Nations. Penguin Pr. Sept. 2020. 544p. ISBN 9781594206436. $35. ENERGY
Wrought with some bitterness by fracking, the shale revolution in oil and gas has made America the world's top energy source, as the Middle East struggles with the impact on its oil industry even as battles rage and Russia seeks to effect a power grab by lining up with China, soon to be the world's biggest economy and master of much of the South China Sea, the world's most critical trade route. Pulitzer Prize–winning energy expert Yergin shows us how the world has been remapped because of these major energy and geopolitical changes, even as climate change threatens further transformation.