Top picks come from Jussi Adler-Olsen, who folds our current refugee crisis into his latest mystery, and Donna Leon, whose visits to Venice with Comissario Guido Brunetti will never grow stale. In addition, check out sure-to-be-popular mysteries ranging from Christi Daugherty's Revolver Road to Daniel Friedman's Running Out of Road, plus works by Tom Bouman, Jude Deveraux, Deanna Raybourn, and others.
Mystery Picks
Adler-Olsen, Jussi. Victim 2117: A Department Q Novel. Dutton. Mar. 2020. tr. from Danish by William Frost. 464p. ISBN 9781524742553. $28; ebk. ISBN 9781524742577. lrg. prnt. Downloadable. MYSTERY
Tragically, the Mediterranean here claims the life of the 2,117th refugee, with reverberations felt far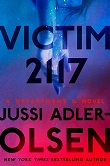 away in Denmark. Danish teen Alex sees a reason to go violent; Ghallib, a torturer under Saddam Hussein, sees a chance to launch a terrorist plot; and quiet Assad of Department Q, the cold case division of the Copenhagen police, sees evidence that his family may still be alive. Helped by Department Q members, Assad faces a painful past and starts tracking Ghallib, with Alex threatening serious disruption. From the No. 1 internationally best-selling author billed as Denmark's top crime writer (yes, he's won the Glass Key Award).
Leon, Donna. Rush On, Mercury: A Comissario Guido Brunetti Mystery. Atlantic Monthly. Mar. 2020. 320p. ISBN 9780802148674. $27; ebk. ISBN 9780802148698. MYSTERY
In the 29th Comissario Guido Brunetti mystery from CWA Macallan Silver Dagger winner Leon, Brunetti receives a call from Dottoressa Donato announcing that a patient on her deathbed wants to speak with him. The dying woman can barely utter the words "They killed him….Bad money," but this information leads Brunetti and colleague Comissario Claudia Griffoni to a bigger case that threatens the entire Veneto. Adding to the two million copies of Leon's books sold in North America alone.
More Great Mysteries
Bouman, Tom. The Bramble and the Rose: A Henry Farrell Novel. Norton. Mar. 2020. 256p. ISBN 9780393249668. $25.95; ebk. ISBN 9780393249675. MYSTERY
Having had a stellar career launch with Dry Bones in the Valley, which won Edgar, Los Angeles Times, John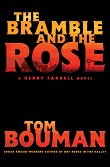 Creasey, Strand, Macavity, and LibraryReads honors (and that's not the full list), Bouman returns with his third Officer Henry Farrell novel. Here, Henry initially believes the headless stranger found in the woods surrounding Wild Thyme, PA, was killed by a bear and leaves this case to the Game Commission. But the victim turns out to be a retired investigator, in town for unknown reasons, and Henry is upended by personal loss as he starts to investigate.
Childs, Laura. Lavender Blue Murder. Berkley. Mar. 2020. 336p. ISBN 9780451489661. $26; ebk. ISBN 9780451489685. MYSTERY
Owner of Charleston's Indigo Tea Shop, Theodosia Browning is attending a bird hunt styled as a traditional English shooting party (think tweeds and sloe gin fizzes) when the rat-a-tat of a gun clearly not meant for fowl sounds, leaving host Reginald Doyle dead. Later that night, the host's house bursts into flame, and Theodosia starts her investigation by inviting a prime suspect to her Lavender Lady Tea. Is this wise? Next in the New York Times best-selling series.
Daugherty, Christi. Revolver Road: A Harper McClain Mystery. Minotaur: St. Martin's. Mar. 2020. 336p. ISBN 9781250235886. $27.99; ebk. ISBN 9781250235893. CD. MYSTERY
Having fled from Savannah after a phone call hinted at her impending death, crime reporter Harper McClain is under wraps on Tybee Island, currently distracting herself with a newspaper story about the disappearance of hit singer Xavier Raynet from his beachfront home. Did he drown? Did he do a runner, as he has before? Harper thinks not, which proves bloodily prescient. Former crime reporter and best-selling YA author Daugherty returns with the third in an adult series generally seen as grittily high-pulse-inducing.
Deveraux, Jude. A Forgotten Murder. Mira: Harlequin. Mar. 2020. 384p. ISBN 9780778309895. $26.99; ebk. ISBN 9781488056475.CD. MYSTERY
In this third entry in Devereaux's genre-switching "Medlar Mystery" series, an impending threat compels retired romance novelist Sara Medlar to rush niece Kate out of Lachlan, FL, by having them visit a friend in England pretending to be mortally ill for the occasion. Sara even suggests they try to solve the long-ago disappearance of some valuable jewelry from the estate by inviting folks present at the time to gather and party, but the discovery of human remains turns the festivities into a murder investigation. With a 150,000-copy first printing.
Ferrari, K. Like Flies from Afar. Farrar. Mar. 2020. 224p. tr. from Spanish by Adrian Nathan West. ISBN 9780374239947. $25; ebk. ISBK 9780374718831. MYSTERY
Filthy rich Argentinian oligarch Luis Machi has a cocaine habit and consorts with lowlifes and the secret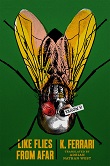 police, but he's not responsible for the dead body in the trunk of his BMW. And he's got to figure out who put it there—fast. A blackly funny mystery from Ferrari, who has won international literary prizes while working by night as a Buenos Aires subway janitor, having started writing before he was deported from the United States while looking for work.
Friedman, Daniel. Running Out of Road: A Mystery. Minotaur: St. Martin's. Mar. 2020. 288p. ISBN 9781250058485. $26.99; ebk. ISBN 9781466862715. MYSTERY
Retired for decades and facing the end, former Memphis detective Buck Schatz finds that the past is never past. Chester March, a serial killer he famously brought to justice, is the oldest man on death row and after 35 years will finally be executed. But an NPR producer, convinced that Chester's conviction rests on a forced confession, sets up a challenge, thus upending Buck's reputation. From the author of Don't Ever Get Old, winner of a Macavity Award for Best First Novel and slated for the silver screen.
Havill, Steven F. Less Than a Moment. Poisoned Pen: Sourcebooks. Mar. 2020. 272p. ISBN 9781492699088. $26.99. lrg. prnt. MYSTERY
What's the difference made by one e? A really big one when a Posadas County Sheriff's Department dispatcher sticks a Post-It note on an incident report that says, "Note for News" instead of "Not for News." Now everyone knows about the arrest of Quentin Torrez, nephew of Posadas Sheriff Robert Torrez, and Quentin's recent job application has been scuppered. Does this have anything to do with the subsequent drive-by shooting at the newspaper office? Next in a long-running series typically described as compelling.
Kent, Serena. Death in Avignon: A Penelope Kite Novel. Harper. Mar. 2020. 352p. ISBN 9780062869890. $26.99; pap. ISBN 9780062869883. $16.99; ebk. ISBN 9780062869906. MYSTERY
Having moved to Provence (and survived events in the nicely welcomed, locale-happy series launch,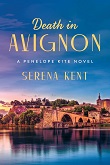 Death in Provence), Penelope Kent is attending a glittery galley opening with the town mayor when a high-wire expat painter chokes to death. An accident? Not likely, with multiple itchy lovers and artistic rivals in the wings. Thank goodness for Penelope's background as assistant to a forensic pathologist. With a 50,000-copy paperback and 25,000-copy hardcover first printing.
Kuhns, Eleanor. A Circle of Dead Girls. Severn House. Mar. 2020. 224p. ISBN 9780727890085. $28.99. MYSTERY
The 2011 winner of the Minotaur Books/Mystery Writers of America First Crime Novel competition for A Simple Murder and assistant director at the Goshen Public Library, Orange County, NY, Kuhn returns with her seventh Shaker community–set "Will Rees" mystery series. Here, the circus is in town, and even as Will spots the man responsible for his family's ill fate, a girl from the Zion community is found beaten to death and thrown in a field near the Big Top. This summer's Simply Dead is getting strong reviews.
MacNeal, Susan Elia. The King's Justice: A Maggie Hope Mystery. Feb. 2020. 352p. ISBN 9780399593840. $27; ebk. ISBN 9780399593857. Downloadable. MYSTERY
An American working in London as a codebreaker and spy during World War II, Maggie Hope reaches burnout just as the Soviets are chasing the Germans from Stalingrad. She's drinking gin, driving a motorcycle, and reneging on her vow not to smoke. Then she's asked to investigate the theft of a Stradivarius, which might have something to do with a serial killer at large. Next in the multi-nominated, New York Times best-selling series.
O'Mara, Tim. The Hook. Severn House. Mar. 2020. 240p. ISBN 9780727889188. $28.99. MYSTERY
A longtime teacher in the New York public school system, O'Mara returns with the fifth book in the series starring ex-cop Raymond Donne, currently fronting a classroom himself. Raymond is confounded when friend Maurice "Mojo" Josephs is found shot dead with an arrow on the school roof and even more confounded when he learns that Mojo, who had been fresh out of rehab, tested positive for heroin in the post mortem and appears to have been working security for a white nationalist group. From an atmospheric series launched with the Barry-nominated Sacrifice Fly. MYSTERY
Raybourn, Deanna. A Murderous Relation. Berkley. Mar. 2020. 336p. ISBN 9780451490742. $26; ebk. ISBN 9780451490766. MYSTERY
Jack the Ripper is terrorizing London, but Veronica Speedwell and her natural historian colleague Stoker
have a more immediate problem. Lady Wellingtonia Beauclerk wants them to retrieve a costly gift that Prince Albert gave to the proprietress of an establishment he frequents, an exclusive club (read: brothel) called Club de l'Etoile. Next in the USA Today best-selling and Edgar Award–nominated Veronica Speedwell mysteries.
Rosenfelt, David. The K Team. Minotaur: St. Martin's. Mar. 2020. 304p. ISBN 9781250257192. $27.99. ebk. ISBN 9781250257185. CD. MYSTERY
Spinning off a new series from his popular Andy Carpenter mysteries, the Edgar-nominated, Shamus Award–winning Rosenfelt pushes forward Andy's wife, Laurie. Former cop Laurie has been raising son Ricky, but she's eager to get back into the game and shouts "Yes!" when her former partner suggests they form an investigative team with his German shepherd K-9 partner. Here, the dog is the real star, and no surprise: Rosenfelt and his wife live with 25 of the 4,000 dogs they have rescued.