Gregory joins with drama critic Todd London to talk about his passion for performing, Windham-Campbell Prize winner Laing argues that today we need the arts more than ever, Lippman offers an essay collection reflecting on her life and work, and Perl wraps up his big Alexander Calder biography. Plus Fifth Harmony's Ally Brooke on inspiration in her life, Talking Heads drummer Chris Frantz on his life in music, veteran journalist David Kamp on 1970s American children's TV, and critic Wendy Lesser on Scandinavian crime fiction.
Picks
Gregory, André & Todd London. This Is Not My Memoir. Farrar. May 2020. 224p. ISBN 9780374298548.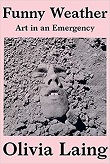 $26; ebk. ISBN 9780374713270. ENTERTAINMENT
Yes, it's that André, from the iconic film My Dinner with André, directed by Louis Malle and written by Gregory and Wallace Shawn. Here the celebrated director/actor/writer combines forces with award-winning drama critic and novelist London to capture a life lived for art—with the accent on art because, as the title notes, this is not a memoir.
Laing, Olivia. Funny Weather: Art in an Emergency. Norton. May 2020. 272p. ISBN 9781324005704. $26.95; ebk. ISBN 9781324005735. ART/CRITICISM
Winner of the 2018 Windham-Campbell Prize, among a stack of other prizes and short-list honors, cultural critic Laing argues that in a time of escalating political upheaval we need art more than ever. Touching on Jean-Michel Basquiat and Georgia O'Keeffe, Hilary Mantel and Ali Smith, David Bowie and Wolfgang Tillmans, she argues that art allows us to see the world differently, to fight back and repair both ourselves and the world.
Lippman, Laura. My Life as a Villainess. Morrow. May 2020. 384p. ISBN 9780063007154. $28.99; Morrow Paperbacks ISBN 9780062997333. $18.99. ebk. ISBN 9780062997340. lrg. prnt. MEMOIR/LITERATURE
Top-of-the-heap thriller writer Lippman goes nonfiction in a series of essays that unfold her life, from childhood to her reporting years to being a novelist and a reader. Some of the essays are original, some previously published (but only three in book form), and in six months after its May publication by Longreads, "Game of Crones" racked up more than 100,000 unique views. She can be caustically witty ("Men Explain The Wire to Me"). With a 50,000-copy paperback and 30,000-copy hardcover first printing.
Perl, Jed. Calder: The Conquest of Space: The Later Years: 1940–1976. Knopf. Apr. 2020. 688p. ISBN 9780451494115. $60; ebk. ISBN 9780451494122. BIOGRAPHY/ART
Distinguished art critic Perl wraps up his biography of mobile-spinner Calder, begun arrestingly with Calder: The Conquest of Time; The Early Years; 1898–1940, for which he had the support of the Calder Foundation and access to the artist's archives. He opens with Calder and wife Louisa welcoming exiled artists and writers to their home during World War II, then moves through his first huge public sculptures to the Whitney retrospective opening just a week before his death in 1976.
More Key Arts Titles
Brooke, Ally. Finding Your Harmony: Dream Big, Have Faith, and Achieve More Than You Can Imagine. Dey Street: HarperCollins. May 2020. 224p. ISBN 9780062895776. $23.99; ebk. ISBN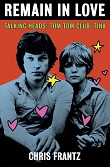 9780062895783. MEMOIR/MUSIC
Frantz, Chris. Remain in Love: Talking Heads, Tom Tom Club, Tina. St. Martin's. May 2020. 320p. ISBN 9781250209221. $29.99; ebk. ISBN 9781250209238. MEMOIR/MUSIC
Kamp, David. Sunny Days: Sesame Street, Mister Rogers, and the Children's Television Revolution. S. & S. May 2020. 320p. ISBN 9781501137808. $27.50. TELEVISION
Lesser, Wendy. Scandinavian Noir: In Pursuit of a Mystery. Farrar. May 2020. 288p. ISBN 9780374216979. $27; ebk. ISBN 9780374718718. LITERATURE
Oh-so-platinum Fifth Harmony's Brooke, now enjoying a solo career, references her upbringing in a close Mexican American family and starburst rise to fame as she offers inspirational advice in Finding Your Harmony (200,000-copy first printing). In Remain in Love, Talking Heads cofounder Frantz talks about his life in music with that band as well as Tom Tom Club, which he cofounded with wife and Talking Heads bassist Tina Weymouth. In Sunny Days, veteran Vanity Fair contributor Kamp looks at the folks who changed American childhood forever by creating Sesame Street, The Electric Company, Mister Rogers' Neighborhood, Free to Be...You and Me, and Schoolhouse Rock! (60,000-copy first printing). And Threepenny Review founder/editor Lesser offers a deep, culturally informed reading of the Scandanvian Noir she's been devouring for years, explaining that she had built her own imaginary Scandinavia in her mind and finally went to see the countries for herself.