Top thrillers this month include a stand-alone from the multi-award-winning Ryan, a moody look at small-town England from the mega-best-selling Watson, and an eye-opener about drugs invading the reservation from debut author Weiden. Plus big-name stars (T. Jefferson Parker), newbies (Amber Garza, Perry O'Brien), and authors Karen Dionne and Emily Schultz featuring heroines who don't know whether they committed a crime way back when.
Picks
Ryan, Hank Phillippi. The First To Lie. Forge. Aug. 2020. 336p. ISBN 9781250258809. $27.99; ebk. ISBN 9781250258793. SUSPENSE
A five-time Agatha Award winner whose shelves groan with the 34 Emmys and14 Edward R. Murrow awards she has won for her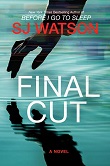 reporting, Ryan conjures up a stand-alone thriller featuring a protagonist willing to secure justice even if it means spilling some ugly family secrets. Unfortunately, she doesn't know that others are just as interesting in helping her secure revenge. This ending could be bloody.
Watson, S. J. Final Cut. Harper. Aug. 2020. 352p. ISBN 9780062382153. $28.99; ebk. ISBN 9780062382177. lrg. prnt. PSYCHOLOGICAL
Nothing much happens in quiet Blackwood Bay, a village in northern England once famous as a smugglers' haven, until two local girls go missing. When a hungry documentary filmmaker lands in town, ,ready and willing to tell the larger story of its residents, she finds the current tragedy has only deepened what is already a grim mood occasioned by economic downturn. From the author of that mega-hit Before I Go to Sleep; with a 100,000-copy first printing.
Weiden, David Heska Wanbli. Winter Counts. Ecco. Aug. 2020. 336p. ISBN 9780062968944. $27.99; ebk. ISBN 9780062968968. CRIME
The local enforcer on South Dakota's Rosebud Indian Reservation, Virgil Wounded Horse is there to deliver swift and scary punishment when the tribal council or the American legal system fails to do the job. Then heroin seeps into the rez, claiming his own nephew as a victim, and he's on it. But the new drug cartels prove to be far more powerful and pervasive than he thought, and he's got his own Native American identity to sort out. A cutting-edge debut with a 75,000-copy first printing.
Old Boys Network
Billingham, Mark. Cry Baby: A Tom Thorne Novel. Atlantic Monthly. Aug. 2020. 432p. ISBN 9780802149466. $26. CRIME
Carcaterra, Lorenzo. Payback. Ballantine. Aug. 2020. 304p. ISBN 9780399177590. $28; ebk. ISBN 9780399177606. Downloadable. SUSPENSE
Parker, T. Jefferson. Then She Vanished. Putnam. Aug. 2020. 352p. ISBN 9780525537670. $27; ebk. ISBN 9780525537694. CD. THRILLER
Reich, Christopher. The Palace. Mulholland: Little, Brown. Aug. 2020. 416p. ISBN 9780316456012. $28; ebk. ISBN 9780316455947. lib. ebk. ISBN 9780316428194. CD/downloadable. CRIME
Woods, Stuart. Choppy Water. Putnam. Aug. 2020. 320p. ISBN 9780593188293. $28; ebk. ISBN 9780593188316. lrg. prnt. CD/downloadable. ACTION & ADVENTURE
In Crybaby, the British best-selling, Dagger in the Library short-listed Billingham takes us back to 1996, when his famed DI Tom Thorne was a mere detective sergeant wrestling with the disappearance of a young lad and the subsequent murder of two people linked to him. For No. 1 New York Times best-selling Carcaterra, it's Payback time as former NYPD detective Tank Rizzo joins forces with old partner Pearl to bring down a longtime corrupt cop responsible for getting an innocent man convicted of murder, even as Tank investigates his brother's suspicious death at the behest of his orphaned nephew. In three-time Edgar Award winner Parker's Then She Vanished, private investigator Roland Ford wonders if he can trust his newest client, up-and-coming politician Dalton Strait, whose wife has evaporated into thin air even as seemingly random bombing are bringing down government buildings in Strait's district. In New York Times best-selling Christopher Reich's The Palace, international spy-for-hire Simon Riske becomes a wanted man after trying to help a hotelier friend suddenly accused of blackmail and extortion and tossed into a black-hole Bangkok jail (30,000-copy first printing). Finally, perennial best-seller Woods sends stalwart Stone Barrington across some very Choppy Waters in his next case.
Newbies
Garza, Amber. When I Was You. Mira: Harlequin. Aug. 2020. 368p. ISBN 9780778361046. pap. $17.99; ebk. ISBN 9781488058943. PSYCHOLOGICAL
O'Brien, Perry. Fire in the Blood. Random. Aug. 2020. 288p. ISBN 9780812988581. $27; ebk. ISBN 9780812988598. Downloadable. CRIME
In debuter Garza's When I Was You, bought at auction in a two-book deal, Kelly Medina distracts herself from missing her off-to-college son by obsessing over a young mother in town who shares her name—but then one of the Kellies goes missing (100,000-copy first printing). O'Brien's Fire in the Blood features U.S. Army soldier Coop, home on leave because of his wife's death, who goes AWOL when he suspects she was murdered and is soon crossing swords with the Albanian mafia, a not-legitimate rehab clinic, and his wealthy, vindictive in-laws. Interestingly, O'Brien served three years with the 82nd Airborne before obtaining an honorable discharge as a conscientious objector in 2004.
Reckoning with the Past
Dionne, Karen. The Wicked Sister. Putnam. Aug. 2020. 304p. ISBN 9780735213036. $27; ebk. ISBN 9780735213050. lrg. prnt. Downlodable. SUSPENSE
Goldin, Megan. The Night Swim. St. Martin's. Aug. 2020. 352p. ISBN 9781250219688. $27.99; ebk. ISBN 9781250219701. CD. PSYCHOLOGICAL
Heaberlin, Julia. We Are All the Same in the Dark. Ballantine. Aug. 2020. 320p. ISBN 9780525621676. $27; ebk. ISBN 9780525621683. Downloadable. SUSPENSE
Rose, Karen. Say No More. Berkley. Aug. 2020. 544p. ISBN 9781984805300. $26; ebk. ISBN 9781984805324. Downloadable. SUSPENSE
Schultz, Emily. Little Threats. Putnam. Aug. 2020. 368p. ISBN 9780593086995. $26; ebk. ISBN 9780593087008. Downloadable. PSYCHOLOGICAL
In The Wicked Sister, following Dionne's big-news debut, The Marsh King's Daughter, Rachel Cunningham has kept herself locked in a psychiatric facility for 15 years, believing that she caused her parents' death—until new clues about what happened send her out into the world where the real murderer could be waiting. Goldin, who had her own big debut with The Escape Room, returns with The Night Swim, wherein a true-crime podcast host covering a sensational small-town rape trial keeps finding letters addressed to her claiming that a long-ago drowning in town was actually a murder. From Heaberlin, best known for the LibraryReads pick Black-Eyed Susans, We Are All the Same in the Dark features a veteran cop whose efforts to determine the identity of a mysterious, one-eyed little girl found near a highway bring back the terrible night when she lost her leg. In Say No More, from Romantic Times Achievement Award winner Rose, Mercy Callahan is given a chance to track down Ephraim, the abusive leader of a cult from which she fled 17 years ago, who no knows that she's alive and is eager to snare her again. Having won attention with The Blondes, Schultz returns with Little Threats, featuring Kennedy Wynn, who pled guilty to murdering best-friend Haley one hard-partying night, though she can't remember a thing, and is now being released to the world with questions about what really happened.