Our white supremacist roots from National Book Award winner Edward Ball, Jewish women resistance fighters from Judy Batalion, Dan Hampton on killing Japanese admiral Isoroku Yamamoto, Jonathan Kaufman on the Jewish families who ruled early 20th-century Shanghai, Bob Schron on activist African American athletes, Tim Weiner on U.S. and Soviet/Russian political warfare, and more.
History Picks
Ball, Edward Ball. Life of a Klansman: A Family History with White Supremacy. Farrar. Jun. 2020. 416p. ISBN 9780374186326. $28; ebk. ISBN 9780374720261. CD. HISTORY
A National Book Award winner for Slaves in the Family, who estimates that 80 million Americans have at least one ancestor in the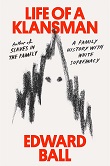 Ku Klux Klan, Ball tells the story of white supremacy in America through the life of his own great-great-grandfather, New Orleans carpenter and Klan member Polycarp Constant Lecorgne. With interviews ranging from relatives to the police, he shows how the Klan has continually resurfaced to shape America over the decades.
Batalion, Judy. The Light of Days: The Untold Story of Women Resistance Fighters in Hitler's Ghettos. Morrow. Jun. 2020. 352p. ISBN 9780062874214. $28.99; ebk. ISBN 9780062874238. lrg. prnt. HISTORY
The granddaughter of Polish Holocaust survivors, Batalion tells the little-known story of Jewish women resistance fighters in Poland, who risked (and often suffered) brutal imprisonment and death as they bore arms, smuggled weapons (with revolvers hidden in bread loaves and jam jars), helped build underground bunkers, and seduced and shot German soldiers. At the center of Batalion's story is Renia Kukielka, a weapons smuggler and messenger who effected an extraordinary escape from a Gestapo prison. With a 200,000-copy first printing; optioned by Steven Spielberg.
Hampton, Dan. Operation Vengeance: The Astonishing Aerial Ambush That Changed World War II. Morrow. Jun. 2020. 400p. ISBN 9780062938091. $28.99; ebk. ISBN 9780062938114. lrg. prnt. HISTORY
Like Dick Lehr's Dead Reckoning: The Story of How Johnny Mitchell and His Fighter Pilots Took on Admiral Yamamoto and Avenged Pearl Harbor (featured in Prepub Alert, 11/1/19), Hampton's work chronicles the U.S. mission to kill Japanese admiral Isoroku Yamamoto and avenge the attack on Pearl Harbor. Hampton, author of the New York Times best-selling memoir Viper Pilot, focuses on the complexities of a 1,000-flight that wound about arduously to avoid detection and the final, crucially timed ambush in the air that brought Yamamoto crashing down. With a 50,000-copy first printing.
Kaufman, Jonathan. The Last Kings of Shanghai: The Rival Jewish Dynasties That Helped Create Modern China. Viking. Jun. 2020. 384p. ISBN 9780735224414. $28; ebk. ISBN 9780735224421. Downloadable. HISTORY
Pulitzer Prize–winning journalist Kaufman, who has reported on China for three decades for the Boston Globe, looks back to 1930s Shanghai, where the Sassoons and the Kadoories—two Jewish families from Baghdad—had dominated business, politics, and society for decades. They kept up their intrigues and opium smuggling while helping to rescue 18,000 Jews from Hitler's Europe, and though they soon faced the tsunami that was communism, their legacy remains today.
Schron, Bob. Taking a Knee, Taking a Stand: African American Athletes and the Fight for Social Justice. Imagine: Charlesbridge. Jun. 2020. 192p. ISBN 9781623545376. $24.99; ebk. ISBN 9781632892188. HISTORY
When NFL quarterback Colin Kaepernick knelt in protest during the national anthem, he set off a firestorm of yays and nays that

still burns. He also reminded us of the long and honorable tradition of athlete-activists in the African American community, captured here by veteran sports writer Schron in a crisp, impassioned narrative that moves from the quiet heroism of Jesse Owens and Joe Louis through Jackie Robinson, Muhammad Ali, and Olympic black power salutes to the Williams Sisters. Not just for sports fans; this is important history.
Weiner, Tim. The Folly and the Glory: America, Russia, and Political Warfare; 1945–2020. Holt. Jun. 2020. 352p. ISBN 9781627790857. $30; ebk. ISBN 9781627790864. CD. HISTORY
Winner of the National Book Award for Legacy of Ashes and the Pulitzer Prize for National Reporting, Weiner looks long and hard at political conflict between the United States and the USSR/Russia dating from the time of Stalin. As he considers CIA and KGB cat-and-mouse operations during the long shudder of the Cold War, he considers why Russia has returned to such operations while America has not and how this development contributed to the rise of Donald Trump.
World War II
Alexander, Eileen. Love in the Blitz: The Long-Lost Letters of a Brilliant Young Woman to Her Beloved on the Front. Harper. May 2020. 480p. ISBN 9780062888808. $28.99; ebk. ISBN 9780062888822. HISTORY
Black, Monica. A Demon-Haunted Land: Witches, Wonder Doctors, and the Ghosts of the Past in Post–WWII Germany.
Metropolitan: Holt. Jun. 2020. 352p. ISBN 9781250225672. $29.99; ebk. ISBN 9781250225665. HISTORY
Blum, Howard. Night of the Assassins: Hitler's Plot to Kill FDR, Churchill, and Stalin. Harper. Jun. 2020. 384p. ISBN 9780062872890. $29.99; ebk. ISBN 9780062872913. lrg. prnt. HISTORY
Jones, Brent E. Days of Steel Rain: The Epic Story of a WWII Vengeance Ship in the Year of the Kamikaze. Hachette. Jun. 2020. 352p. ISBN 9780316451109. $30; ebk. ISBN 9780316451093. lib. ebk. ISBN 9780306846595. Downloadable. HISTORY
Lee, Daniel. The S.S. Officer's Armchair: Uncovering the Hidden Life of a Nazi. Hachette. Jun. 2020. 336p. ISBN 9780316509091. $28; ebk. ISBN 9780316509121. HISTORY
Magida, Arthur J. Code Name Madeleine: A Sufi Spy in Nazi-Occupied Paris. Norton. Jun. 2020. 320p. ISBN 9780393635188. $27.95; ebk. ISBN 9780393635195. HISTORY
Sometimes the personal can reveal depths of history: by compiling recently discovered letters from Alexander to her Cambridge beau during World War II, Love in the Blitz (40,000-copy first printing) reveals what life was like during the London Blitz, while Lee's The S.S. Officer's Armchair (50,000-copy first printing) uses documents hidden for seven decades in the upholstered arm of an ordinary chair to detail the wartime work of Dr. Robert Griesinger, who served at the Reich's Ministry of Economics and Labour in Occupied Prague. In Night of the Assassins, Blum, author of the New York Times best-selling, Edgar Award–winning Lightning, details Hitler's plan to have Allied leaders Roosevelt, Churchill, and Stalin assassinated at the 1943 Tehran conference, the better to secure more compliant opponents in a war Germany was clearly losing. Jones's Days of Steel Rain chronicles life aboard the newly constructed USS Astoria, launched in 1944 with a disparate crew of replacement and older soldiers and tasked with unexpectedly daring feats that took them to the Philippines, Iwo Jima, and Okinawa (75,000-copy first printing). Magida's Code Name Madeleine tells the story of Noor Inayat Khan, the Paris-raised daughter of an Indian mystic, who volunteered to help the British in wartime and during summer 1943 was the only wireless operator transmitting secret messages from Nazi-occupied France to the Special Operations Executive in England. Finally, Black's A Demon-Haunted Land reveals that Germany directly after the war was plagued by inexplicable illnesses, crazed faith healers, accusations of witchcraft, and other forms of nonrational chaos.
American History
Baime, A.J. Dewey Defeats Truman: The 1948 Election and the Battle for America's Soul. Houghton Harcourt. Jun. 2020. 432p. ISBN 9781328585066. $30; ebk. ISBN 9781328588593. HISTORY
Swanson, Doug J. Cult of Glory: The Bold and Brutal History of the Texas Rangers. Viking. Jun. 2020. 448p. ISBN
9781101979860. $28; ebk. ISBN 9781101979884. Downloadable. HISTORY
Woodard, Colin. Union: The Struggle to Forge the Story of United States Nationhood. Viking. Jun. 2020. 336p. ISBN 9780525560159. $28; ebk. ISBN 9780525560166. HISTORY
Nobody thought Truman would win the 1948 election—not even his staff and his wife—reveals New York Times best-selling author Baime (e.g., The Accidental President), who goes on to evaluate Truman's successes during his administration in Dewey Defeats Truman. Pulitzer Prize finalist Swanson chronicles the Texas Rangers and their Cult of Glory, from their origins in 1823 through their heroic exploits vs. their cruel and bloody role as protectors of white privilege to their efforts today to shrug off the corruption of the past and present themselves as a modern crime-fighting force. Following the New Republic/Globalist best-booked American Nations, Woodard's Union shows how the idea of American unity emerged—and how it has always vied with another narrative, a narrower, more exclusionary view of America as Anglo-Saxon.
Two Publishers View History
Cohen, Richard. The History Makers. Random. Jun. 2020. 736p. ISBN 9781400068760. $35; ebk. ISBN 9781588369352. HISTORY
Penn, Thomas. The Brothers York: A Royal Tragedy. S. & S. Jun. 2020. 688p. ISBN 9781451694178. $35; ebk. ISBN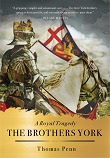 9781451694192. HISTORY
As distinguished British publisher Cohen observes in The History Makers, which revisits those who write about history all the way back to Caesar and the Bible, the predilections of one person can often shape how we view the past—certainly true of any book on this list. Consider Shakespeare's tell-it-his-way view of the contention between the House of York and the House of Lancaster, then hear from Penn, publishing director at Penguin Books UK, who steps up with The Brothers York to trace the royal tragedy that ended in 1485 at Bosworth Field with Richard III dead and Henry Tudor launching a new dynasty.