The late Rep. Elijah Cummings's memoir, Thomas Frank with an unexpected view on populism, Bill Gates on the climate crisis, Litt on restoring our challenged democracy, and NBC/MSNBC's Soboroff on the consequences of separating children and parents at the border. Plus more current affairs titles, with a strong selection of titles on racism and particularly white nationalism today.
Current Affairs Picks
Cummings, Elijah. We're Better Than This. Harper. Jun. 2020. 320p. ISBN 9780062992260. $28.99; ebk. ISBN 9780062992284. MEMOIR
Cummings, who served in the U.S. House of Representatives for Maryland's 7th congressional district starting in 1996, was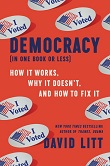 certainly in the news before his death this October. A high-profile participant in the congressional inquiry regarding Donald Trump's communications with Ukraine, he offered a swift and dignified response to Trump's tweet that "no human being would want to live" in Cummings's district. This memoir will serve as a reminder of the services rendered by this son of sharecroppers, who helped integrate a swimming pool in South Baltimore at age 11. With a 50,000-copy first printing; watch this one to see if the publication date is advanced.
Frank, Thomas. The People, No: The War on Populism and the Fight for Democracy. Metropolitan: Holt. Jun. 2020. 224p. ISBN 9781250220110. $27; ebk. ISBN 9781250220103. CD. POLITICAL SCIENCE
The author of the iconic What's the Matter with Kansas? returns with a study of populism, which he insists is wrongly used to describe the policies of Donald Trump and right-wing politicians worldwide. Starting with America's left-wing Populist Party of the 1890s, he shows that historically populism has been focused on expanding opportunities for all, and he condemns antipopulist sentiment today as being anti–working class. That will stir debate.
Gates, Bill. How To Avoid a Climate Disaster: The Solutions We Have and the Breakthroughs We Need. Doubleday. Jun. 2020. 240p. ISBN 9780385546133. $26.95; ebk. ISBN 9780385546140. lrg. prnt. SCIENCE/CLIMATE CHANGE
Microsoft cofounder and active philanthropist Gates argues that climate change will have the biggest impact on those who have done the least to cause it, and he's spent a decade studying its consequences and considering how best to address them. Here he explains how he's focusing on promoting new technologies, looking for carbon-zero approaches that can be deployed quickly worldwide and aiming for zero greenhouse gas emissions.
Litt, David. Democracy (In One Book or Less): How It Works, Why It Doesn't, and How to Fix It. Ecco. Jun. 2020. 320p. ISBN 9780062879363. $28.99; ebk. ISBN 9780062879387. lrg. prnt. POLITICAL SCIENCE/CIVICS
It's not your mother's democracy anymore, and not even yours. Since 1980, the number of Americans legally barred from voting has more than doubled. Since the 1990s, the chance of your living in a competitive congressional district has plummeted by more than half. Since 2000, the amount of money spent on Washington lobbying has increased by more than 100 percent. And Congress just can't pass any bills. Arguing that challenging gerrymandering or Citizens United won't effectively return us to real democracy, New York Times best-selling author Litt (Thanks, Obama) talks to activists and politicians nationwide to figure out what will really work. With a 300,000-copy first printing.
Soboroff, Jacob. Separated. Morrow. Jun. 2020. 256p. ISBN 9780062992192. $27.99; ebk. ISBN 9780062992215. SOCIAL SCIENCE
A correspondent and anchor for NBC News and MSNBC, Soboroff won the Walter Cronkite Award and the Hillman Prize for Broadcast Journalism for his reporting on the consequences of the Trump administration's policy of separating children from their parents at America's southern border. Here he provides a sobering and often personal account of desperate parents, terrified children in custody, and fist-drawn officials bickering about how to separate and then reunite families. And we still don't know how many children were involved. With a 100,000-copy first printing.
Issues of Race
RELATIONS
Baker, Calvin. A More Perfect Reunion: Race, Integration, and the Future of America. Bold Type: Hachette. Jun. 2020. 304p. ISBN 9781568589237. $28; ebk. ISBN 9781568589220. lib. ebk. ISBN 9781645036494. Downloadable. SOCIAL SCIENCE/RACE RELATIONS
Barnett, Brittany K. A Knock at Midnight: A Story of Hope, Justice, and Freedom. Crown. Jun. 2020. 304p. ISBN 9781984825780. $28; ebk. ISBN 9781984825797. Downloadable. MEMOIR
Cross, Tiffany. Black Voters, Black Voices: The Shaping of the American Democracy. Amistad. Jun. 2020. 176p. ISBN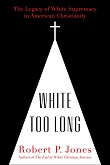 978062976772. $23.99; pap. ISBN 9780062976765. $17.99. ebk. ISBN 9780062976789. SOCIAL SCIENCE/RACE Du Mez, Kristin Kobes. Jesus and John Wayne : How White Evangelicals Corrupted a Faith and Fractured a Nation. Liveright: Norton. Jun. 2020. 336p. ISBN 9781631495731. $28.95; ebk. ISBN 9781631495748. HISTORY
Jones, Robert P. White Too Long: The Legacy of White Supremacy in American Christianity. S. & S. Jun. 2020. 288p. ISBN 9781982122867. $28; ebk. ISBN 9781982122881. CD. POLITICS/RELIGION
Seyward, Darby. The Shieldmaidens : American Women on the Front Lines of White Nationalism. Little, Brown. 320p. ISBN 9780316487771. $28; ebk. ISBN 9780316487795. POLITICAL SCIENCE/IDEOLOGIES
A Knock at Midnight explains how, as an ambitious young accountant aspiring to work in corporate law, Barnett became involved in the case of Sharanda Jones, a black woman like herself and a single mother and business owner given life without parole for a first-time drug offense, leading Barnett to understand the racial bias grounding incarceration in this country and to do pro bono work to free victims. Cofounder and managing editor of The Beat DC, Cross argues in Black Voters, Black Voices that African Americans have had a significant impact on America's democracy—90 percent voted for Democratic House candidates in 2018—and explains how they can use their electoral power and challenge voter suppression (75,000-copy paperback, 15,000-copy hardcover first printing). A finalist for the Hurston-Wright Award who teaches at Columbia University's Graduate School of the Arts, novelist Baker makes a case for integration—A More Perfect Reunion—as the only way to stop America from tearing itself apart (from the bold Hachette imprint Bold Type; 20,000-copy first printing). In Jesus and John Wayne, American Christianity scholar du Mez explains that evangelists confoundingly love Trump because they have aimed for decades to replace the Savior with an ideal of rugged masculinity and Christian nationalism, while Jones's White Too Long insists that white Americans must acknowledge the terrible link that has been forged between Christianity and white supremacy. (Jones is founder and CEO of the Public Religion Research Institute; 60,000-copy first printing.) Finally, Seyward, executive editor of the Atavist Magazine, investigates women in the white nationalist movement, discovering that a number were radicalized former leftists and examining the often critical role they have played as The Shieldmaidens of the movement (25,000-copy first printing).
More Top Current Affairs
Emanuel, Ezekiel J. Which Country Has the World's Best Health Care? PublicAffairs: Hachette. Jun. 2020. 256p. ISBN 9781541797734. $28; ebk. ISBN 9781541797727. lib. ebk. ISBN 9781541797741. Downloadable. COMPARATIVE POLITICS/HEALTH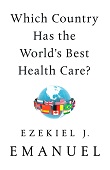 CARE
Gingrich, Newt. Re-electing Trump: Four More Years To Make America Great Again. Center Street: Hachette. Jun. 2020. 352p. ISBN 9781546085041. $28; ebk. ISBN 9781546085058. lib. ebk. ISBN 9781546085386. CD/downloadable. POLITICS
Sciutto, Jim. World War Trump. Harper. Jun. 2020. 256p. ISBN 9780063005686. $28.99; ebk. ISBN 9780063005693. POLITICS
Shellenberger, Michael. Apocalypse Never: Why Environmental Alarmism Hurts Us All. Harper. Jun. 2020. 272p. ISBN 9780063001695. $28.99; ebk. ISBN 9780063001695. $28.99; ebk. ISBN 9780063001701. SCIENCE/CLIMATE CHANGE
Vice Provost for Global Initiatives and chair of the Department of Medical Ethics and Health Policy at the University of Pennsylvania, Emanuel asks Which Country Has the World's Best Health Care? (he compares our system to that of Australia, Canada, China, France, Germany, Netherlands, Norway, Switzerland, Taiwan, and the UK) and finds that while there are shared problems like containing costs, there is much we can and should learn (30,000-copy first printing). While Gingrich argues that Re-electing Trump is essential to the health of the nation (200,000-copy first printing), Sciutto, an award-winning chief national security correspondent and anchor at CNN, uses his background to investigate the devastating effect of Trump's policies worldwide in World War Trump (50,000-copy first printing). Finally, Shellenberger is a Time magazine "Hero of the Environment," Green Book Award winner, and founder of Environmental Progress, but here he cries Apocalypse Never, insisting that while climate change is real, some activists may be hurting the cause and that poverty is the real threat to the environment (25,000-copy first printing).