Four fun reads for launching your autumn reading in style.
Kline, Christina Baker. Tin Ticket. Morrow. Sept. 2020. 384p. ISBN 9780062356345. $28. HISTORICAL
In the 1840s, the ominously named Medea leaves Great Britain for Australia with a boatload of convicts destined for the penal colony of Tasmania. Among the convicts is Evangeline, a naïve governess jailed at Newgate after being seduced and left pregnant by her employer's son, who survives the journey with the help of gifted midwife and herbalist Hazel, sentenced for stealing a silver spoon. The land where they disembark is an unruly colony but also home to now cruelly relocated Aboriginal people, among them Mathinna, the orphaned daughter of a Lowreenne chief, who adds her voice to this chorus celebrating female friendship in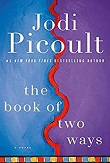 adversity. From the No. 1 best-selling New York Times author of Orphan Train; with a 200,000-copy first printing.
Paolini, Christopher. To Sleep in a Sea of Stars. Tor. Sept. 2020. 688p. ISBN 9781250762849. $29.99. CD. SF/SPACE OPERA
The author of the YA phenomenon Eragon crafts a first adult novel featuring Kira Navarez, who's thrilled to be given the opportunity to explore a new world—a far-off planet that looks ready to be colonized. But there she finds a relic that transforms her life even as it poses a monstrous threat to humanity. With a whopping two-million-copy first printing.
Picoult, Jodi. The Book of Two Ways. Ballantine. Sept. 2020. 432p. ISBN 9781984818355. $28.99. CD. WOMEN'S
On a plane about to crash-land, Dawn Edelstein finds herself thinking not about her husband but about Wayne Armstrong, whose work as an archaeologist unearthing ancient burial sites was something she had aspired to as well. With the plane safely on the ground, she is offered transportation to the location of her choice. Will she return to her family in Boston or head for Egypt to reconnect with Wayne and perhaps pick up her research on a book mapping the afterlife? Perennial best seller Picoult's latest has it both ways in side-by-side plots.
Ware, Ruth. One by One. Gallery: Scout: S. & S. Sept. 2020. 352p. ISBN 9781501188817. $27.99. CD. THRILLER
What could go wrong on a retreat at a beautifully situated chalet where a bunch of colleagues gather to promote mindfulness and collaboration? Plenty, when an avalanche traps them, and the issue becomes not smiling away one's troubles but simply surviving. And not everyone is going to make it. From the masterly author whose works range from In a Dark Dark Wood to The Turn of the Key; with a 400,000-copy first printing.