Coverage of the news of the day includes presidential historian Holzer on fake news, plus Gellman on the surveillance state, Nossel on balancing free speech and inclusiveness, and Omar on her life before, during, and after being elected to Congress. Plus more on the Trump era and on key business factors today.
Picks
Gellman, Barton. Dark Mirror: Edward Snowden and the American Surveillance State. Penguin Pr. May 2020. 496p. ISBN 9781594206016. $30; ebk. ISBN 9780698153394. lrg. prnt. Downloadable. POLICAL SCIENCE
A three-time Pulitzer Prize winner (individually or as team player or leader) and author of the New York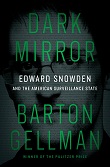 Times best-selling Angler, Washington Post-er Gellman was among three journalists asked by Edward Snowden to hlep present his purloined National Security Agency (NSA) documents to the world. That's his springboard for this in-depth study of the modern surveillance state, which draws on Gellman's deep sources in national security and high technology and new sources that stepped up to talk. He also provides personal details—finding his own name in the NSA documents, being told by Google that a foreign government is trying to compromise his account—that helps us see the extent of surveillance today.
Holzer, Harold. The Presidents vs. the Press: The Endless Battle between the White House and the Media—from the Founding Fathers to Fake News. Dutton. May 2020. 528p. ISBN 9781524745264. $29; ebk. ISBN 9781524745271. Downloadable. POLITICAL SCIENCE
Jonathan F. Fanton Director of Hunter College's Roosevelt House Public Policy Institute, presidential historian Holzer helps us clarify today's fake news issue by showing that it is nothing new. Washington complained about his treatment by the press, John Adams tried to muzzle it, Jefferson had his affair with Sally Hemings exposed by a reporter he asked for rival-bashing material, Lincoln closed newspapers, Roosevelt and Kennedy tried charm instead, and Nixon called the press a public enemy.
Nossel, Suzanne. Speak Free: A Guide to Defending Free Speech in Our Time. Dey Street: HarperCollins. May 2020. 208p. ISBN 9780062966032. ebk. ISBN 9780062966063. POLITICAL SCIENCE
CEO of PEN America, Nossel daily addresses issues of free speech in a world fraught with online trolls,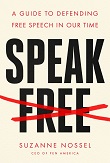 fascist chat groups, campus-speaker fights, and the fraught issue of hate speech vs. censorship. How can we balance the right to speak one's mind and the right of equal treatment in a still tragically unequal world? Nossel here gives advice grounded in the principles of using language carefully without censoring oneself, defending the right to express unpopular views, and protesting views one finds objectionable without shutting them down. With a 100,000-copy first printing.
Omar, Ilhan. This Is What America Looks Like: My Journey from Refugee to Congresswoman. Dey Street: HarperCollins. May 2020. 304p. ISBN 9780062954213. $28.99; ebk. ISBN 9780062954237. MEMOIR/POLITICAL SCIENCE
The first African refugee, the first Somali American, and among the first two Muslim women elected to Congress, Omar has always written her own story. Here she recalls fleeing with her family at age eight when their compound was attacked, spending four years in a refugee camp in Kenya before being granted asylum in this country, educating classmates to resist stereotypes, and becoming a grassroots organizer post-college before being elected to Congress by a record-breaking turnout by Minnesotans. Both memoir and aspiration of American ideals; with a 150,000-copy first printing.
Political Disruption
Cadava, Geraldo. The Hispanic Republican: The Shaping of an American Political Identity, from Nixon to Trump. Ecco. May 2020. 400p. ISBN 9780062946348. $28.99; ebk. ISBN 9780062946362. POLITICAL SCIENCE
Frum, David. Trumpocalypse: Restoring American Democracy. Harper. May 2020. 288p. ISBN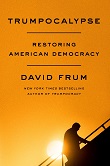 9780062978417. $28.99. lrg. prnt. POLITICAL SCIENCE
Hacker, Jacob S. & Paul Pierson. Let Them Eat Tweet: How the Right Rules in an Age of Extreme Inequality. Liveright: Norton. May 2020. 256p. ISBN 9781631496844. $24.95. POLITICAL SCIENCE
Maxwell, Zerlina. The End of White Politics: How to Heal Our Liberal Divide. Hachette. May 2020. 256p. ISBN 9780306873614. $28; ebk. ISBN 9780306873591. POLITICAL SCIENCE
Posner, Sarah. Unholy: The Christian Right at the Altar of Donald Trump. Random. May. 2020. 272p. ISBN 9781984820426. $27; ebk. ISBN 9781984820433. Downloadable. POLITICAL SCIENCE
The step-up and fierceness in the political science publishing arena since the 2016 election continue apace. In Trumpocalyse, Frum, Atlantic senior editor, author of the New York Times best-selling Trumpocracy, and, significantly, a longtime registered Republican, sharply addresses the wrong turns of the past three years and considers how the nation can improve. In The Hispanic Republican, Northwestern history and Latinx studies professor Cadava (Standing on Common Ground) explains that owing to complex cultural identities and powerful courtship by Republicans, Latinx voters can't be automatically slotted as Democrats. Political scientists Hacker and Pierson, authors of the New York Times best-selling Winner-Take-All politics, argue in Let Them Eat Tweet that in the Republican Party, once-divided old-line fiscal conservatives and new-line nativists now work together to keep America inequal. Meanwhile, MSNBC political analyst and SiriusXM Host Maxwell's The End of White Politics (35,000-copy fiest printing) argues that liberals must get beyond their focus on the white working-class, specifically male voters and draw in communities of color. And award-winning reporter Posner's Unholy explains that while Trump's philandering and take-no-prisoners rhetoric does not seem particularly Christian, evangelicals support him because he protects white Christian privilege.
Political Healing
Blashek, Jordan & Christopher Haugh. Union: A Republican, a Democrat, and a Search for Common Ground. Little, Brown. May 2020. 320p. ISBN 9780316423793. $28; ebk. ISBN 9780316423786. POLITICAL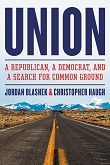 SCIENCE
Lemon, Don. Untitled. Dey Street: HarperCollins. May 2020. 304p. ISBN 9780062886705. $26.99.MEMOIR/POLITICAL SCIENCE
Sanders, Symone. No, You Shut Up. Harper. May 2020. 256p. ISBN 9780062942685. $26.99; ebk. ISBN 9780062942692. MEMOIR/POLITICAL SCIENCE
Today's divisive political environment has inspired both soul searching—e.g., CNN host Don Lemon's Untitled new work explores his dedication to both self-improvement and recommitment to political ideals directly after the 2016 election—and efforts at cohesion, exemplified by Yale law students Blashek and Haugh, authors of Union. A Republican marine and a Democrat raised by a single mother, respectively, they set off across country to have that unifying conversation with each other—and with the many people they met. Sanders, a senior adviser for former VP Joe Biden's 2020 presidential campaign, uses No, You Shut Up to report reports personal stories of speaking out despite efforts to close her down (especially by older white men) and argues for carrying the fight for one's rights beyond the ballot box.
Business Not as Usual
Dumaine, Brian. Bezonomics: How Amazon Is Changing Our Lives, and What the World's Best Companies Are Learning from It. Scribner. May 2020. 336p. ISBN 9781982113636. $28; ebk. ISBN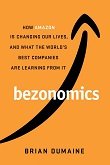 9781982113650. CD. BUSINESS
Scott, Linda. The Double X Economy: The Epic Potential of Women's Empowerment. Farrar. May 2020. 368p. ISBN 9780374142629. $28; ebk. ISBN 9780374720353. BUSINESS
In Bezonomics (200,000-copy first printing), award-winning Fortune magazine writer Dumaine relies on interviews with 150 sources (some insider) to show that Jeff Bezos has relied on an obsession with customer focus, innovation, and long-term management, all supported by artificial intelligence, to create a company that has reshaped the world economy—for better (see the subtitle) and for worse (there are tips on Amazon-proofing your business). A player in the women's economic empowerment movement and Emeritus DP World Professor of Entrepreneurship and Innovation at Oxford, Scott offers The Double X Economy to show that women's traditional disempowerment has created an alternate women's economy that boasts care, cooperation, and a focus on long-term outcomes.