Award winners catch our eye again with important new books.
Akhtar, Ayad. Homeland Elegies. Little, Brown. Sept. 2020. 368p. ISBN 9780316496421. $28. LITERARY
Pulitzer Prize–winning playwright Akhtar blends social commentary and family drama—particularly, the story of a father and son—to examine issues of identity and belonging in disoriented post 9-11, Trump-primed America through the immigrant experience. Along the way, the plot takes in the American heartlands, guerrilla warfare in Afghanistan, and the World Economic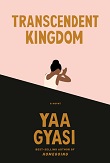 Forum, so get ready for a big read.
Backman, Fredrik. Anxious People. Atria. Sept. 2020. tr. from Swedish by Neil Smith. 336p. ISBN 9781501160837. $28. CD. LITERARY
Wealthy bank director Zara visits open houses to feel normal. Roger and Anna-Lena obsess over fixer-uppers because they can't manage their own marriage. Expecting parents Julia and Ro, a lesbian couple, want something to agree on. And cool-and-collected 80-year-old Estelle has her own reasons for house hunting. They're all trapped at an open house by a masked gunman eventually less scared of the police outside than the nutty people within. From the author of A Man Called Ove and Beartown; with a 350,000-copy first printing.
Gordon, Mary. Payback. Pantheon. Sept. 2020. 320p. ISBN 9781524749224. $25.95. LITERARY
Now the vengeful star of the reality TV show Payback, Quin Archer was once rebellious teenager Heidi, studying at a private New England girls school in the 1970s. Well-meaning art teacher Agnes suggested that Heidi visit New York's Museum of Modern Art, but when she's picked up there by an older man, Agnes blames Heidi with painful, enduring consequences for both women. (These were pre-#metoo, barely feminist times.) And of course they will meet again, but will there be payback?
Gyasi, Yaa. Transcendent Kingdom. Knopf. Sept. 2020. 288p. ISBN 9780525658184. $26.95. lrg. prnt. CD. LITERARY
Having won numerous honors (e.g., a National Book Foundation's 5 Under 35 shout-out) for her debut, Homecoming, Gyasi returns with the story of a Ghanaian American family based in Alabama. A sixth-year PhD candidate in neuroscience at Stanford University School of Medicine, Gifty hopes science can give her a better understanding of suffering when her brother dies of a heroin overdose after getting hooked on the OxyContin he took for an injury and her grief-stricken mother takes to her bed. But she also surprises herself by turning to her childhood faith.
Kunzru, Hari. Red Pill. Knopf. Sept. 2020. 304p. ISBN 9780451493712. $26.95. LITERARY
From Kunzru, a Granta Best of Young British Novelists, comes a thought-provoker whose protagonist has won a major writing fellowship in Germany but instead of working wanders about the horror-haunted Berlin suburb of Wannsee and binge-watches the bleak, downbeat cop show Blue Lives. Was Romantic writer Heinrich von Kleist right that happiness cannot be attained on Earth? Our hero asks himself that question when he finds himself in contention with Blue Lives creator Anton at a party and decides that Anton is red-pilling his viewers with a negative, tooth-and-nail alt-right worldview.
Nunez, Sigrid. What Are You Going Through. Riverhead. Sept. 2020. 208p. ISBN 9780593191415. $26. lrg. prnt. LITERARY
Author of the National Book Award–winning The Friend, Nunez returns with another study of companionship and our wrestle with mortality. Her protagonist pulls together threads of thought from various people she encounters, including a former lover she spots at a public forum, an overanxious Airbnb host, a stranger seeking to assuage his elderly mother, and a friend dying of cancer. They all want one thing: someone to listen to their stories.
Robinson, Marilynne. Jack. Farrar. Sept. 2020. 304p. ISBN 9780374279301. $27. CD. LITERARY
It's time to say good-bye to the Pulitzer Prize–winning Robinson's beloved Gilead novels with the story of John Ames Boughton, the wayward son of a Presbyterian minister in Gilead. In segregated post–World War II St. Louis, Jack falls for Della Miles, an African American high school teacher and preacher's daughter—and their relationship sums up the ongoing stresses of race relationships in post-Emancipation America. With a 250,000-copy first printing.