Four leading mystery writers keep readers at the edge of their seats in September.
Cleeves, Ann. The Darkest Evening: A Vera Stanhope Novel. Minotaur: St. Martin's. Sept. 2020. 336p. ISBN 9781250204509. $26.99. CD. MYSTERY
In Cleeves's latest Vera Stanhope mystery, Vera is driving gingerly through the Northumberland countryside snow when she encounters a stalled car with no driver and a baby secured in the backseat. Grabbing the baby, she hustles to the nearest house—the seen-better-days Brockburn, where her father grew up and where a Christmas party is now blasting away. And there's a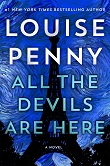 woman out front, lying dead in the snow. With a 100,000-copy first printing.
Penny, Louise. All the Devils Are Here. Minotaur: St. Martin's. Sept. 2020. 448p. ISBN 9781250145239. $28.99. CD. MYSTERY
In A Better Man, the sixth straight No. 1 New York Times best seller in the durable Chief Inspector Armand Gamache mysteries and the 15th title overall, Penny took Armand's story in refreshing new directions. No word yet on where this 16th series title is heading, but the 750,000-copy first printing speaks loud and clear.
Perry, Anne. A Question of Betrayal: An Elena Standish Novel. Ballantine. Sept. 2020. 304p. ISBN 9780593129555. $28. MYSTERY
In the LJ-starred Death in Focus, which launched an interwar Europe–set series, young photographer Elena Standish became involved with MI6, which her grandfather once secretly headed. In this follow-up, Elena gets her first real mission: go deep into Mussolini territory and find a former lover who betrayed her—she's actually the one person who can recognize him. Meanwhile, Elena's sister is in Berlin for a friend's wedding to a member of the Gestapo.
Weaver, Ashley. A Deception at Thornecrest: An Amory Ames Mystery. Sept. 2020. 288p. ISBN 9781250159793. $27.99. MYSTERY
In the next entry in the Edgar-nominated series from Weaver, technical services coordinator at the Allen Parish Libraries in Oberlin, LA, Amory Ames contentedly awaits the birth of her child at her country estate, Thornecrest, when a stranger drops in claiming to be the second Mrs. Ames. Amory's husband, Milo, quickly puts paid to that idea, but more issues of confused identity arrive with a second visitor—and suddenly a stable hand is dead. With a 35,000-copy first printing.