Ayaan Hirsi Ali on women's rights within the framework of immigration, Vivian Gornick on the books that have shaped her life, Brian Greene on where the universe is going, Joshua Hammer on a big threat to rare raptors, and Mara Hvistendahl on industrial espionage by the Chinese, with a wide range of general fiction titles wrapping up February 2020 coverage.
Top Nonfiction Picks
Ali, Ayaan Hirsi. Prey: Immigration, Islam, and the Erosion of Women's Rights. Harper. Feb. 2020. 288p. ISBN 9780062857873. $27.99; ebk. ISBN 9780062857897. SOCIAL SCIENCE
Courting controversy as she did with New York Times best sellers like Infidel, Nomad, and Heretic, Ali, the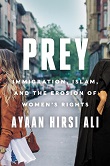 well-known Somali-born Dutch American women's rights activist and free speech advocate, argues that Muslim immigrants must not be allowed to bring the harmful and regressive gender attitudes of Islamic extremism to the West. She points especially to an increase in sexual violence in European cities, which she blames on immigrants, urging Western feminists not to turn their heads. With a 75,000-copy first printing.
Gornick, Vivian. Unfinished Business: Notes of a Chronic Re-reader. Farrar. Feb. 2020. 176p. ISBN 9780374282158. $25; ebk. ISBN 9780374716608. LITERATURE
Among our most distinguished critics, Gornick uses nine essays blending literary analysis, depth-plumbing memoir, and biography to reconsider the books that have shaped her life. Thus, she finds herself in the conflicted characters of D.H. Lawrence's Sons and Lovers, her sense of womanhood in Colette's The Vagabond, and her crazy felines in Doris Lessing's Particularly Cats while soaking in the works of Pat Barker, Elizabeth Bowen, and Natalia Ginzburg.
Greene, Brian. Until the End of Time: Mind, Matter, and Our Search for Meaning in an Evolving Universe. Knopf. Feb. 2020. 416p. ISBN 9781524731670. $30; ebk. ISBN 9781524731687. lrg. prnt. CD. SCIENCE/COSMOLOGY
Director of Columbia University's Center for Theoretical Physics and cofounder of the World Science Festival, Green takes us on a journey from the big bang until the end of time, showing how galaxies have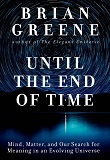 formed, biochemical mechanisms have pushed forth life, and neurons have zapped consciousness (and finally culture) into being even as the universe tends toward entropy. This is Greene's first book since 2011, and fans will be swarming all over it; his works have sold over two million across formats.
Hammer, Joshua. The Falcon Thief: A True Tale of Adventure, Treachery, and the Hunt for the Perfect Bird. S. & S. Feb. 2020. 288p. ISBN 9781501191886. $26; ebk. ISBN 9781501191893. TRUE CRIME
In the United Arab Emirates, winning a falcon race can win you millions of dollars, which is why Irish national Jeffrey Lendrum has persisted for decades in smuggling the eggs of rare raptors. Called the "Pablo Escobar of the falcon egg trade," he now faces another long prison sentence after being caught at Heathrow with multiple eggs strapped to his chest. Countering him: Det. Andy McWilliam of the UK's National Wildlife Crime Unit, determined to protect the world's glorious and endangered birds of prey. From the New York Times best-selling author of The Bad-Ass Librarians of Timbuktu, who seems to go for original and significant stories; with a 75,000-copy first printing and seven-city tour to Chicago, Miami, New York, Portland (OR), San Francisco, Seattle, and Washington, DC.
Hvistendahl, Mara. The Scientist and the Spy: A True Story of China, the FBI, and Industrial Espionage. Riverhead. Feb. 2020. 288p. ISBN 9780735214286. $28; ebk. ISBN 9780735214309. Downloadable. INDUSTRIAL ESPIONAGE
In September 2011, three Asian American men were arrested in an Iowa cornfield leased by the American agricultural biotechnology corporation Monsanto to grow corn from patented hybrids. Eventually, one of them pleaded guilty to conspiracy to steal trade secrets from Monsanto and DuPont Pioneer on behalf of the China-based DBN Group. Pulitzer Prize finalist Hvistendahl, a fluent Mandarin speaker who worked as a journalist in China for eight years, uses this incident to examine the U.S. efforts to push back the rising tide of Chinese industrial espionage, which costs U.S. companies billions of dollars a year.
More Top Nonfiction
Ackmann, Martha. These Fevered Days: Ten Pivotal Moments in the Making of Emily Dickinson. Norton. Feb. 2020. 288p. ISBN 9780393609301. $26.95; ebk. ISBN 9780393609318. LITERATURE
Ackmann, president of the Emily Dickinson International Society and the professor behind a long-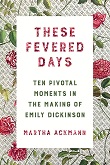 running course on Dickinson at Mount Holyoke, uses ten key episodes in Dickinson's life—from her religious crisis as a student to her soliciting a famous editor's opinion to her fear that she may be going blind—to clarify her development as a poet.
Belton, Catherine. Putin's People: How the KGB Took Back Russia and Then Took On the West. Farrar. Feb. 2020. 352p. ISBN 9780374238711. $28; ebk. ISBN 9780374712785. RUSSIAN AFFAIRS
Former Moscow correspondent for the Financial Times and previously Moscow Times and Business Week, British Press Award short-listed Belton here reports on the rise of Vladimir Putin and the former KGB men surrounding him, which has led to a chilling new authoritarianism, the subversion of the country's economy and legal systems, and the diversion of billions of dollars out of Russia to disrupt politics in Ukraine, Europe, and the United States.
Calhoun, Ada. Why We Can't Sleep: Women's New Midlife Crisis. Grove. Jan. 2020. 288p. ISBN 9780802147851. $26. WOMEN'S STUDIES
Lacking that great-to-have-it-all feeling she was supposed to have midlife despite family and a career, award-winning journalist/author Calhoun (St. Marks Is Dead, Wedding Toasts I'll Never Give) looked around to find other Gen X women anxious about money, feeling shortchanged at work, and really, really tired. She talks to such women nationwide and reports on everything from housing costs to divorce data to deliver this book.
Cohen, Adam. Supreme Inequality: The Supreme Court's Fifty-Year Battle for a More Unjust America. Penguin Pr. Feb. 2020. 400p. ISBN 9780735221505. $30; ebk. ISBN 9780735221512. Downloadable. AMERICAN GOVERNMENT/LAW
New York Times best-selling author Cohen, a former member of the Times editorial board, looks back at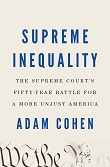 how the Court has reverted to the defense of entrenched forces since President Richard Nixon set about to undermine its surge toward egalitarianism under Chief Justice Earl Warren. All of which leads us to Trump's appointments of two Supreme Court justices. Harvard Law grad Cohen knows his legal stuff.
Dougherty, Conor. Golden Gates: The Fight for Housing—and Democracy—in America's Most Prosperous City. Penguin Pr. Feb. 2020. 288p. ISBN 9780525560210. $28; ebk. ISBN 9780525560227. Downloadable. SOCIOLOGY/URBAN
A New York Times reporter whose "Cramped and Costly" series won a New York Society of Professional Journalists' Award, San Francisco–based Dougherty uses his city as a microcosm for examining the current housing crisis in America (and particularly American cities), where soaring rents and home prices combine to spark growing movements for tenants' rights and against single-family zoning.
Draper, Deborah Riley & others. The Black Auxiliary: The Untold Story of 18 African Americans Who Defied Jim Crow and Adolf Hitler To Compete in the 1936 Berlin Olympics. Atria. Feb. 2020. 320p. ISBN 9781501162152. $28; ebk. ISBN 9781501162176. SPORTS/HISTORY
Golden runner Jesse Owens wasn't the only African American representing his country at the Berlin Olympics. Altogether 18 African Americans competed, including gold medal–winning high jumper Cornelius Johnson and silver medal–winning track star Mack Robinson, Jackie's brother. This companion piece to the acclaimed documentary Olympic Pride draws on over 40 hours' worth of interviews and research that didn't make it into the film. With a 30,000-copy first printing; originally scheduled for August 2019.
Ellsworth, Scott. The World Beneath Their Feet: Mountaineering, Madness, and the Deadly Race to Summit the Himalayas. Little, Brown. Feb. 2020. 416p. ISBN 9780316434867. $30; ebk. ISBN 9780316434874. lib. ebk. ISBN 9780316434850. Downloadable. SPORTS
Between the world wars, nations competed not on the battlefield but on the icy slopes of the Himalayas,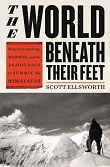 with Great Britain, Nazi Germany, and the United States sending their best climbers (plus statesmen, millionaires, and eccentrics), who used the latest equipment and techniques to get to the top. Lots of valor and lots of death; in Kashmir, Nanga Parbat alone claimed 25 lives in under three years. From the author of the New York Times best-selling, PEN/ESPN award-winning The Secret Game; with a 50,000-copy first printing.
Goldblatt, David. The Age of Football: Soccer and the 21st Century. Norton. Feb. 2020. 624p. ISBN 9780393635119. $30; ebk. ISBN 9780393635126. SPORTS
Following up the internationally best-selling The Ball Is Round, soccer expert extraordinaire Goldblatt examines the social, political, and economic impact of soccer today, from its connection to divisiveness in Europe and the Middle East to its growing popularity in China to its complicated role in human rights worldwide.
Kaplan, Janice. The Genius of Women: From Overlooked to Changing the World. Dutton. Feb. 2020. 336p. ISBN 9781524744212. $27; ebk. ISBN 9781524744229. Downloadable. WOMEN'S STUDIES
Former editor in chief of Parade magazine and author of New York Times best sellers like The Gratitude Diaries, Kaplan explores both what it means to be a genius and why women have rarely been thought of in those terms: genius is not just about being supremely gifted but being recognized as such.
Levine, Madeline. Ready or Not: Preparing Our Kids To Thrive in an Uncertain World. Harper. Feb. 2020. 288p. ISBN 9780062657756. $27.99; ebk. ISBN 9780062657794. PARENTING
An expert on adolescent development, New York Times best-selling author Levine (The Price of Privilege)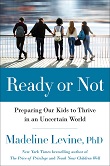 argues that today's high-maintenance parenting style, with its emphasis on good grades and good performance, has left children overwhelmed and exhausted yet unprepared for what comes next—because who know what their world will look like. With a 100,000-copy first printing.
Natterson, Cara. Decoding Boys: New Science Behind the Subtle Art of Raising Sons. Ballantine. Feb. 2020. 256p. ISBN 9781984819031. $27; ebk. ISBN 9781984819048. Downloadable. PARENTING
A pediatrician whose "The Care and Keeping of You" series boasts six million copies in print, Natterson relies on the latest science to consider what parents can do to help teenage boys, e.g., recognizing the range of what's normal behavior, teaching about the dangers of drugs, alcohol, vaping, and sexting, and clarifying the need for sensitivity in the #metoo age—and what they shouldn't do, that is, go all quiet themselves because boys generally go quiet at this age.
Ortberg, Daniel Mallory. Something That May Shock and Discredit You. Atria. Feb. 2020. 256p. ISBN 9781982105211. $26; ebk. ISBN 9781982105235. ESSAY COLLECTIONS
Ortberg is the "Dear Prudence" advice columnist at Slate, the cofounder of the Toast, and a New York Times best-selling author (Texts from Jane Eyre), so why not read his essay collection spanning lots of weird and wonderful things in pop culture? With a 50,000-copy first printing.
Rehm, Diane. When My Time Comes: Talks with Twenty-Five Men and Women About Whether Those Who Are Dying Should Have the Right To Determine When Life Should End. Knopf. Feb. 2020. 240p. ISBN 9780525654759. $25; ebk. ISBN 9780525654766. SOCIAL SCIENCE/AGING
Celebrated radio personality Rehm, long the host of her own show at NPR and now responsible for a weekly podcast for the station, talks to the terminally ill and their physicians and families, plus ethicists of all stripes to address end-of-life quality and the right to die. Rehm is coproducing and appearing in a documentary of the same name that will air at the time of publication.