This August, leading authors Akwaeke Emezi, Daisy Johnson, Susan Minot, Alice Randall, and Edmund White offer challenging new works for gung-ho readers, as do stars ranging from Randall Kenan and Ron Rash to Susan Abulhawa and Megan Hunter. And look for lots of big debuts.
Picks
Emezi, Akwaeke. The Death of Vivek Oji. Riverhead. Aug. 2020. 256p. ISBN 9780525541608. $27; ebk. ISBN 9780525541615. lrg. prnt. Downloadable. LITERARY
Having earned National Book Award 5 Under 35 honors, multiple best-book nods, and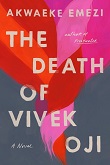 countless nominations for her one-of-a-kind Freshwater, Emezi returns with a Nigerian-set story opening with a mother finding her son's brightly wrapped body on her doorstep. Vivek had been a sweet child, raised by a distant father and ever-worried mother, but he suffered from blackouts and a sense of isolation only partly ameliorated by his friendship with several effusive daughters of American women married to Nigerian men and especially by his bond with his sparkling if ultimately secretive cousin Osita. But then violence explodes.
Johnson, Daisy. Sisters. Riverhead. Aug. 2020. 224p. ISBN 9780593188958. $26; ebk. ISBN 9780593188972. Downloadable. LITERARY
The youngest author ever short-listed for the Man Booker Prize—and for her debut, Everything Under, at that—Johnson here limns the story of sisters July and September, born just ten months apart and closer than a clenched fist. A bullying incident has their single mother pulling them from school and moving them all to a long-empty (and slightly spooky) family home near the shore, where September senses July tugging away even as an encounter with the outside world spins them on a whole new path.
Minot, Susan. Why I Don't Write: And Other Stories. Knopf. Aug. 2020. 176p. ISBN 9780525658245. $25; ebk. ISBN 9780525658252. Downloadable. SHORT STORIES
An award-winning author, most recently of Thirty Girls, a New York Times Notable Book and Economist Best Book, Minot hasn't published a story collection since 1989's Lust & Other Stories. This collection features characters slipping and sliding in a difficult world, from the writer carefully cataloging why she can't write to two young lovers who can't part and can't not fight to an artist steering his bicycle through a throng of protesters as he contemplates a difficult lover.
Randall, Alice. Black Bottom Saints. Amistad. Aug. 2020. 384p. ISBN 9780062968623. $26.99; ebk. ISBN 9780062968654. LITERARY
An accomplished songwriter (e.g., XXX's and OOO's), NAACP award winner for her Soul Food books, and Phillis Wheatley Award winner for her YA literature, Randall also writes adult fiction, including the myth-challenging The Wind Done Gone. Here, as erstwhile nightclub emcee and gossip columnist Joseph "Ziggy" Johnson lies dying, he decides to compile a book of 52 saints (e.g., Dinah Washington, Joe Louis) he knew from Detroit's Black Bottom during the Great Depression to post–World War II years.
White, Edmund. A Saint from Texas. Bloomsbury. Aug. 2020. 304p. ISBN 9781635572551. $26. LITERARY
After winning the 2019 Medal for Distinguished Contribution to American Letters from the National Book Foundation, White, famous for gate-crashing the literary scene with powerful novels about class, gender, and same-sex love, returns with the story of twin sisters mired in 1950s Texas. But not for long; they quickly depart, one for life with the Parisian nobility and the other for a convent, with repercussions lasting over decades.
Visiting North Carolina: Three Big Writers
Joy, David. When These Mountains Burn. Putnam. Aug. 2020. 272p. ISBN 9780525536888. $27; ebk. ISBN 9780525536895. LITERARY
Kenan, Randall. If I Had Two Wings: Stories. Norton. Aug. 2020. 224p. ISBN 9781324005469. $25.95; ebk. ISBN 9781324005476. LITERARY
Rash, Ron. In the Valley: Stories and a Novella Based on Serena. Doubleday. Aug. 2020. 288p. ISBN 9780385544290. $26.95; ebk. ISBN 9780385544306. Downloadable. SHORT STORIES
An Edgar finalist and celebrated purveyor of literary noir, Joy returns with When These Mountains Burn to tell the story of an addict who has kept everything under control until now, a father intent on rescuing a son fallen deeper than ever into trouble, and a DEA agent desperate to shut off the drug supply in the North Carolina mountains. A winner of Rome, Dos Passos, and Whiting honors and a National Book Award finalist for his story collection, Let the Dead Bury Their Dead, Kenan returns to fiction after three decades to craft the story collection If I Had Two Wings rooted in his famed fictional territory of Tims Creek, NC, with characters ranging from a wealthy man haunted by a hog and a pastor who clobbers an adulterer. Also working short form, Rash, author of the New York Times best-selling Serena, returns with ten stories that include "Baptism," grabbed by Roxane Gay for The Best American Short Stories 2018, and "Neighbors," a Jonathan Lethem for The Best American Mystery Stories 2019.
Middle East Perspectives
Abulhawa, Susan. Against the Loveless World. Atria. Aug. 2020. 384p. ISBN 9781982137038. $27; ebk. ISBN 9781982137069. LITERARY
Hozar, Nazanine. Aria. Pantheon. Aug. 2020. 448p. ISBN 9781524749033. $28.95; ebk. ISBN 9781524749040. Downloadable. LITERARY
Wannous, Dima. The Frightened Ones. Knopf. Aug. 2020. 256p. tr. from Arabic by Elisabeth Jaquette. ISBN 9780525655138. $26.95; ebk. ISBN 9780525655145 Downloadable. LITERARY
World renowned for Mornings in Jenin, Palestinian American author Abulhawa pits herself Against the Loveless World, with protagonist Nahr born in 1970s Kuwait to Palestinian refugees, growing up disappointed in life and love, flushed out of Kuwait by the U.S. invasion of Iraq, and temporarily ensconced in Jordan before circling back to Palestine, where she ends up in solitary confinement. Called a Dr. Zhivago of Iran by Margaret Atwood, Iranian Canadian Hozar's Aria features a redheaded, blue-eyed baby girl rescued by an illiterate driver in Tehran and eventually passed on to multiple homes until the 1979 revolution explodes while she is at university. Short-listed for the International Prize for Arabic Fiction, Syrian author Wannous's The Frightened Ones opens with Suleima beginning a tentative relationship with mysterious novelist Nassim, then agreeing to take custody of his new manuscript when he flees to Germany. She's soon shocked to discover how much her life looks like that of the novel's protagonist, who even acts here as an alternate narrator.
Family Troubles
Gould-Bourn, James. Bear Necessity. Scribner. Aug. 2020. 320p. ISBN 9781982128296. $26; ebk. ISBN 9781982128319. LITERARY
Hunter, Megan. The Harpy. Grove. Aug. 2020. NAp. ISBN 9780802148162. $26; ebk. ISBN 9780802148179. LITERARY
Mandelbaum, Becky. The Bright Side Sanctuary for Animals. S. & S. Aug. 2020. 336p. ISBN 9781982112981. $26; ebk. ISBN 9781982113001. LITERARY
In debuter Gould-Bourn's Bear Necessity, single father Danny, so desperate for money that he dances in a panda suit in the park, remains incognito when he spots and then comforts his 11-year-old son, who hasn't spoken since his mother's death in a car accident (75,000-copy first printing). Following The End We Start From, her big career launch, Hunter returns with The Harpy, about a wife who agrees to stay with her cheating husband as long as she is allowed to cause him pain three times. In Flannery O'Connor Award winner Mandelbaum's The Bright Side Sanctuary for Animals, Ariel returns to her mother's animal sanctuary in Kansas when it is threatened by financial collapse and anti-Semitic hate crimes (75,000-copy first printing).
Debuts: Coming into Adulthood
Berman, Ella. The Comeback. Berkley. Aug. 2020. 384p. ISBN 9780593099513. $26; ebk. ISBN 9780593099537. Downloadable. LITERARY
Leilani, Raven. Luster. Farrar. Aug. 2020. 240p. ISBN 9780374194321. $26; ebk. ISBN 9780374910334. LITERARY
Miller, Xander. Zo. Knopf. Aug. 2020. 368p. ISBN 9781101874127. $26.95; ebk. ISBN 9781101874134. Downloadable. LITERARY
Petty, Kate Reed. True Story. Viking. Aug. 2020. 336p. ISBN 9781984877680. $26; ebk. ISBN 9781984877697. lrg. prnt. Downloadable. LITERARY
Watson, Rebecca. little scratch. Doubleday. Aug. 2020. 224p. ISBN 9780385545761. $22.95; ebk. ISBN 9780385545778. lrg. prnt. Downloadable. LITERARY
Zinna, Diane. The All-Night Sun. Random. Aug. 2020. 336p. ISBN 9781984854162. $27; ebk. ISBN 9781984854179. Downloadable. LITERARY
In The Comeback, one of two Berman novels bought at auction, a teen star who has tentatively resurfaced after vanishing on the eve of her first Golden Globe nomination is upended when asked to present a lifetime achievement award to director who mangled her life. In the prize-winning Raven Leilani's Luster, Brooklyn-based young black woman tries to steady her life by edging to art and trying out open marriage, though the marriage in question isn't hers. In Miller's Zo, the brave, handsome, and independent-minded Zo, an orphan in a Haitian fishing village, passionately loves Anaya but finds their marriage stymied by her father; then comes the terrible 2010 earthquake, which Miller saw firsthand as a volunteer EMT. In Petty's True Story, also grabbed at a big auction, a private school girl committed suicide after one of the lacrosse team's famously raucous parties, and years later local girl Alice, team bigwig Nick, and a documentary filmmaker are among a small group of people still quietly desperate to sort out what really happened. Keep your eyes peeled for news on Watson's little scratch, a buzzy experimental work compared to Max Porter's Grief Is the Thing with Feathers and Lucy Ellmann's Ducks, Newburyport that chronicles a young woman's every little thought. Finally, from Zinna, well connected owing to her work with the Association of Writers & Writing Programs, The All-Night Sun tracks college professor Lauren Cress's dangerous bond with student Siri and even more dangerous bond with Siri's brother when she visits the family in Sweden one summer.