When Enoch Pratt presented the city of Baltimore with more than $1 million to establish a library system in 1882, he declared, "My library shall be for all, rich and poor without distinction of race or color, who, when properly accredited, can take out the books if they will handle them carefully and return them."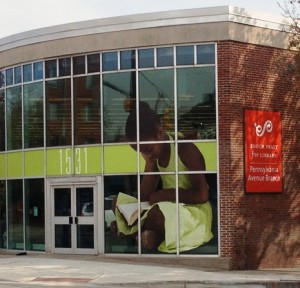 EPFL Pennsylvania Avenue branch and "Penny"
When Enoch Pratt presented the city of Baltimore with more than $1 million to establish a library system in 1882, he declared, "My library shall be for all, rich and poor without distinction of race or color, who, when properly accredited, can take out the books if they will handle them carefully and return them." More than 130 years later, during the tumultuous days at the end of April, staff and administration of the Enoch Pratt Free Library (EPFL) kept alive that spirit by staying open despite community unrest.
Baltimore erupted in angry protests on the afternoon of Monday, April 27, following the funeral service for Freddie Gray, an African American man who died in police custody earlier in the month. Locals clashed violently with Baltimore law enforcement, burned cars, and looted businesses, and more than 200 arrests were recorded. The intersection of Pennsylvania and West North Avenues saw the city's worst damage, with a CVS pharmacy, a Subway restaurant, and a check cashing business all burned.
As reports of teenagers looting at the nearby Mondawmin Mall spread Monday afternoon, many local businesses locked their doors. The Pennsylvania Avenue branch of EPFL, located across the intersection from the CVS, was directly in the path of the crowd of protesters. EPFL CEO Carla Hayden called several members of the leadership team, and after consulting with security officers and branch managers, decided to keep the buildings open—although staff members were offered the option to leave without penalty. As for the Pennsylvania Avenue location, Hayden left that to the discretion of branch manager Melanie Townsend-Diggs. Together, Townsend-Diggs and Hayden agreed that the library would lock its doors if there appeared to be any danger to patrons or staff but would allow them to remain in the library.
CALM, COMFORTABLE, AND SAFE
"About 2:45 in the afternoon we saw the group coming down Pennsylvania Avenue towards the library," Townsend-Diggs recalled. "We had about 20 customers inside along with staff, about 30 people total, and we just locked the door.… We didn't make a big to-do about it, but we…told the customers that were in here that we had an emergency situation." Staff offered to usher anyone who wished to leave out through a side door. But, as Townsend-Diggs told LJ, "the attitude of the customers was, 'We're safe in here. We don't want to go.'" Patrons continued to use the computers and browse the stacks. "We went on that way for a while," recounted Townsend-Diggs. "We even watched the vehicles ablaze across the street."
The Pennsylvania Avenue branch is fronted by two stories of floor-to-ceiling windows, making it particularly vulnerable—"As you can imagine," noted EPFL director of communications Roswell Encina, "it's almost like we have a bulls-eye on our building." Concerned about the possibility that a protester might throw a rock, or that one of the burning cars could explode, Townsend-Diggs asked patrons to stay away from the windows. But after hearing explosions from the street, she decided to bring everyone to the children's area on the library's lower level, adding, "It was just a matter of keeping everybody calm and comfortable and safe."
At the library's large Central Branch, two miles away, Encina also locked the doors as the crowd outside surged. After it had passed, at about 5 p.m., library administration agreed to close all the branches for the day. "That was a very tough decision to make," Encina told LJ, "but we decided because it was so uncertain.… The best thing we could do was close the libraries to ensure the safety of the staff and patrons."
Townsend-Diggs called Eunice Anderson, EPFL assistant chief of neighborhood library services, who arrived at Pennsylvania Avenue to help her escort staff and patrons out the side door and secure the building. All patrons were safely evacuated, and all library branches were closed by 5:30 Monday evening.
By 7 that evening, Gov. Larry Hogan had declared a state of emergency, and activated the National Guard. Mayor Stephanie Rawlings-Blake declared a weeklong curfew, and it was announced that schools would be closed on Tuesday.
"A NATURAL DECISION"
The big question, said Encina, was: "Do we open on Tuesday? And everybody's decision was a resounding yes, from the staff as well. We all understood that with the schools out, the kids needed a place to go. The public needed somewhere to go. Of course the next question was: Should we open the Pennsylvania Avenue branch?" Townsend-Diggs said yes, so Encina and library leadership joined her at the branch in solidarity.
"It seemed like a natural decision to make," Townsend-Diggs explained. "The community was here, the community leaders were cleaning up the area…. We wanted to have a safe place that people could come in. We had reporters outside; we knew that they needed restrooms, places to charge up, use Wi-Fi. So it was natural to think we needed to be there. All the staff made it in—we had staff from Central, our director and our chief, extra security…. So we really had great support."
Townsend-Diggs even received a call from Scott Bonner, director of the Ferguson Municipal Public Library, MO, who made national news last fall when he decided to keep the library open in the wake of that town's civil unrest. "He just wanted to give us encouragement, [say] that he understood what was going on here, having gone through it," she said. "And I told him that he was an inspiration to us."
A few teachers stopped by the Pennsylvania Avenue branch, offering to help out, and a preschool story hour scheduled for that morning saw a larger turnout than usual—not only were Baltimore schools closed, but neighborhood daycares had shuttered their doors as well.
PENNY TRIUMPHANT
Perhaps most remarkably, although a number of businesses had been destroyed, when the EPFL team arrived on Tuesday morning, not a single window was broken— every one of the 22 branches was intact. "The Pennsylvania branch has a big mural out front on top of the glass, of a little girl reading," Encina told LJ. "When we put up that mural a couple of years ago, the branch did a contest to name the girl, and the community named her Penny, after Pennsylvania Avenue. So we're thinking that symbolized something: we can't touch the library, there's this little girl—let's not bother her. And they respected that. That morning, Penny was still towering over the intersection."
As of Wednesday, April 29, although many businesses were still closed, the intersection had opened to traffic again, and residents were beginning to clean up. The community response to the library, said Encina, has been overwhelming. "Yesterday a young woman…came up here to the Pennsylvania Avenue branch with an armful of pastries and flowers and said, 'I'm so grateful that you're open. I got this for all of you. These two big guys were standing outside the library, and when we asked them 'what are you guys doing?' [They said,] 'We want to protect your branch.'" Social media has been supportive as well, with donations pouring in from well-wishers across the United States and Canada—more than $6,000 as of press time, which will be earmarked for the Pennsylvania Avenue branch.
For EPFL staff, keeping the library open during troubled times was a simple decision. "We wanted to do that because we're right here at this intersection where everything happened," Encina explained, "and it felt like a good gesture and a good symbol for the community. If the libraries can open their doors, it's a good step forward."