Top work from the likes of Jonathan Coe, Tupelo Hassman, and Rion Amilcar ​​Scott, plus promising debut authors whose subjects range from talking crows to dissident journalists during World War II.
Albinati, Edoardo. The Catholic School. Farrar. Aug. 2019. 1280p. tr. from Italian by Antony Shugaar. ISBN 9780374119256. $40; ebk. ISBN 9780374717452. LITERARY
Albinati's semiautobiographical Strega Prize winner is framed by the notorious 1975 Circeo massacre, in which three privileged young men who had studied at an elite all-boys Catholic high school in Rome raped, tortured, and killed two young women. Here, the protagonist recalls his experiences at the school, chronicling friends and teachers as he considers the roots of the awful Cicero crime in a blend of fiction and reportage.
Buxton, Kira Jane. Hollow Kingdom. Grand Central. Aug. 2019. 320p. ISBN 9781538745823. $27; ebk. ISBN 9781538745816. lib. ebk. ISBN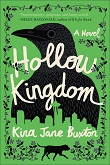 9781538732571. Downloadable. LITERARY
Buxton's debut is undoubtedly the only novel around narrated by a domesticated crow, the wise, tough, and decidedly foul-mouthed S.T., who's happy to hang out with owner Big Jim and eat Cheetos. But when Big Jim's eyeball falls out, S.T. sallies forth to find help and discovers a troubled new world: humans are eating one another, the wildlife reports that some scary, heretofore unseen predators abound, and it's looking like the end. Big in-house love and a 50,000-copy first printing.
Coe, Jonathan. Middle England. Aug. 2019. 400p. ISBN 9780525656470. $26.95; ebk. ISBN 9780525656487. Downloadable. LITERARY
John Llewellyn Rhys Prize winner Coe (Number 11) uses a large cast of characters to capture England in the last decade. Newlyweds Ian and Sophie differ over England's future, austerity-crazed political commentator Doug is challenged by his radical teenage daughter, middle-aged Benjamin struggles with a new career, and Benjamin's aging father cheers on Brexit. Your novel for understanding England today.
Handler, Daniel. Bottle Grove. Bloomsbury. Aug. 2019. 240p. ISBN 9781632864277. $26. LITERARY
In a small forest called Bottle Grove in San Francisco, just as the tech industry start booming, a wealthy benefactor hosts a wedding attended by fancy-dress guests, squirming teenagers, celebratory drunks, and assorted wildlife, plus vodka-slugging Padgett, who is hiding something in the woods. And another wedding is in the offing. From the author of We Are Pirates, known in the children's literature world as Lemony Snicket.
Hassib, Rajia. A Pure Heart. Viking. Aug. 2019. 320p. ISBN 9780525560050. $27; ebk. ISBN 9780525560067. Downloadable. LITERARY
Author of the LJ-starred In the Language of Miracles, Hassib tells the tale of two Muslim sisters in Cairo. Egyptologist Rose Gubran marries an American journalist, moves to New York, and works at the Metropolitan Museum of Art, while the devout Gameela remains home. When Gameela is killed in a suicide bombing, Rose returns to try to pick apart the secrets of her sister's life.
Hassman, Tupelo. gods with a little g. Farrar. Aug. 2019. 288p. ISBN 9780374164461. $26; ebk. ISBN 9780374719548. LITERARY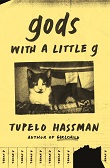 In this follow-up to Girlchild, an ALA Alex winner, the denizens of Rosary, CA, founded by Catholics but now dominated by evangelicals, live practically off the grid—much to the dismay of teenagers like Helen, who can't wait to get out. Helen's Aunt Bev runs the Psychic Encounter Shoppe, much distrusted by townsfolk and now the target of threats made real. For Helen and her friends, that means really growing up.
Nganang, Patrice. When the Plums Are Ripe. Farrar. Aug. 2019. 368p. tr. from French by Amy B. Reid. ISBN 9780374288990. $28; ebk. ISBN 9780374719302. LITERARY
Prix Marguerite Yourcenar winner Nganang, a professor of comparative literature at Stony Brook University, here offers the second in a trilogy about Cameroon, caught between Vichy and the Free French during World War II even as nationalism takes root. Says the narrator, poet Pouka, "our country had discovered the root not so much of its own violence as that of the world's own." Strong reviews for 2016's Mount Pleasant ("in a league of its own," Counterpunch); Nganang received PEN America support in 2017 when he was detained as he was leaving Cameroon.
Ogawa, Yoko. The Memory Police. Pantheon. Aug. 2019. 272p. tr. from Japanese by Stephen Snyder. ISBN 9781101870600. $25.95; ebk. ISBN 9781101870617. Downloadable. LITERARY
On an island off an unidentified coast, things keep disappearing, first flora and fauna, then bells and photographs, then body parts. In this Orwellian environment, the memory police work hard to ensure that what's lost remains lost...and forgotten. A worried young novelist is thus prompted to hide her editor under the floorboards and turn to literature as the only way to preserve the past. Japanese prizewinner Ogawa's The Housekeeper and the Professor sold nearly 100,000 copies in the United States.
Raimo, Veronica. The Girl at the Door. Black Cat: Grove. Aug. 2019. 220p. ISBN 9780802147349. pap. $16; ebk. ISBN 9780802147356. LITERARY
In a postapocalyptic world groping for higher ideals, a pregnant woman living on an island with her new lover is confronted by a girl who bitterly renounces the professor with whom she had a violent affair—also the father of the woman's unborn child. Two storylines alternating between the woman and the professor reflect on lust, power, and sexual politics. Called "the first post-Weinstein novel" by Vanity Fair Italy; with TV rights optioned by the producer of the Elena Ferrante series.
Ramzipoor, E.R. The Ventriloquists. Park Row: Harlequin. Aug. 2019. 544p. ISBN 9780778308157. $26.99; ebk. ISBN 9781488035142. LITERARY
In 1943 Brussels, the Germans captured a group of dissident journalists and resistance fighters distributing anti-Nazi newspapers and gave them a stark choice: write Nazi propaganda excoriating the Allies or face death. The group agreed among themselves that they would instead lampoon Hitler in their own secretly produced edition of Le Soir, a leading newspaper that had become a Nazi rag, with consequences they understood. Big in-house excitement (and a 75,000-copy first printing) for this debut, which draws on the actual events surrounding what came to called Le Faux Soir. What a story.
Rao, Mahesh. Polite Society. Putnam. Aug. 2019. 368p. ISBN 9780525539940. $26; ebk. ISBN 9780525539964. Downloadable. LITERARY
British author Rao makes his American debut with a modern reimagining of Jane Austen's Emma. The toast of Delhi, slightly jaded Ania Khurana thinks she can do good in the world after helping her spinster aunt find love. She turns her match-making attention to her sweet, penniless friend Dimple, but the arrival of her aunt's handsome nephew from America throws Ania's social world into chaos.
Scott, Rion Amilcar. The World Doesn't Require You: Stories. Liveright: Norton. Aug. 2019. 384p. ISBN 9781631495380. $25.95. LITERARY

Scott follows up Insurrections, which won the PEN/Robert W. Bingham Prize for Debut Fiction, with another story collection set in fictional Cross River, MD, founded by the leaders of a triumphant slave revolt and still defined by that ethos. Here, God's last son appears as a struggling musician, and an ambitious PhD candidate wreaks havoc with his dissertation as the author investigates race and religion, violence and love in stories touched by magic. With an author tour to Baltimore, Philadelphia, New York, and Washington, DC.
Stridsberg, Sara. Valerie. Farrar. Aug. 2019. 352p. tr. from Swedish by Deborah Bragan-Turner. ISBN 9780374151911. $27; ebk. ISBN 9780374720612. LITERARY
Much-translated author Stridsberg, a former member of the Swedish Academy, here limns the life of radical feminist Valerie Solanas, who attempted to kill Andy Warhol in 1968. Herself a feminist, Stridsberg moves from her subject's oppressive Georgia childhood with a father who raped her to a sorrowful death at age 52 in a San Francisco hotel.