From Alice Blanchard, a winner of Katherine Anne Porter and Barnes & Noble Best Mystery honors, to Emily Littlejohn, author of the LJ-starred Lost Lake, to Helene Tursten, one of Soho Crime's top sellers, scares for the holidays.
Blanchard, Alice. Trace of Evil: A Natalie Lockhart Novel. Minotaur: St. Martin's. Dec. 2019. 384p. ISBN 9781250205711. $26.99; ebk. ISBN 9781250205728. MYSTERY
In this first in a new series from an author accomplished enough to claim Barnes & Noble Best Mystery honors and a Katherine Anne Porter Prize for Fiction, rookie detective Natalie Lockhart relies on lessons taught by her police chief father and her own impassioned commitment after her sister's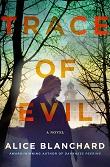 murder as a teenager to solve cases and when necessary help anguished families find peace. After a day spent fruitlessly searching for nine missing transients, she drives a fellow cop home, where they find his pregnant wife dead. A likely suspect is Riley Skinner, a disaffected student of Daisy, but he collapsed into a coma shortly after Daisy's death, and Natalie has lots of secrets to uncover.
Coyle, Cleo. Brewed Awakening. Berkley. Dec. 2019. 352p. ISBN 9780451488879. $27; ebk. ISBN 9780451488886. MYSTERY
In this next in the New York Times best-selling "Coffeehouse Mysteries" series, coffeehouse manager Clare Cosi is in trouble, having come to on a bench in Washington Square Park after being missing for a week. She has no memory of what happened to her, of the NYPD detective who's supposed to be her fiancé, or of the last decade of her life. And it gets worse, for security cameras place Clare with an heiress at her classy hotel, just as she is grabbed by a masked intruder, and now Clare is a suspect in the kidnapping.
Estleman, Loren D. When Old Midnight Comes Along. Forge. Dec. 2019. 272p. ISBN 9781250197177. $26.99; ebk. ISBN 9781250197184. MYSTERY
From the winner of four Shamus Awards, here's the next Amos Walker mystery, with Amos hired by Detroit bigwig Francis X. Lawes to prove that his wife, Paula, is dead. It's been more than six years since she vanished under mysterious circumstances, and Francis doesn't want to wait the full seven years required by law before remarrying. But Francis remains the main suspect in Paula's disappearance, and the officer first on the scene was subsequently killed in the line of duty, his notes on the case scattered to the winds, so Amos has a real dilemma.
Littlejohn, Emily. Shatter the Night: A Detective Gemma Monroe Mystery. Minotaur: St. Martin's. Dec. 2019. 320p. ISBN 9781250178329. $27.99; ebk. ISBN 9781250178336. MYSTERY
Taking a break from candy-corn excess on Halloween night in Cedar Valley, CO, Det. Gemma Monroe makes a quick trip to visit old family friend Caleb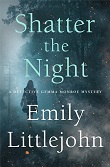 Montgomery, a retired judge. He's appropriately spooked by the anonymous threats he's been receiving, and as Gemma walks away from his office, he's torn apart by an explosion. Motives keep coming and going, another man is killed, and Gemma worries that a copycat killer is on the loose. Following the LJ-starred Lost Lake.
Shelton, Paige. Thin Ice: A Mystery. Minotaur: St. Martin's. Dec. 2019. 288p. ISBN 9781250295217. $26.99; ebk. ISBN 9781250295224. MYSTERY
Cozy author Shelton does something a little different with a series first that features Beth Rivers, better known as thriller author Elizabeth Fairchild, who's on the run after escaping a fanatic who had kidnapped her and locked her in a van for three days. Now she's hiding out in far-off Alaska, getting along with the locals even if she did goof by booking a room at a halfway house, when a suspected murder gets her thinking that her erstwhile kidnapper has come to town. Following the LJ-starred The Loch Ness Papers.
Tursten, Helene. Winter Grave. Soho Crime. Dec. 2019. 336p. tr. from Swedish by Marlaine Delargy. ISBN 9781641290760. $26.95; ebk. ISBN 9781641290777. MYSTERY
Christmas cheer is scarce in the small Swedish town of Strömstad, where a little girl vanishes shortly before the holiday after having been given a ride home from school by a mentally disabled teenage boy with whom the police just can't seem to communicate effectively. Then another child disappears, a police officer is found dead, and angry parents are about to take matters into their own hands. That means trouble for 28-year-old Detective Inspector Embla Nyström, who has just returned to work after a close brush with a killer and is now reminded of the disappearance of her childhood best friend. From one of Soho Crime's top-selling authors.