Growth in the audiobook category has continued, fueled by readers seeking new experiences. In fact, more than 79,000 audiobooks were published in the United States last year, according to the Audio Publishers Association (APA). That represents a 39 percent increase in the number of audiobooks produced since 2019, Publishing Perspectives reports. Revenue from audiobooks topped $1.3 billion last year, up 12 percent from 2019.
While audiobooks continue to make up a small fraction of total book sales—downloads reportedly accounted for just 8 percent of American trade sales in March 2021—the format is unquestionably growing in popularity.
"The audiobook industry has had another strong year, with people continuing to discover audiobooks and to realize their importance in allowing [readers] to be informed and entertained while being able to turn away from their screens," APA executive director Michael Cobb told Publishing Perspectives.
Audiobooks bring many dimensions to the reading experience. For instance, they allow busy professionals to listen to narration while they commute or multitask. And, as Cobb suggested, they also give readers a break from screen time, which has been especially important during the pandemic. Business Insider reports that the average American spends more than seven hours a day staring at a digital screen—and children experienced more screen time as well when schools switched to remote learning.
Here are some of the most intriguing new audiobook titles to emerge this year.
ECW Press
Based in Toronto, ECW Press is an independent publisher that produces audio versions of its own books, as well as works from other publishers through an imprint called Bespeak Audio Editions. "We're looking for underrepresented titles in particular," says co-publisher David Caron. "Our mission is to bring Canadian voices to the fore."
Although it's set in New York City, Happy Hour was written by Canadian author Marlowe Granados. This coming-of-age novel was published in print by Verso Books in September 2020 and was nominated for the Amazon.ca First Novel Award. ECW will release the audio version, narrated by Bronwyn Szabo, this September, ISBN 9781773058696.
Happy Hour follows a 21-year-old protagonist as she moves to New York with her best friend. "It starts in the vein of Sex and the City but turns into a beautiful examination of womanhood," Caron says. "The main character is someone who I think will resonate with a lot of young women, because of the way people underestimate her at first."
Also nominated for the Amazon.ca First Novel Award is Vanishing Monuments by nonbinary author John Elizabeth Stintzi. The novel's lead character, who is also nonbinary, returns home to their long-estranged mother who's suffering from dementia. The print edition was published by Arsenal Pulp Press in April 2020; ECW's audio version comes out in September, ISBN 9781773058757.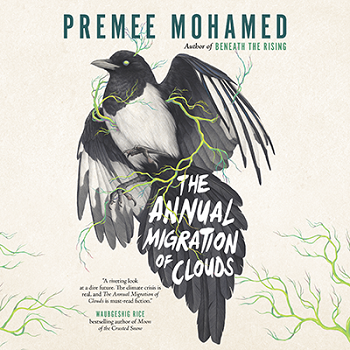 A postapocalyptic novella set in Alberta, The Annual Migration of Clouds by Premee Mohamed, September 2021, ISBN 9781770415935, is about a woman infected with a mysterious parasite who must choose whether to pursue a rare opportunity far from home or stay and help rebuild her community after a climate-related disaster. As she grapples with this choice, the effects of the parasite force her to question her own state of mind.
Part of a series of political pamphlets called "Field Notes" that mimic the political pamphlets of the past, On Property: Policing, Prisons, and the Call for Abolition by Rinaldo Walcott examines the relationship between policing and property in the wake of George Floyd's death. On Property was published in print by the literary press Biblioasis of Ontario. ECW's audio version, narrated by David Andrew Reid, ISBN 9781773058689, comes out in September.
Time Squared by Lesley Krueger, narrated by Helen Taylor, October 2021, ISBN 9781770415928, is a time travel mystery/romance about a young couple, Robin and Eleanor, who keep meeting during periods of war. Only Eleanor is aware of this fact, and she sets out to discover what's behind this phenomenon. "What sets this book apart is its feminist perspective," says digital marketing associate Anita Ragunathan. Time Squared examines the roles women are forced to play in different centuries, the stresses they face—and how this affects their relationships.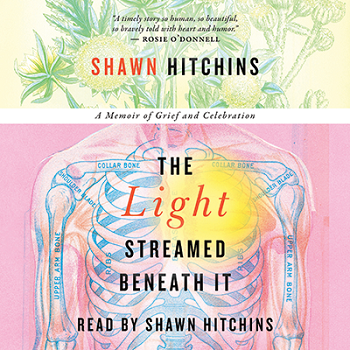 The Light Streamed Beneath It: A Memoir of Grief and Celebration by comedian and author Shawn Hitchins, October 2021, ISBN 9781770415614, is an original ECW publication. After losing two great loves just five months apart, Hitchins looks for meaning in this deeply poignant book. As with most new ECW publications, the print and audio versions are being released simultaneously. The audiobook is narrated by Hitchins himself.
Dreamscape Media
Ohio-based Dreamscape Media has been publishing and distributing audiobooks aimed at the library market for more than a decade. The company has partnerships with indie publishers such as Crooked Lane Books to produce audio versions of their works, and it acquires the audio rights to titles from major publishers as well.
Scandinavian thrillers have become quite popular in the U.S., and fans of authors such as Jo Nesbo and Jussi Adler Olsen might like The Corpse Flower by Danish novelist Anne Mette Hancock, narrated by Laura Jennings, October 2021, ISBN 9781666519143. Crooked Lane is publishing the English translation of this 2017 best-selling debut, described as "The Girl with the Dragon Tattoo meets Sharp Objects"—and Dreamscape is releasing the audio version simultaneously.
The book's protagonist is Danish journalist Heloise Kaldan, who receives a series of cryptic letters from a woman named Anna Kiel. Wanted in connection with the fatal stabbing of a lawyer three years earlier, Anna hasn't been seen since she left the crime scene covered in blood. The letters from Anna to Heloise keep coming, and they hint at a connection between the pair. The Corpse Flower is the first book in a mystery series with Kaldan and homicide detective Erik Scháfer.
One of Dreamscape's goals is to provide libraries with audiobooks that feature diverse authors and characters. "Diverse representation is something that libraries are looking for, but it's often hard to find in the fantasy genre in particular," says marketing executive Jolene Barto. This is what drew the company to Flowers for the Sea by Zin E. Rocklyn, October 2021, ISBN 9781666510393.
This dystopian debut novella from Rocklyn, who is nonbinary, is being published by Tordotcom Publishing, a sci-fi/fantasy imprint of Macmillan. It includes a diverse cast of characters who find themselves alone on an ark with scant resources after a flood. One of the refugees is Iraxi, a commoner who refused to marry a prince—and she's pregnant with a child who might be more than human.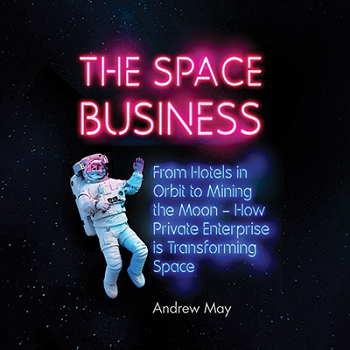 In partnership with Icon Books, Dreamscape is producing the audio versions of Icon's "Hot Science" series of nonfiction works that help readers understand science topics in the news. The Space Business by Andrew May, narrated by Oliver Hunt, October 2021, ISBN 9781666520651, is especially timely, given the recent space flights of billionaire entrepreneurs Elon Musk, Richard Branson, and Jeff Bezos. This book explains the profit motives behind these excursions.
Naxos AudioBooks
Founded in the UK, Naxos has its roots in producing classical music—so publishing books in audio format seemed like a natural progression. The company began publishing streaming audio versions of classic British and American literature through its Naxos Spoken Word Library but has expanded to include nonfiction titles as well.
"We have well-known names narrating our titles," says William Anderson, audiobook sales and marketing manager for Naxos of America Inc. Naxos often uses up-and-coming stage performers from London's West End, and its narrators have included Kenneth Branagh and Nicholas Boulton, who appeared in the HBO series Game of Thrones.
English actress Juliet Stevenson had narrated all of Jane Austen's novels for Naxos except Pride and Prejudice, which featured a different narrator. By popular request, Naxos is producing a new audiobook version of Austen's most celebrated novel with Stevenson's narration, July 2021, ISBN 9781781983751.
A preview was released on Audible.com in May, and listener Tad Davis remarked: "It's not that Naxos's previous offering of Pride and Prejudice was bad in any way. It was fine. It was enjoyable. But Juliet Stevenson is perfect. Perfect. And it rounds out the best audio collection of Jane Austen on the planet."
Initially, Naxos published abridged versions of several classics. Now, the company is recording unabridged versions of many of its earlier works. One example is The Alexandria Quartet, a series of four novels published between 1957 and 1960 by British writer Lawrence Durrell. Naxos' original audiobook recordings were published in 2000, and the company released an unabridged version of each work narrated by Boulton in August:Justine, ISBN 9781781983867;Balthazar, ISBN 9781781983874;Mountolive, ISBN 9781781983881; and Clea, ISBN 9781781983898.
Naxos will also release an audio recording of Frederick Douglass's second autobiography, My Bondage and My Freedom, written after 10 years of reflection following his legal emancipation in 1846 and his break with his mentor, William Lloyd Garrison. Releasing in September 2021, ISBN 9781781983522, this 13-hour production features narration by Leon Nixon. The audiobook version of this seminal work seems particularly timely, given the renewed focus on racial equity and social justice brought about by the Black Lives Matter movement.
"I'm very excited that we're bringing this title to market," Anderson says.

Out Loud Publishing
Out Loud Publishing ( www.itsmyoutloudvoice) is the name under which licensed professional counselor Gina Birkemeier publishes books that explore the intersection of faith and science. Her latest book is Generations Deep : Unmasking Inherited Dysfunction and Trauma to Rewrite Our Stories Through Faith and Therapy , July 2021, ISBN 97811732954526.
Part memoir and part self-help guide, Generations Deep examines four generations of Birkemeier's own family to show how unhealthy patterns of behavior can repeat from one generation to the next, trapping us in a cycle of dysfunction if we don't take the time to repair the damage from our past.
The print version, which was an Amazon best seller, was published in March 2021. In response to numerous requests, Birkemeier has produced an audio version that she narrated herself. The audiobook takes a highly personal approach to connecting with listeners.
"I knew it had to be me narrating the book, because it was my own story," she says. "I wanted it to sound like I was right in the room with the listener."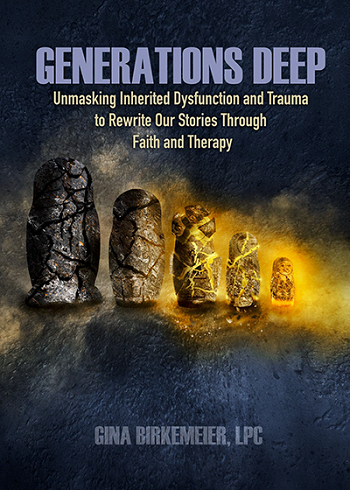 The audio version also includes bonus interviews with a trauma coach, a neuro-rehabilitation psychologist, an executive pastor, an epigenetic scientist and researcher, a clinical social worker, and a best-selling author—each sharing their personal and professional experiences on intergenerational patterns.
With the help of 60 licensed therapists, Birkemeier has created a questionnaire to help listeners identify their own adverse childhood experiences that might have resulted in trauma. "We have to name and understand trauma, or else we won't go and get the help we need," she explains.
Birkemeier says she's heard from families who have experienced the book together and have made profound breakthroughs in their relationships by discussing its content. Generations Deep also includes information about how to find a licensed therapist and what kinds of therapy to consider.
"Hopefully, this book will be a catalyst for listeners to seek further help if they need to," she says. "People aren't cakes. You can't just follow a simple recipe and expect healing to occur."
SPONSORED CONTENT