The latest audio reviews include a finely voiced literary novel by the inimitable Isabel Allende, a taut thriller set in the 1920s, and an updated edition of the wildly popular Lies My Teacher Told Me.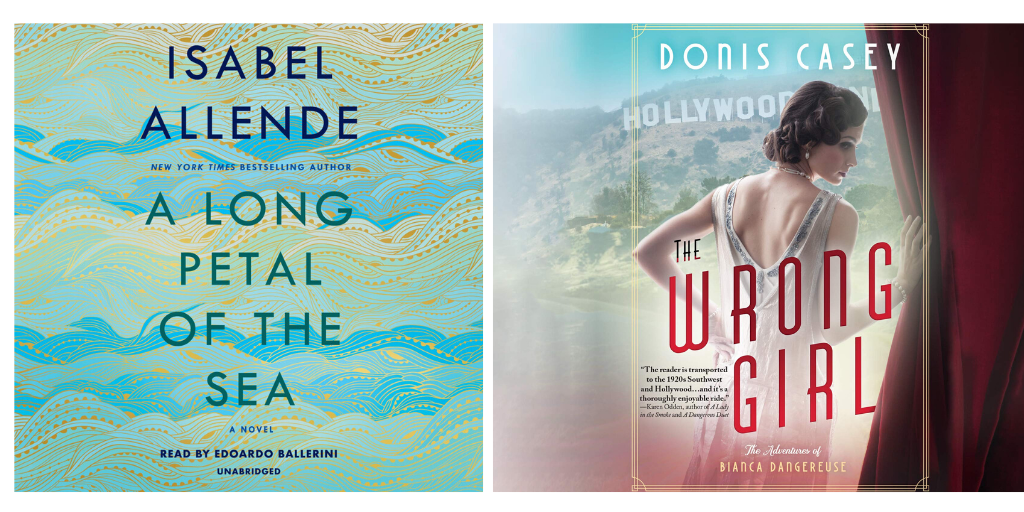 FICTION

Allende, Isabel. A Long Petal of the Sea. 8 CDs. Random House Audio.
2020. 11 hrs. ISBN 9780593167960. $40. digital download. F
On September 3, 1939, the S.S. Winnipeg arrived in Valparaiso, Chile, with 2,200 refugees fleeing the fascist regime of Francisco Franco. Allende (The House of the Spirits) befriended one of these refugees, Victor Pey Casado, when she herself was living in exile in Venezuela, and places their struggles at the heart of this masterful historical saga. The novel begins with Victor Dalmau serving as a medic on the Republican side of the Spanish Civil War. After Franco prevails, Victor flees with Roser Bruguera, the pregnant girlfriend of his brother, who died in battle, and marries her "in name only" so they can get prized spots on the Winnipeg; the Winnipeg evacuation was organized by Pablo Neruda, whose description of Chile—long petal of sea and wine and snow—Allende borrows for her title. After arriving in Chile, Victor and Roser together raise Roser's son, Marcel. However, when the Chilean military overthrows the government led by Victor's friend, President Salvador Allende (real-life cousin of the author's father), the family must go on the move again. VERDICT Narrator Edoardo Ballerini renders the cast of well-drawn, colorful characters Technicolor vivid, and his nuanced reading of Allende's lyrical prose and her seamless blend of the historical and the fictional add to the pleasure of this inspiring story. For all literary collections.—Beth Farrell, Cleveland State Univ. Law Lib.
The Best Horror of the Year: Volume Eleven. 15 CDs. Tantor Audio. 2019. 18:30 hrs.
ed. by Ellen Datlow. ISBN 9781618038890. $54.99. digital download. F
Volume eleven of this horror anthology series demonstrates the best and worst aspects of a collection based on a widely drawn topic. It contains stories that include a standard zombie tale, the strange powers of a soft drink not of this world, a series of horrible coincidences leading the collapse of a family, and a plane flight that leaves passengers and crew trapped as they slowly watch the world burn. The topics and writing styles range from the very conventional to the experimental; there is something for everyone, but not everything will be for everyone. Unfortunately, some of the earliest stories are among the weakest, so it requires a dedicated listener to get to the best of this lengthy collection. If one were reading this collection on the page or screen, it would be easy to skip stories that didn't resonate. As an audiobook, without guides on where stories stop and start, this is more difficult. The readers, Rebecca Gibel and Charlie Thurston, are adequate, but their British accent work was lacking. VERDICT Even with these caveats, this is a fine sampler of horror ideas and would be a good way to add to a popular genre or start a collection.—Tristan Boyd, Austin, TX
Casey, Donis. The Wrong Girl. 6 CDs. Dreamscape Audio. 2019. 7:43 hrs.
ISBN 9781690556961. $59.99. F
Posing as a film producer, Graham Peyton persuades teenager Blanche Tucker to leave her family and run away with him. Through grit and determination, Blanche makes it to Hollywood where she becomes the reclusive star Bianca LaBell, and Peyton ends up dead. Is Blanche to blame? Set in the 1920s, this melodrama could just as easily be the story of a 21st-century teen determined to trade her everyday life for one as a Hollywood actress. Casey (Forty Dead Men) details Blanche's life beginning with her flight from her family's farm through her Hollywood success, as well as the death of the man who convinced her to run away in the first place. Despite a mild strain with male voices, Nordlinger's expressive, clear, nicely-paced speech and professional reading makes the tale come alive. Together, Casey and Nordlinger convey the silent screen era and 1920s ambiance in a charming mystery that is equally relevant to the modern world. VERDICT Will appeal to historical mystery buffs and those interested in the 1920s.—Laurie Selwyn, formerly with Grayson Cty. Law Lib., Sherman, TX
Chapman, Clay McLeod. The Remaking. 8 CDs. Recorded Books. 2019. 9 hrs.
ISBN 9781980055907. $102.75. digital download. F
The ghost of a woman and her daughter try again and again, across generations, to get their story told. First they infect a storyteller, who tells the story to a child who becomes a director, whose grindhouse horror film inspires a next-generation director, and that director's failed film leads to a podcast investigation. Woven throughout this narrative is the story of actress Amber Pendleton, who is haunted by both ghosts as she plays first daughter then mother in different films. Her downward spiral eventually leads to her becoming the central figure of the podcast. Unfortunately, the writing does not support the creativity of the story. Characters tend toward cliché and the prose is often purple. The author's tendency to use repeated statements in the text is particularly hard on the ear. The reading quality varies among the four readers, Corey Allen, Morgan Hallett, Suzy Jackson, and the author. VERDICT An interesting concept is let down by the execution. Only recommended for those who have exhausted the horror shelf.—Tristan Boyd, Austin, TX
Charyn, Jerome. Cesare: A Tale of War-Torn Berlin. 9 CDs. Highbridge Audio. 2020.
11:30 hrs. ISBN 9781684572724. $39.99. digital download. F
Charyn presents a complex and detailed story of the inner workings of the German Third Reich during World War II. Eric, an abused Jewish orphan serving as a naval subcadet, is taken under the wing of Admiral Wilhelm Canaris, head of the Abwehr, German military intelligence. Under Canaris's tutelage, Eric becomes a master spy and assassin, earning the nicknames "The Magician" for his ability to get in and out of tough situations, and "Cesar," after the somnambulist in the silent film The Cabinet of Dr. Caligari. While the Abwehr serves Hitler and his regime, it also battles the SS and the Gestapo, working to save Jews from concentration camps and gas chambers. Eric has a complicated love affair with a beautiful, intelligent, and volatile Jewish woman. When she is sent to Theresienstadt, a fraudulent show camp created by Nazis in Czechoslovakia in an attempt to hide their atrocities, Eric makes a desperate attempt to save her. Charyn provides a rich and detailed account of the decline of German society over the course of the war. Narrator David Colacci brings to life a rich cast of characters. VERDICT Highly recommended to all listeners who enjoy historical fiction set during World War II.—Stephen L. Hupp, West Virginia Univ. Parkersburg Lib.
Davila, April. 142 Ostriches. 7 CDs. Highbridge Audio. 2020. 9 hrs. ISBN 9781684577620. $34.99. digital download. F
Running an ostrich ranch in the unforgiving California desert is not how Tallulah Jones wants to spend the rest of her life. She's helped her grandmother run the ranch since she was 13 years old, but she's finally ready to forge her own path and leave the Mohave Desert. When her grandmother unexpectedly dies, leaving her the ranch, Tallulah decides that she's going to sell the ranch even though it's the last thing her grandmother would have wanted. Unfortunately for Tallulah, that's when the ostriches mysteriously stop laying eggs and some unexpected relatives come to town. She must navigate not only her own emotions but those of her fragile and complicated family (birds and all). Sarah Mollo-Christensen's brilliant narration deftly conveys the emotions of all the family members with ease and authority. VERDICT Fraught with family struggles, addiction, duplicity, and deceit, this courageous coming-of-age story set in a unique and wonderful backdrop is one that listeners won't soon forget.—Erin Cataldi, Johnson Cty. P.L., Franklin, IN
Kerr, Katharine. Sword of Fire. (Justice War, Bk. 1). digital download. Tantor Audio. 2020. 13:37 hrs. ISBN 9781618031846. $54.95. digital download. F
A dispute over judicial policy snowballs into a larger conflict in the kingdom of Deverry, when the king's advisor allows a man to die rather than hear his grievances. A young scholar, a noble turned mercenary, and a lord's daughter are caught up in the troubles. The first book in a new trilogy revisiting Kerr's long-running "Deverry" series, this is a slow-burn road trip story focusing on the politics of this feudal land, with brief dips into action and magic. It's as much setup for action to come as anything else, but fans of the series will welcome its true to form return. Scottish narrator Ruth Urquhart gives the title a smooth reading with a varied cast of accents. VERDICT Recommended for fans of Jacqueline Carey's "Kushiel" books or Michael J. Sullivan's "Riyria" series.—Jason Puckett, Georgia State Univ. Lib, Atlanta

Mandel, Emily St. John. The Glass Hotel. 9 CDs. Penguin Audio. 2020. 10:30 hrs.
ISBN 9780525596677. $40. digital download. F
Guests at the Hotel Caiette can afford a special reality. They pay top dollar to be "wilderness adjacent"—nestled in the beauty of nature while shielded from its discomforts. Within the "glass and cedar palace" in remote British Columbia, a well-heeled shipping executive avidly describes his work, and the beautiful bartender charms a wealthy guest. Years after those fateful meetings, the woman mysteriously disappears from a container ship in mid-voyage and the former executive has lost his home and savings in a Ponzi scheme. All these events prove inextricably connected, with life-destroying consequences rippling outward as unceasingly as freighter ships traversing their routes. Mandel (Station Eleven) depicts a haunting world in which reality is a bit permeable and events always in flux. Characters inhabit a wide range of states and shades of existence—poverty, sleeplessness, a work shift, incarceration, a fairy tale, beauty, money, privilege, loss of money and privilege—at times seeking the refuge of an alternate reality, the "counter life." With an ideal voice to convey the slightly surreal atmosphere and showcase Mandel's arresting prose, narrator Dylan Moore keeps readers immersed amid shifting time and intersecting vignettes. VERDICT Station Eleven fans and literary fiction listeners will be captivated. Enthusiastically recommended.—Linda Sappenfield, Round Rock P.L., TX

Musser, Elizabeth. When I Close My Eyes. 9 CDs. Recorded Books. 2020. 10:45 hrs. ISBN 9781980052012. $102.75. digital download. F
Resolving the reason for the unsuccessful assassination attempt of writer Josephine Bourdillion by hired hitman Henry Hughes proves to be more complicated than it seemed at first. As Josephine lies in a coma, listeners hear the three voices of Henry, Josephine, and daughter Paige (performed well by Angelo Di Loreto, Laura Knight Keating and Barbara McCulloh), taking us through the past as well as the perilous present. While Josephine's plight is the major focus of the plot, involving disturbing letters from fans, Henry's motivations are laid bare with sympathy and agony. All the characters are well conceived and Paige becomes the true heart of the novel as she becomes entwined in the problems of Henry's family as well as her own. Josephine's novels and her strong belief in scripture become pivotal concepts of faith and forgiveness. There are dark sections of the story as Musser also explores Josephine's previously hidden depression. VERDICT Highly recommended for listeners who enjoy nuanced Christian fiction. —Joyce Kessel, Villa Maria Coll., Buffalo
Paige, Robin. Death at Bishop's Keep. (A Victorian Mystery, Bk. 1). Dreamscape Audio. 2020. 11:41 hrs. ISBN 9781690559245. $59.99. F
Kate Ardleigh, a 19th-century New Yorker, takes what is supposed to be a secretarial job with her wealthy English aunt. When she arrives, she finds two aunts who apparently hate each other, an uncertain social position, and strange undercurrents both in and out of the house. For one thing, whose recently dead body was left in the archeological dig? Sir Charles Sheridan, scientist, photographer and all-around amateur, joins Kate in solving this, their first case. Although the premise is trite—a feisty, intelligent woman takes on the world and solves the case—and the pace is a little slow, the book is saved by the quality of the writing. This is not surprising, since this is an early work (first published in 1994) coauthored by distinguished American mystery writer Susan Wittig Albert. Helen Johns's beautiful voice and amazing diction could turn the driest book into a pleasurable listening experience. In this case, her even tones gentle the sometimes-complicated plot twists and turns, as well as the rare anachronisms. VERDICT Recommended for listeners who enjoy late 19th or early 20th-century historical mysteries.—I. Pour-El, Des Moines Area Technical Coll., Boone, IA
Rose, Danielle. Lies We Keep. (Pieces We Keep, Bk. 1). 5 CDs. Brilliance Audio. 2020. 5:14 hrs. ISBN 9781799745105. $25.99. F
Romance writer Jezebel Tate does not take seriously the stalker who writes her disturbing notes until his behavior escalates to close-range photographs. Persuaded by her best friend and literary agent's advice, Jez hires a bodyguard, James Blakely. His appearance ignites Jez's lust, and a steamy relationship develops quickly between Jez and James. The stalker makes brief appearances, yet Jez, still in frustrating denial, continues to make herself vulnerable. Predictably, the man kidnaps and tortures her, James finds and fights for her, and later helps her heal. We finally hear from James in the epilog, (a year after their meeting) and learn of his uncertainty about their future. All but the last chapter are told from Jez's perspective, and she is ably portrayed by Savannah Peachwood. She modulates her voice and pacing to portray Jez's attitudes and reactions. The last chapter, read by Teddy Hamilton, as James, gives a less hopeful finish to Jez's optimistic story of recovery. His voice is quiet and his diction crisp and straightforward when he describes his personal fears and inadequacies. VERDICT Both readers acquit themselves well, but they are not able to make this book a necessary library purchase.—Juleigh Muirhead Clark, Williamsburg, VA
Sosnowski, David. Buzz Kill. 11 CDs. Brilliance Audio. 2020. 14:14 hrs. ISBN 9781799708087. $34.99. F
Sosnowski's fourth novel is actually a prequel to his third novel, Happy Doomsday. Told through the perspectives of two teenage hackers, Alaskan Pandora Lynch and California runaway George Jedson, these idealists combine their talents in cyberspace to create Buzz, an AI capable of recognizing and preventing suicide. Besides the concept of consciousness and AI, the world-weary narrative covers topics such as bullying, dementia, differences, and teen suicide, interspersed with fairly large tech-focused infodumps, repetitious descriptions, and general rambling and text-speak. Actor and narrator Lauren Ezzo provides a concrete reading that guides listeners through this tale that starts slow, but turns witty and fairly dark. VERDICT Fans of science fiction such as Wargames or 2001: A Space Odyssey may enjoy this story.—Denise Garofalo, Mount Saint Mary College, Newburgh, NY
NONFICTION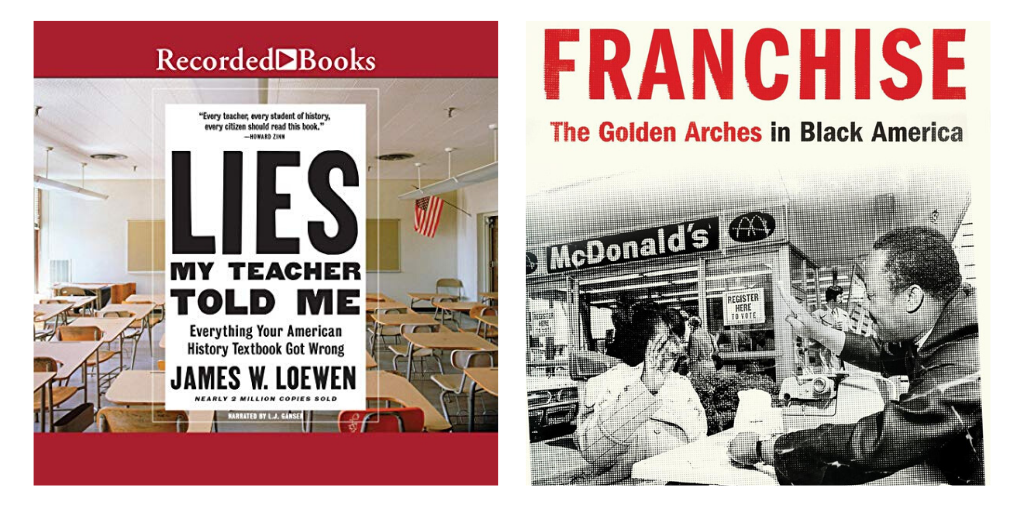 Chatelain, Marcia. Franchise: The Golden Arches in Black America. 9 CDs. Highbridge Audio. 2020. 10:30 hrs. ISBN 9781684577019. $34.99. digital download. HIST
The fast food industry, with a special emphasis on the McDonald's franchise, is the focus of this innovative approach to cultural history. In her first book, Chatelain (history and African American studies, Georgetown Univ.) uses the fast food industry as a prism through which to glean a richer, more nuanced understanding of the history of black America. This mix of business, politics, and race relations serves up moments of hope and disillusionment in the many characters that have a story to tell along with their order of burgers and fries. The audiobook is read excellently by Machelle Williams. This is a genuinely novel study that combines ideas of food justice with the subject of black history. VERDICT Overall, the book offers a fresh and rewarding history lesson for those looking for new insight into black history, and for an interesting take on the promises and failures of capitalism.—Denis Frias, Mississauga Lib. Syst., Ont.
Loewen, James W. Lies My Teacher Told Me: Everything Your American History Textbook Got Wrong, 2nd Edition. 15 CDs. Recorded Bks. 2019. 17:30 hrs. ISBN 9781980042280. $123.75. digital download. HIST
Since its first publication in 1994, this treatise has denounced the misinformation, poor scholarship, and Eurocentric views of American history reflected in middle and high school textbooks. Sociology professor Loewen illuminates the dangers of heroification of historical figures and asserts that ignoring our country's past faults hinders students' abilities to make critical changes for the future. The author suggests that textbooks should look instead at synchronism in history, stories of struggles, and how people have treated each other. With wit and humor, Loewen and narrator L.J. Ganser entice listeners into what feels like a vivacious conversation. Though timely for this current political and social culture, the content has not changed from the previous edition. New topics and current events are discussed only in the author's foreword. VERDICT Libraries currently owning the previous edition in audiobook format may not find purchasing this newest edition necessary.—Lisa Youngblood, Harker Heights P.L., TX

McDougall, Christopher. Running with Sherman: The Donkey with the Heart of a Hero. digital download. Books on Tape. 2019. 12:13 hrs. ISBN 9781524778798. $95. BIOG
What began as a New York Times series becomes a captivating book—and with McDougall narrating, quite the aural gift. Sherman arrived on McDougall's Pennsylvania farm close to death, rescued from an (unintentionally) abusive hoarder. A supportive herd—McDougall's family (human and animal), their rural community, farflung friends, and kind strangers—rally to save Sherman. "You need to give this animal a purpose. You need to find him a job," McDougall's horse trainer neighbor insists. That job eventually leads to the Leadville Boom Days International Pack Burro Race, with donkeys carrying a 33-pound packsaddle of prospector's tools as people run alongside them. This all takes place in the highest city in the continental United States: Leadville, CO. Once again, McDougall summons training guru Eric Orton who got him ultrarunning in Born to Run. Overcoming training challenges, unforeseeable setbacks, and even broken bones, McDougall, his wife Mika, their young neighbor Zeke, and their burros Sherman, Flower, and Mathilda all arrive in Leadville, aiming for the finish line. ­VERDICT McDougall's infectious tenacity never wavers, resulting in a can't-press-stop audio delight, which also includes the Sherman-inspired original song, "Happy I Was Wrong," by Andrew Marsini.—Terry Hong, Smithsonian BookDragon, Washington, DC
Minter, Adam. Secondhand: Travels in the New Global Garage Sale. 9 CDs. Dreamscape Audio. 2020. 11:33 hrs. ISBN 9781690581338. $49.99. soc sci
Rag and bone men were a feature of 19th-century urban life. They were among the poorest of the poor, earning their living by scavenging scraps of bone, rag, and metal, then sorting and reselling it. Today, the sale of secondhand merchandise is a multi-billion-dollar industry. Goodwill Industries, a nonprofit, operates in multiple countries and in 2014 generated $5.6 billion in revenue, most of which funded its charitable operations. Minter's (Junkyard Planet) latest is a fascinating piece of journalism, navigating the journey of goods from the donation box to their final destinations. It also takes a look at the profitable business of assisting with downsizing, decluttering, or cleaning out the treasured possessions of departed loved ones. There is much more to the secondhand and reuse market than is commonly imagined. Daniel Henning gives a crisp narration well suited to the material. VERDICT Will engage those with an interest in business, consumer choice, or the environment, as well as those who enjoyed the author's first book.—Cynthia Jensen, Gladys Harrington Lib., Plano, TX
These reviews originally appeared in LJ's May 2020 issue.