Julie Andrews and Booker T. Jones on their careers, Paul Hendrickson on Frank Lloyd Wright, Rob Kapilow on the Great American Songbook, and Elton John on himself; Joni Mitchell publishes a gift book she created long ago for friends.
Andrews, Julie with Emma Walton Hamilton. Home Work: A Memoir of My Hollywood Years. Hachette. Oct. 2019. 320p. ISBN 9780316349253. $30; ebk. ISBN 9780316349239. lrg. prnt. CD/downloadable. MEMOIR/FILM
Andrews follows up the No. 1 New York Times best-selling Home, which recounted her tough upbringing, with another memoir that shows how she came into her shining career in film, starting with Mary Poppins and The Sound of Music. There's art, and then there's the personal side: learning to adjust to success, enduring a failed marriage, and meeting and marrying Blake Edwards. With a 300,000-copy first printing.
Hendrickson, Paul. Plagued by Fire: The Dreams and Furies of Frank Lloyd Wright. Knopf. Oct. 2019. 624p. ISBN 9780385353656. $35; ebk. ISBN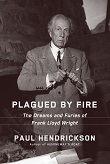 9780385353663. Downloadable. BIOGRAPHY/ARCHITECTURE
The supreme self-regard that evidently defined Frank Lloyd Wright, America's preeminent architect, hid some dark corners in his life, from the lies he told about his father, to his complex relationship with mentor Cecil Corwin, to the murder of his mistress and others at his Wisconsin home, to many incidents of fire. A National Book Critics Circle winner for Sons of Mississippi and more recently NBCC finalist for the New York Times best-selling Hemingway's Boat, Hendrickson breaks into Wright's inner sanctum to give us a new view of the man. With a 60,000-copy first printing.
John, Elton. Me. Holt. Oct. 2019. 352p. ISBN 9781250147608. $30; ebk. ISBN 9781250147615. CD. MUSIC/MEMOIR
On the stacked heels of the biopic Rocketman, due out on May 31, comes the first ever autobiography from one of the biggest singer/songwriter stars of the contemporary pop music world. It's all here, from shy childhood to stratosphere-smashing rise to friendship with John Lennon and dancing with the queen to setting up his AIDS Foundation and quietly battling drug addiction.
Jones, Booker T. Time Is Tight: An Autobiography. Little, Brown. Oct. 2019. 320p. ISBN 9780316485609. $30; ebk. ISBN 9780316485579. lib. ebk. ISBN 9780316485586. CD/downloadable. MEMOIR/MUSIC
Born into segregated Memphis with the sound of music in his ears, Jones became leader of the celebrated Stax Records house band, then founded the even more celebrated Booker T. and the MGs, which sold millions of records, claimed a spot on Rolling Stone's list of top 500 songs of all time, and influenced performers from Wilson Pickett and Otis Redding to Bob Dylan and Willie Nelson. No wonder Jones has a Grammy Lifetime Achievement Award and with his band was inducted into the Rock and Roll Hall of Fame. Here's his story; with a 35,000-copy first printing.
Kapilow, Rob. Listening for America: Inside the Great American Songbook from Gershwin to Sondheim. Liveright: Norton. Oct. 2019. 448p. ISBN 9781631490293. $39.95. MUSIC
Kapilow has the background to appraise the Great American Songbook through the works of eight key composers—Kern, Porter, Gershwin, Arlen, Berlin, Rodgers, Bernstein, and Sondheim—as he himself is a composer, conductor, and host of the popular NPR music radio program What Makes It Great? And he doesn't just talk music; he looks at issues of race, immigration, sexuality, and appropriation in works like Show Boat and West Side Story to show music and America intertwined. Look for the companion multimedia website.
Mitchell, Joni. Morning Glory on the Vine: Early Songs and Drawings. Houghton Harcourt. Oct. 2019. 128p. ISBN 9780358181729. $40. MUSIC
In 1971, the chart-topping Mitchell crafted 100 copies of Morning Glory on the Vine as a holiday gift for close friends, handwriting a selection of her own lyrics and poems and 30-plus original paintings and watercolors. Now in this facsimile edition, everyone can see her work. With a 100,000-copy first printing.