April's mystery parade leads off with big-print-run offerings from Hillerman and Rosenfelt, but the list is not all contemporary; readers will also enjoy visits to 19th- and early 20th-century London and New York.
Bannalec, Jean-Luc. The Granite Coast Murders: A Brittany Mystery. Minotaur: St. Martin's. Apr. 2021. 304p. ISBN 9781250753069. $26.99. INTERNATIONAL
Vacationing at a beautiful Brittany beach resort, Commissaire Dupin remains singularly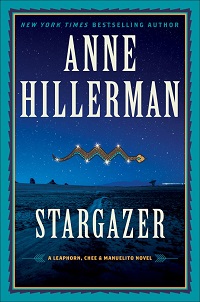 unengaged until a local deputy is attacked, a tourist vanishes, and a corpse suddenly appears to disrupt everyone's sun and fun. Sixth in the internationally best-selling series after The Killing Tide; with a 30,000-copy first printing.
Fredericks, Mariah. Death of a Showman: A Mystery. Minotaur: St. Martin's. Apr. 2021. 288p. ISBN 9781250210906. $26.99. HISTORICAL
Lady's maid to upper-crust New Yorker Louise Tyler, Jane Prescott learns in summer 1914 that a former beau has written a Broadway musical—and has married a chorus girl in the show. It's good news that Louise wants to invest in the show but not so good when producer Sidney Warburton is found dead. Fourth in the popular series after Death of an American Beauty; with a 30,000-copy first printing.
Harris, C.S. What the Devil Knows. Berkley. Apr. 2021. 336p. ISBN 9780593102664. $26. HISTORICAL
In 1811, two families are horribly dispatched along the Ratcliffe Highway, and the young Irish sailor arrested for the crime hangs himself in jail before he can be tried. Flash forward to 1814, with Europe finally at peace after the Napoleonic wars but the lead investigator in the murders himself murdered. Why not bring in Sebastian St. Cyr, Viscount Devlin, to investigate? Sixteenth in the USA TODAY best-selling series after Who Speaks for the Damned.
Hillerman, Anne. Stargazer: A Leaphorn, Chee & Manuelito Novel. Harper. Apr. 2021. 336p. ISBN 9780062908339. $27.99. lrg. prnt. CD. POLICE PROCEDURAL
It's been a while since Officer Bernadette Manuelito has seen old roommate Maya, whose enchantment with drugs forced them apart. Now Maya's brother wants Bernie to find the missing Maya, but Bernie's husband, Jim Chee—struggling with new job responsibilities—isn't sure she should investigate. Enter their mentor, the redoubtable Joe Leaphorn. With a 100,000-copy first printing.
Koryta, Michael, ed. When a Stranger Comes to Town. Hanover Square: Harlequin. Apr. 2021. 352p. ISBN 9781335141477. $27.99. MYSTERY/ANTHOLOGIES
For the next Mystery Writers of America story collection, New York Times best-selling author Koryta gathers works featuring the stranger among us, whether out-of-towner s or reclusive neighbors. With works by Michael Connelly, Dean Koontz, Joe Hill, and Attica Locke, among others; a 50,000-copy first printing.
Rosenfelt, David. Animal Instinct: A K Team Novel. Minotaur: St. Martin's. Apr. 2021. 304p. ISBN 9781250257208. $27.99. CD. PRIVATE INVESTIGATORS
In this second in a series spun from the Shamus Award–winning "Andy Carpenter" series,
the K Team—retired police officer Corey Douglas; his K-9 partner, German Shepherd Simon Garfunkel; plus former officer Laurie Collins and testy partner Marcus—investigate the murder of a woman Corey burningly regrets not having been able to protect from her abusive boyfriend when he was on the force. With a 75,000-copy first printing.
Shelton, Paige. Deadly Editions: A Scottish Bookshop Mystery. Minotaur: St. Martin's. Apr. 2021. 304p. ISBN 9781250203908. $26.99. COZY
When she is invited to outrageous socialite Shelaigh O'Connor's latest venture, a treasure hunt, bookseller Delaney Nichols is thrilled: the treasure includes not just Shelaigh's library and a chunk of change but a first edition of Robert Louis Stevenson's The Strange Case of Dr. Jekyll and Mr. Hyde. Then robbery, murder, and Shelaigh's kidnapping put a damper on things. With a 30,000-copy first printing.
Thomas, Will. Dance with Death: A Barker & Llewelyn Novel. Minotaur: St. Martin's. Apr. 2021. 320p. ISBN 9781250624772. $27.99. HISTORICAL
In 1893, Russia's tsarevich, Nicholas, sails to England to attend a royal wedding, accompanied by his ballerina mistress and reputedly shadowed by an assassin. With an attack on Prince George, a Nicholas lookalike, private enquiry agents Cyrus Barker and Thomas Llewelyn are called in to protect the future—and final—tsar. Twelfth in the series after Old Scores; with a 30,000-copy first printing.
Thompson, Victoria. Murder on Wall Street. Berkley. Apr. 2021. 336p. ISBN 9781984805775. $26. HISTORICAL
Beloved midwife Sarah Brandt and her private investigator husband Frank Malloy return for their 24th outing (after Murder on Pleasant Avenue), and while there are no plot details, the title suggests juicy financial shenanigans that will resonate today.