With hot titles for the season still surfacing, two works here—Aciman's follow-up to his stupendous Call Me by Your Name and John Le Carré's next up-to-the-minute thriller—will actually be pubbing in October. Look also for Lemay's memoir about a transgender child, World Fantasy Award winner North's next scarefest, and the witty Wilson on children with a tendency literally to get all burned up.
Aciman, André. Find Me. Farrar. Oct. 2019. 224p. ISBN 9780374155018. $26; ebk. ISBN 9780374722104. CD. LITERARY
Published in 2007, Aciman's Call Me by Your Name has since sold nearly three quarters of a million copies and inspired an Academy Award–winning film starring Timothée Chalamet as the young Elio and Armie Hammer as Oliver, the graduate student with whom he falls in love. Now these characters are back in a work that opens with Elio now a celebrated classical pianist living in Rome. On the train from Florence to visit his son, Elio's father, Samuel, has an encounter with a beautiful young woman that changes his life.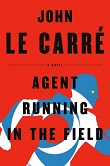 Meanwhile, Elio moves to Paris and finds love of his own, while Oliver, a college professor living in New England with his family, suddenly misses life across the Atlantic.
Le Carré, John. Agent Running in the Field. Viking. Oct. 2019. 272p. ISBN 9781984878878. $29; ebk. ISBN 9781984878885. lrg. prnt. CD/downloadable. THRILLER
Still capturing the zeitgeist in thriller mode, Le Carré takes us to 2018 London, where a lone-wolf 26-year-old is determined to keep at bay the political earthquake defining these times. That includes Brexit, and can you imagine another writer better equipped to handle the chills-beneath-the-funhouse-craziness of that development? Alas, the harder our antihero struggles to disengage, the more deeply and dangerously he becomes enmeshed. Note that Le Carré's recent A Legacy of Spies was a No. 1 New York Times best seller.
Lemay, Mimi. What We Will Become: A Mother, a Son, and a Journey of Transformation. Houghton Harcourt. Nov. 2019. 352p. ISBN 9780544965836. $27; ebk. ISBN 9780544965867. MEMOIR
If memoir often hinges on the author's shift in identity, Lemay here represents the genre in spades. She was raised in an ultra-Orthodox Jewish family from which she eventually parted ways, leaving behind the religion and culture that had defined her. Then, at age two and a half, her child, Em, vigorously insisted that he was a boy, and she helped him cross his own border to become Jacob. Based on a letter Lemay wrote to Jacob in 2015 that went viral and inspired a much-viewed NBC News segment on transgender children, with Lemay and her family among those featured; a 35,000-copy first printing.
North, Claire. The Pursuit of William Abbey. Orbit: Hachette. Nov. 2019. 432p. ISBN 9780316316842. pap. $16.99; ebk. ISBN 9780316316859. lib. ebk. ISBN 9780316316866. Downloadable. THRILLER/SUPERNATURAL
BISACed as a supernatural thriller but described (more appropriately) in the publicity as high-quality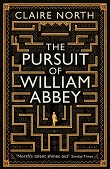 horror, this latest from World Fantasy Award winner North (The Sudden Appearance of Hope) features babe-in-the-woods English doctor William Abbey, who in 1880s South Africa witnesses a local boy's lynching by white colonists. As the child dies, his mother curses William, and the dead boy's shadow begins trailing William relentlessly, bearing a terrible threat: if the shadow catches him, the person William most loves will die. North's reputation—and her sales—keep growing, which explains the 75,000-copy first printing.
Wilson, Kevin. Nothing To See Here. Ecco. Nov. 2019. 272p. ISBN 9780062913463. $26.99; ebk. ISBN 9780062913487. lrg. prnt. LITERARY/FAMILY
Here's another weirdly wonderful Wilson work that should please fans of his New York Times best-selling The Family Fang, Shirley Jackson Award–winning Tunneling to the Center of the Earth, and Baby, You're Gonna Be Mine, an LJ Best Book. Once a scholarship student at a prestigious boarding school, Lillian has lost touch with Madison, the rich, classy roommate with whom she was close. Then Madison writes to ask if Lillian can serve as caretaker for her two new stepchildren—delightful children, no doubt, but they do have a tendency to burst into flames when they get upset. It's truly a prickly situation, but Lillian bunks down in the pool house with the twins, and they learn trust. With a 150,000-copy first printing.