Numerous big self-help titles give readers a jump on New Year's resolutions—and ongoing assistance in pandemic recovery.
Atkin, Jen. Blowing My Way to the Top: How To Break the Rules, Find Your Purpose, and Create the Life and Career You Deserve. Harper Wave. Dec. 2020. 288p. ISBN 9780062940551. $27.99. SELF-HELP
Celebrity hairstylist (think: the Kardashians), Atkin shows that building an empire worth $80 million isn't as easy as she made it look; she had to break away from the remote, conservative religious community in which she was raised. With a 100,000-copy first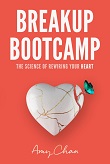 printing.
Chan, Amy. Breakup Bootcamp: The Science of Rewiring Your Heart. Dey Street: HarperCollins. Dec. 2020. 288p. ISBN 9780062914743. pap. $18.99. SELF-HELP
Compelled by a bad breakup with a cheating boyfriend to study the psychology of love and sample various means of healing (from ancient to science-based contemporary), Chan became a relationship columnist and founder of Renew Breakup Bootcamp. Advice on moving from broken love to self-love; with a 100,000-copy first printing.
Elovic, Ariella. Cheeky: A Head-to-Toe Memoir. Bloomsbury. Dec. 2020. 256p. ISBN 9781635574524. $26. SELF-HELP/MEMOIR
In this graphic memoir, feminist/illustrator Elovic rebels against body shaming and all those beauty strictures that clinch women tight and examines her body, part by part, accepting it for what it is, imperfections and all: "We are all just (gorgeous) piles of skin rolling in our own (magical) filth." With a 75,000-copy first printing.
Gleeson, Brent. Embrace the Suck: The Navy SEAL Way to an Extraordinary Life. Hachette Go. Dec. 2020. 224p. ISBN 9780306846335. $26. Downloadable. SELF-HELP
A member of the U.S. Navy's SEAL Team 5 who retired to build multiple multi-million-dollar businesses, Gleeson draws on his SEAL training—and its admonishment to "embrace the suck"—to show that you can succeed by cozying up to discomfort. With a 50,000-copy first printing.
Kagge, Erling. Philosophy for Polar Explorers. Pantheon. Dec. 2020. 208p. ISBN 9781524749118. $20. Downloadable. MINDFULNESS
Kagge (Silence and Walking) is the first person to have completed the Three Poles Challenge on foot, hiking to the North Pole, the South Pole, and the summit of Mount Everest. But even if you're not up for that challenge, he's got advice for making each day bolder, brighter, and more adventuresome.
Martin, Lauren. The Book of Moods: How I Turned My Worst Emotions into My Best Life. Grand Central. Dec. 2020. 208p. ISBN 9781538733622. $27. Downloadable. SELF-HELP
Astonished to meet a beautiful and accomplished woman who shared her moody blues and feelings of self-doubt, Martin began studying the roots of her wayward emotions and blogging about what she found. Eventually, she built the Words of Women online community, which boasts a 125,000-member newsletter and adherents like Brie Larson and Bobbi Brown.
Sincero, Jen. Badass Habits: Cultivate the Awareness, Boundaries, and Daily Upgrades You Need To Make Them Stick. Viking. Dec. 2020. 288p. ISBN 9781984877437. $26. CD/downloadable. SELF-HELP
The New York Times best-selling Sincero has helped people transform their lives with various Badass titles, but here she gets to the heart of transformation: breaking bad habits, making good ones, understanding what you're doing, and sticking to it.
Stiles, Tara. Clean Mind, Clean Body: A 28-Day Plan for Physical, Mental, and Spiritual Self-Care. Dey Street: HarperCollins. Dec. 2020. 208p. ISBN 9780062947314. $24.99. HEALTHY LIVING
Celebrated wellness expert and Strala Yoga founder Stiles tells us how to clean up inside and out with a four-week detox program that embraces mental cleansing (e.g., dumping toxic relationships), spiritual cleansing (e.g., living with intention), changing how you eat (an East-meets-West proposition), and changing how you move (redefining exercise while embracing rest). With a 100,000-copy first printing.
Turner, Tina. Happiness Becomes You: A Guide to Changing Your Life for Good. Atria. Dec. 2020. 256p. ISBN 9781982152154. $25. PHILOSOPHY/BUDDHIST
Famous for overcoming obstacles as well as for selling more concert tickets than any other solo music performer in history, Turner reveals how she has been helped by the spiritual guidance she derives from Buddhism—and explains how it can help you, too. Note the BISAC code; not viewed as lightweight. With a 75,000-copy first printing.
Willeumier, Kristen. Biohack Your Brain: How To Boost Cognitive Health, Performance & Power. Morrow. Dec. 2020. 304p. ISBN 9780062994325. $28.99. BODY, MIND, & SPIRIT/HEALING
Whether you want to counter neurodegenerative disorders, boost your cognitive performance, or simply dump black thoughts, neuroscientist Willeumier has the tools for you: a blend of nutritional improvements, brain games, and physical activity, all rooted in clinical study, that will give your most essential organ the tender loving care it deserves. With a 50,000-copy first printing.