Abrams, Dan & David Fisher. Kennedy's Avenger: Assassination, Conspiracy, and the Forgotten Trial of Jack Ruby. Hanover Square: Harlequin. Jun. 2021. 320p. ISBN 9781335914033. $28.99. HISTORY
On November 24, 1963, two days after President John F. Kennedy was assassinated by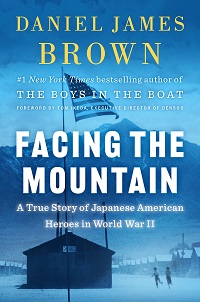 Lee Harvey Oswald, millions saw nightclub owner Jack Ruby shoot Oswald to death on live TV as he was being taken into a police station. New York Times best-selling coauthors Abrams and Fisher (Adams Under Fire) pick apart the highly publicized trial that followed. With a 300,000-copy first printing.
Borchert, Scott. Republic of Detours: How the New Deal Paid Broke Writers To Rediscover America. Farrar. Jun. 2021. 448p. ISBN 9780374298456. $28. HISTORY
A division of the Works Progress Administration, the Federal Writers' Project (FWP) employed thousands of out-of-work writers to create state-by-state guidebooks, plus books covering cities, territories, and folklore and collecting slave narratives (an especially significant contribution). Major writers from John Cheever to Zora Neale Hurston emerged from its ranks, and the FWP came to exemplify crazy American can-do-ism at its best. A first book from Borchert that should make for intriguing reading.
Brown, Daniel James. Facing the Mountain: A True Story of Japanese American Heroes in World War II. Viking. May 2021. 560p. ISBN 9780525557401. $30. lrg. prnt. CD. HISTORY
Author of the No. 1 New York Times best-selling The Boys in the Boat, Brown here chronicles the Japanese American experience during World War II by focusing on four families whose sons fought with the exclusively Japanese American 442nd Regimental Combat Team—the most decorated unit for its size and length of service in U.S. military history—even as friends and relatives languished in concentration camps at home. Woven in is the story of Gordon Hirabayashi, imprisoned for standing up for his constitutional rights. With a 350,000-copy first printing.
Burrough, Bryan & others. Forget the Alamo: The Rise and Fall of an American Myth. Penguin Pr. Jun. 2021. 432p. ISBN 9781984880093. $32. Downloadable. HISTORY
Here are a few things America has conveniently forgotten about the Alamo: Tejanos, Texans of Mexican origin, fought alongside the likes of Davy Crockett; the fighting was initiated because Mexico wanted to abolish slavery; and the myth of the Alamo was forged during the Jim Crow era. The authors exploding this myth include the No. 1 New York Times best-selling Burrough (Barbarians at the Gate); Houston Chronicle and San Antonio Express-News columnist Chris Tomlinson, author of the New York Times-best-selling Tomlinson Hill; and Texas-based journalist Jason Stanford.
Canellos, Peter S. The Great Dissenter: The Story of John Marshall Harlan, America's Judicial Hero. S. & S. Jun. 2021. 352p. ISBN 9781501188206. $28. BIOGRAPHY
Supreme Court Justice John Marshall Harlan is known primarily for his dissents and particularly his Plessy v. Ferguson assertion that "all citizens are equal before the law," which served as mighty inspiration for future desegregation, New Deal initiatives, and Thurgood Marshall's deliberations. Raised alongside an enslaved boy named Robert Harlan, who as a key political leader after the Civil War helped put him in the Supreme Court, Harlan became an outspoken advocate for the rights of Black people. From Politico editor at large Canellos; with a 60,000-copy first printing.
Cook, Kevin. The Burning Blue: The Untold Story of Christa McAuliffe and NASA's Challenger Disaster. Holt. Jun. 2021. 320p. ISBN 9781250755551. $27.99. HISTORY
On January 28, 1986, the explosion of the NASA space shuttle Challenger killed Christa McAuliffe, America's "Teacher in Space," and the six other members of the mission. Cook recounts the events surrounding the explosion, which some crew members survived for two minutes and 45 seconds, and while focusing on McAuliffe tells the story of all the crew members: the second female and first Jewish astronaut, the second Black astronaut, and the first Asian American and Buddhist in space. With a 50,000-copy first printing.
Ferrer, Ada. Cuba: An American History. Scribner. Jun. 2021, 480p. ISBN 9781501154553. $32. HISTORY
Julius Silver Professor of History and Latin American and Caribbean Studies at New York University, Cuban-born, American-raised Ferrer assays 500 years of Cuban history at a crucial time: Fidel Castro is gone, Raul Castro has passed from power, and Donald Trump flip-flopped on Barack Obama's outreach to Cuba. Ferrer tells a long history of conquest, colonization, and revolution with an eye to the ongoing, troubled relationship between America and Cuba. With a 100,000-copy first printing.
Fox, Margalit. The Confidence Men: How Two Prisoners of War Engineered the Most Remarkable Escape in History. Random. Jun. 2021. 385p. ISBN 9781984853844. $28. Downloadable. HISTORY
To escape from the Turkish prison camp where they were held during World War I, British officers Harry Jones and Cedric Hill deployed an improbable tool—the handmade Ouija board Jones used to conduct fake séances for fellow prisoners. He and Hill set up a trap leading to their freedom when Turkish officers came 'round demanding that the spirits help them locate a treasure reputedly buried nearby. From a former senior writer at the New York Times and author of Conan Doyle for the Defense.
Hastings, Max. Operation Pedestal: The Fleet That Battled to Malta, 1942. Harper. Jun. 2021. 448p. ISBN 9780062980151. $35. lrg. prnt. HISTORY
During World War II, the British initially held the advantage in the Mediterranean, the Germans having improvidently seized Crete while leaving the British bastion at Malta alone. During April–May 1942, however, the Luftwaffe dropped more bombs on Malta than landed on London during the entire Blitz, and with British submarines and surface warships withdrawn, troops were close to starving. Celebrated historian Hastings reports on Operation Pedestal, the August mission to deliver supplies to Malta; only a few ships made it through, but Malta remained in Allied hands. With a 75,000-copy first printing.
McHugh, Jess. Americanon: An Unexpected U.S. History in Thirteen Bestselling Books. Dutton. Jun. 2021. 336p. ISBN 9781524746636. $28. HISTORY
What does it mean to be American? And who decides? Journalist McHugh explores these questions by considering several multi-million-copy-selling reference books Americans have read throughout their history, among them The Autobiography of Benjamin Franklin, The Farmer's Almanac, How To Win Friends and Influence People, and The Betty Crocker Cookbook. Arriving at critical points in U.S. history, these books might have originated with just a handful of people but significantly shaped the country's sense of itself.
Miles, Tiya. All That She Carried: The History of a Black Family Keepsake, Lost & Found. Random. Jun. 2021. 416p. ISBN 9781984854995. $28. HISTORY
MacArthur fellow Miles, author of the multi-award-winning The Dawn of Detroit, unpacks an entire, profoundly moving history from a simple cotton bag known as Ashley's Sack, displayed at the Smithsonian's National Museum of African American History and Culture. In 1850s North Carolina, just before nine-year-old Ashley was sold, her mother gave her the sack, filled with mementos like a braid of hair; this story was embroidered on the bag decades later by Ashley's granddaughter. Miles sums up the tragedy of slavery in a single artifact while exploring the cultural ramifications of Ashley's mementos and the significance of a Black mother's love.
Moore, Kate. The Woman They Could Not Silence: The Timeless Story of an Outspoken Woman and the Men Who Tried To Make Her Disappear. Sourcebooks Landmark. Jun. 2021. 496p. ISBN 9781492696728. $27.99. HISTORY
In 1860, wife and mother Elizabeth Packard was committed to an insane asylum by her husband, who couldn't tolerate her insistence on speaking her mind. At the Illinois State Hospital, Elizabeth encountered women like her who were perfectly sane but committed as a means of control, and after winning her freedom she became an advocate for such women and for women's rights generally. From the author of the New York Times best-selling Radium Girls.
Price, David A. Geniuses at War: Bletchley Park, Colossus, and the Dawn of the Digital Age. Knopf. Jun. 2021. 240p. ISBN 9780525521549. $24.95. Downloadable. HISTORY
As the Allied invasion of Normandy approached, success depended on decoding Nazi communications encrypted by the Tunny cipher, vastly harder to crack than the Enigma Code. Fortunately, working-class English engineer Tommy Flowers proved equal to the task, coordinating with mathematician Max Newman and Enigma code-breaker Alan Turing to create Colossus, the world's first digital electronic computer. Cracking Enigma is the better-known story, but computer science–trained Price (The Pixar Touch) finally lets Colossus shine.
Sebba, Anne. Ethel Rosenberg: An American Tragedy. St. Martin's. Jun. 2021. 304p. ISBN 9781250198631. $27.99. CD. BIOGRAPHY
Author of the award-winning Les Parisiennes: Resistance, Collaboration, and the Women of Paris Under Nazi Occupation , Sebba turns her attention to Ethel Rosenberg, executed with her husband in June 1953 for conspiracy to commit espionage for the Soviet Union. Sebba draws on new information that has emerged over the last three decades as she reveals a woman convicted on questionable evidence and trapped by the McCarthy era and by social mores that demanded loyalty to her husband. With a 100,000-copy first printing.
Sedgwick, John. From the River to the Sea: The Untold Story of the Railroad War That Made the West. Avid: S. & S. Jun. 2021. 416p. ISBN 9781982104283. $30. HISTORY
In 1869, America's first transcontinental railroad joined East and West, but that left plenty of land to be conquered by the clickety-clack of trains. Aided by federal grants, two daring railway men launched the Rio Grande and Santa Fe railways, which led to virtual warfare between the two lines involving mercenaries and local militia. Only one line triumphed, even as the rapid spread of train lines spurred population and economic growth. From the author of Blood Moon; with a 100,000-copy first printing.
Talbot, Margaret & David Talbot. By the Light of Burning Dreams: The Triumphs and Tragedies of the Second American Revolution. Harper. Jun. 2021. 400p. ISBN 9780062820396. $28.99. lrg. prnt. HISTORY
Remember America during the 1960s–70s, when civil rights, women's liberation, and Vietnam War protests dominated the news as many fought to assure that protections enshrined in the Bill of Rights would be guaranteed to those who weren't white, male, and upper crust? Here, New Times best-selling author David Talbot and New Yorker staff writer Margaret Talbot recall and reassess what they deem the "second American Revolution." With a 75,000-copy first printing.
Whyte, Kenneth. The Sack of Detroit: General Motors, Its Enemies, and the End of American Enterprise. Knopf. Jun. 2021. 384p. ISBN 9780525521679. $30. Downloadable. HISTORY
Author of Hoover, a National Book Critics Circle finalist, Whyte investigates the downfall of the American auto industry, which led the world in the 1950s but by the 1960s had crashed, owing to the greed and arrogance of automotive executives. A tale of politics, business, and safety advocates from Ralph Nader to Robert Kennedy.