Survivors face spiritual conundrum on a raft, debutantes curtsy for the queen one last time, ballerinas reunite, and more.
Click here for additional new Prepub Alert columns
Albom, Mitch. The Stranger in the Lifeboat. Harper. Nov. 2021. 288p. ISBN 9780062888341. $23.99. lrg. prnt. CD. VISIONARY
Adrift for three days after a shipboard explosion and running low on food and water, nine people on a raft pull a floundering man on board, with one proclaiming, "Thank the Lord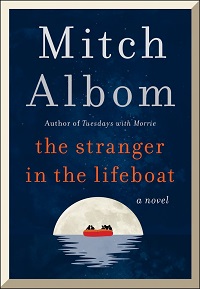 we found you." "I am the Lord," responds the rescued man, launching the mega-best-selling Albom's newest excursion into spiritual questions. The story is pieced together a year later from a notebook found on an empty raft that's drifted ashore on the island of Montserrat. With a one-million-copy first printing.
Cornwell, Bernard. Sharpe's Assassin. Harper. Nov. 2021. 336p. ISBN 9780062563262. $27.99. lrg. prnt. CD. HISTORICAL
Richard Sharpe is back—and in someone's sights, if the title is any indication. No plot details yet, but the series featuring the roguish Sharpe has sold 20 million copies worldwide and spawned a successful TV series. With a 40,000-copy first printing.
Imrie, Celia. Orphans of the Storm. Bloomsbury. Dec. 2021. 416p. ISBN 9781635577884. $27. HISTORICAL
Olivier Award–winning actress Imrie, author of several novels that have been British best sellers, returns with the story of young mother Marcela, frantic to find the children kidnapped by her nasty, soon-to-be ex-husband, Michael. Alas, Michael has taken them to London, then boarded the Titanic, which is heading toward its meeting with an iceberg. With a 40,000-copy first printing.
Kapelke-Dale, Rachel. The Ballerinas. St. Martin's. Dec. 2021. 304p. ISBN 9781250274236. $27.99. WOMEN
Delphine, Lindsay, and Margaux danced together at the Paris Opera Ballet until Delphine departed for St. Petersburg for a brighter career, carrying with her a secret that could hurt her two friends. After 14 years, she's back to choreograph, hoping to repair her frayed bond with Lindsay and Margaux but surprised to learn how much her old world has changed. With a 250,000-copy first printing.
Kelly, Julia. The Last Dance of the Debutante. Gallery: S. & S. Dec. 2021. 336p. ISBN 9781982171636. $27. CD. HISTORICAL
It's 1958, the last year when debutantes are to be presented at court, and Lily Nichols makes her tradition-minded mother happy by temporarily putting aside dreams of university. Instead, she joins the gloved-and-gowned young women planning to drop a last curtsey to Queen Elizabeth II. Along the way she meets icy-cool Leana Hartford and career-minded Katherine Norman and learns a secret that could destroy her family. From the internationally best-selling author of The Light Over London; with a 50,000-copy first printing.
Pellegrino, Amanda. Smile and Look Pretty. Park Row: Harlequin. Dec. 2021. 352p. ISBN 9780778311126. pap. $16.99. CD. WOMEN
Pellegrino's debut stars four overworked, underpaid young women in the media and entertainment industries who start an anonymous blog about their experiences, calling themselves the Aggressive One, the Bossy One, the Bitchy One, and the Emotional One. The blog goes viral, and they must wrestle with the consequences. With a 75,000-copy first printing.
Ramisetti, Kirthana. Dava Shastri's Last Day. Grand Central. Nov. 2021. 384p. ISBN 9781538703861. $28. Downloadable. WOMEN
At age 70, phenomenally wealthy Dava Shastri learns she has brain cancer and summons her four children to her private island to explain that she will be releasing news of her death prematurely so she can enjoy reading the obituaries. But instead of the glowing praise she expected about her philanthropic works, the obituaries reveal some awful secrets, and she must come to terms with what she has done. From former entertainment reporter Ramisetti; with a 60,000-copy first printing