Mitch Albom offers his first nonfiction in over a decade, Deirdre Bair revisits the writing of her Beckett and de Beauvoir biographies, Susannah Cahalan examines an experiment that changed our understanding of madness, Karine Jean-Pierre encourages political engagement, and Riad Sattouf continues his best-selling graphic memoir. In fiction, Allen Eskens looks at a splintered Ozarks community, and Erin Morgenstern takes us to a magical, underground world through an ancient library.
Albom, Mitch. Chika: A Little Girl, an Earthquake, and the Making of a Family. Harper. Nov. 2019. 208p. ISBN 9780062952394. $23.99; ebk. ISBN 9780062952417. lrg. prnt. MEMOIR
In his first nonfiction title in more than a decade, the affecting multi-million-copy best-selling author unfolds the short but significant life of a young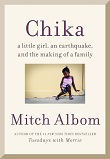 Haitian orphan he and his wife took in. Born into poverty three days before Haiti's devastating 2010 earthquake, Chika Jeune ended up at the Have Faith Haiti Orphanage Albom runs in Port Au Prince when her mother died giving birth to her baby brother. She was a sparkly presence at the orphanage until she was diagnosed with a serious illness that could not be treated in Haiti. Albom and his wife brought her to their home in America and spent to two years searching worldwide for a cure. With a 500,000-copy first printing.
Bair, Deirdre. Parisian Lives: Samuel Beckett, Simone de Beauvoir, and Me: A Memoir. Nan A Talese: Doubleday. Nov. 2019. 352p. ISBN 9780385542456. $28.95; ebk. ISBN 9780385542463. Downloadable. MEMOIR
Esteemed biographer Bair launched her career with the National Book Award–winning Samuel Beckett: A Biography, whom she met in 1971 as a budding journalist with a new PhD. Despite Bair's inexperience, the Nobel Prize winner agreed to let her write his biography, and she spent seven years involved in research and intimate conversation. As it happens, Beckett and Simone de Beauvoir were neighbors, and Bair soon engaged with her as well—if carefully, as Beckett and de Beauvoir were on deeply adversarial terms. Bair eventually learned that when writing biography, different subjects can make for different processes, and her de Beauvoir biography became a New York Times Best Book.
Cahalan, Susannah. The Great Pretender: The Undercover Mission That Changed Our Understanding of Madness. Grand Central. Nov. 2019. 336p. ISBN 9781538715284. $28; ebk. ISBN 9781538715260. lib. ebk. ISBN 9781538716809. CD/downloadable. SOCIAL SCIENCE
Seven years after the million-plus-copy best seller Brain on Fire, Cahalan's account of the previously unknown autoimmune disease that brought her to psychosis, Cahalan chronicles a key event in the history of mental illness. In the 1970s, Stanford psychologist David Rosenhan and seven other perfectly well-adjusted individuals posed as patients in asylums nationwide and emerged, after having to prove themselves sane, with surprising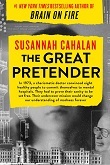 diagnoses and harrowing stories of treatment. The experiment led to institutional closings and radical change in the field of psychiatry, but Calahan reveals that events were not as they initially seem. With a 150,000-copy first printing.
Eskens, Allen. Nothing More Dangerous. Mulholland: Little, Brown. Nov. 2019. 352p. ISBN 9780316509725. $27; ebk. ISBN 9780316509749. lib. ebk. ISBN 9780316494281. Downloadable. MYSTERY/LITERARY
Since the 2014 publication of his light-up-the-sky debut, The Life We Bury, Eskens has won two Barry awards, the Minnesota Book Award for Best Genre Fiction, and finalist nods for Edgar, Thriller, and Anthony honors. His new work features white high school boy Boady Sanden, ready to break out of his constricted Ozarks life with his widowed mother. His worldview is changed when African American Thomas Elgin moves in across the street and an African American woman who works at the local plastic factory disappears and is suspected of embezzlement. The result is a story of a race and class–splintered community in contemporary rural America that's more than a mystery and feels like a breakout.
Jean-Pierre, Karine. Moving Forward: A Story of Hope, Hard Work, and the Promise of America. Hanover Square: Harlequin. Nov. 2019. 352p. ISBN 9781335917836. $26.99. MEMOIR/POLITICS
Activist, frequent commentator, and political campaign organizer, Jean-Pierre is currently chief public affairs officer for MoveOn.org, but she didn't initially think of entering politics. A naturalized American citizen who grew up in the Haitian American enclave in Queens, New York, she had already graduated from college when she decided that politics was the best way for her to make an impact. So while her first book may read like memoir, it is also a how-to book on political engagement and a call to support progressive politics. With a 250,000-copy first printing.
Morgenstern, Erin. The Starless Sea. Doubleday. Nov. 2019. 512p. ISBN 9780385541213. $28.95; ebk. ISBN 9780385541220. lrg. prnt. CD/downloadable. FANTASY
In this follow-up to the magical debut , The Night Circus, which has sold 1.6 million copies in the United States alone, grad student Zachary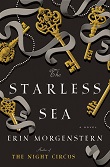 Ezra Rawlins discovers a mysterious book in the stacks containing loyal acolytes, captive lovers, and key seekers, and, surprisingly, the story of his childhood. Following enigmatic clues (a bee, a key), he is led to a masquerade party, a secret club, and a doorway opening on a time-worn underground library and a strange new world where he will find his true purpose. Major promotion.
Sattouf, Riad. The Arab of the Future 4. Metropolitan: Holt. Nov. 2019. 288p. ISBN 9781250150660. $30.GRAPHIC MEMOIR
In the first three volumes of this best-selling graphic memoir, celebrated French cartoonist Sattouf limns a life caught between the French and Syrian cultures as he reshapes our thinking about the genre, the format, and tensions between the West and the Middle East. This penultimate installment, covering the years 1987–92, sees Sattouf reaching his teenage years. His father, Adbel-Razak, has become increasingly religious as he leave Syria to take a job in Saudi Arabia, and his mother, Clementine, fed up with their peripatetic life and refusing to live in a country that denies rights to women, returns with her children to live with her mother in France. There, Sattouf endures bullies at school and judgmental relatives at home—and then his father reappears, forcing a crisis.