My favorite thrillers this month lean heavily toward the historical, with Alan Furst plunging into the Resistance during World War II, Robert Harris taking us to 1468 England, and Joseph Kanon pursuing a postwar hunt for an escaped Nazi.
Furst, Alan. Under Occupation. Random. Nov. 2019. 224p. ISBN 9780399592300. $27; ebk. ISBN 9780399592324. HISTORICAL THRILLER
Drawing on true events about Polish prisoners in Nazi Germany who smuggled information to the French Resistance, Furst imagines a man racing through the dark streets of 1942 Paris and handing off an odd little drawing to Paul Richard before being captured by the Gestapo. The drawing looks like part of a military weapon, Richard knows exactly for whom it's destined, and he gets increasingly involved with the Resistance, even traveling to Germany and meeting beautiful spy Leila. Furst's mastery of the historical thriller has netted him 1.8 million copies across formats.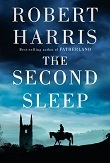 Harris, Robert. The Second Sleep. Knopf. Nov. 2019. 304p. ISBN 9780525656692. $26.95; ebk. ISBN 9780525656708. lrg. prnt. CD/downloadable. HISTORICAL THRILLER
From Fatherland and Munich to the "Cicero" trilogy, the internationally best-selling Harris ranges far in his historical thrillers, here landing in 1468 England. Having traveled to a bleak Exmoor village to conduct the funeral of his predecessor, fresh-faced priest Christopher Fairfax wonders at the man's obsession with the past—he's hoarded ancient coins, bits of glass, even human bones—and whether that obsession precipitated his death. As Fairfax investigates, his sense of self and faith are shaken to the core. With a 75,000-copy first printing.
Kanon, Joseph. The Accomplice. Atria. Nov. 2019. 336p. ISBN 9781501121425. $28; ebk. ISBN 9781501121449. CD. HISTORICAL THRILLER
Nearly two decades after Max Weill saw his family marched to the gas chambers of Auschwitz—and after the war's-end escape of Dr. Otto Schramm, whom Max saw working with the infamous Josef Mengele—Max asks nephew Aaron Wiley, an American CIA desk analyst, to hunt down Schramm. That takes Aaron to Argentina, where he enlists the help of an Israeli agent, a German newspaper reporter, and the CIA's station chief in Buenos Aires while wending his way into the good graces of Schramm's lovely, troubled daughter, whom he is convinced is hiding Schramm. In the end, as in all of Kanon's oeuvre, Aaron faces profound moral quandary. From the Edgar Award–winning author of The Good German; with a 75,000-copy first printing.