LJ's ALA galley guide is available, featuring more than 150 titles.
Library Journal 's galley guide for the 2021 American Library Association annual conference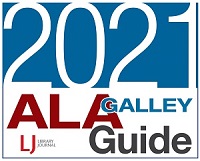 is now ready. From Colson Whitehead's Harlem Shuffle and Sutton Foster's Hooked to Zoraida Córdova's The Inheritance of Orquídea Divina and Craig Foster and Ross Frylinck's Underwater Wild, this guide highlights more than 150 titles at the virtual booths of key publishers. Sponsored by Sourcebooks.