A story of survival that is rare in its coverage of life before and after the Holocaust, addressing the difficult question of what comes after such tragedy.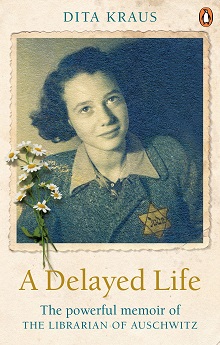 Kraus, Dita. A Delayed Life: The True Story of the Librarian at Auschwitz. Feiwel & Friends. Feb. 2020. 352p. ISBN 9781250760890. $24.99. MEMOIR
Kraus tells her story of growing up in the Czechoslovakia during World War II. At 14, Kraus and her family were first sent to the ghetto of Terezín, followed by Auschwitz and, later, manual labor at Neuengamme. She movingly describes experiencing crushing hunger and thirst when locked in Bergen-Belsen for three days with no food or water save a dripping bathroom pipe after the camp was abandoned. Recounting life after the war, Kraus relays how she and her husband were targeted owing to her husband's successful business in Prague. The couple fled to Israel in the 1950s, a country still in its infancy as far as infrastructure. The subtitle is an allusion to Antonio Iturbe and Lilit Thwaite's novel The Library of Auschwitz, based on the true story of Kraus's experience of smuggling books into Auschwitz. A Delayed Life makes passing reference to Kraus's role as librarian in Auschwitz, and those interested in learning more about Kraus can continue their reading with Iturbe and Thwaite's work.
VERDICT A story of survival that is rare in its coverage of life before and after the Holocaust, addressing the difficult question of what comes after such tragedy.—Stacy Shaw, Denver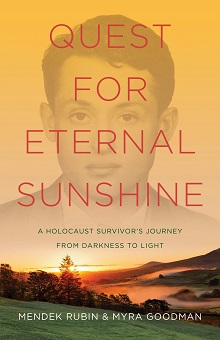 Rubin, Mendek. Quest for Eternal Sunshine: A Holocaust Survivor's Journey from Darkness to Light. She Writes. Apr. 2020. 256p. ed. by Myra Goodman. ISBN 9781631528781. pap. $16.95. MEMOIR
Rubin, born into an observant Jewish family in Poland in 1924, experienced a childhood rife with anti-Semitism and years of ­torturous labor at the hands of the Nazis. When he immigrated to the United States in 1946, he had experienced more than a lifetime's worth of pain and loss. Ever resilient, he created a successful business and a happy family, embarking on the undertaking of healing his psychological wounds. This memoir, posthumously edited by daughter Goodman (cofounder, Earthbound Farm), documents both his physical journey from Poland and Nazi concentration camps to America, and his emotional one from fear and depression to peace. Rubin applied his remarkable creative aptitude and used techniques of affirmation and visualization to retrain his mind toward happiness. He explains his thought processes clearly in brief chapters. Examples of his poems, affirmations, and visualizations illustrate the practices that helped him live a life of joy.
VERDICT This heartfelt account of a remarkable life will interest anyone who has suffered trauma or who is overcoming difficulties, as well as those interested in ­Holocaust survivor biographies.—Laurie Unger Skinner, ­Highland Park P.L., IL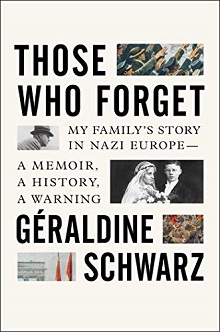 Schwarz, Geraldine. Those Who Forget: My Family's Story in Nazi Europe–A Memoir, A History, A Warning. Scribner. May 2020. 320p. tr. from French by Laura Marris. ISBN 9781501199080. $28. HIST
In her debut, journalist and documentary filmmaker Schwarz offers a powerful and unflinching look at Germany during World War II and Europe's postwar reckoning with far-right nationalism, and calls for readers not to forget the painful lessons learned. Using her own family as a framework, she brings to life Germans who were complicit in Nazi atrocities; for example, her grandfather was a member of the Nazi Party because it gave him more business opportunities. Schwarz describes a collective amnesia after the war; a denial of wrongdoing until the 1960s, when a combination of factors contributed to radical change in the way Germany viewed the past, including demand from younger generations that their parents take responsibility for what they did and didn't do. This "memory work" requires an examination of the past with an intersecting ethical and historical viewpoint, and Schwarz believes that such work is vital in preventing a lapse into far-right nationalism, which she connects to several contemporary movements across the Western world. ­
VERDICT In searing yet engaging prose, Schwarz makes her case for the need for memory work in this highly recommended read for fans of memoirs and World War II history.—Crystal Goldman, Univ. of California, San Diego Lib.