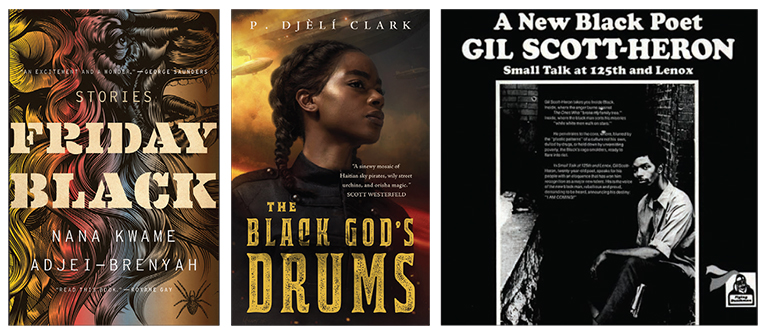 The record-breaking popularity of the film Black Panther has catapulted Afrofuturism into media coverage and increased patron demand for more books, graphic novels, film, and even music. The term was coined in the 1990s but its roots go much further back. Afrofuturism describes a kind of cultural production while addressing the paucity of Black voices in sf. Although it was intended to point out a perceived absence, its synthesis drew from a rich assortment of works in 20th-century African American art and literature, including fiction and non­fiction, painting and visual arts, cinematic works, comic books, and graphic novels.
Afrofuturist writing, music, and film represent a commingling of familiar images, themes, motifs, and associations to produce a new genre grounded in Black aesthetic tradition. It is nourished by the particularities of Black existence, history, and politics. Contemporary Afrofuturism, or Afro­futurism 2.0, works through stark contrasts and deliberate anachronism: African symbology and Egyptian hieroglyphics mix with fantastical cyborgs and magic extraterrestrial beings, all refracted through the lens of Black embodiment. Just as there have been Black people as long as there have been humans, the Afro­futurist aesthetic rests on the persistence of Blackness beyond the merely ­human.
LITERATURE WITHOUT LIMITS
Formally, Afrofuturist works draw from any literary genre—sf, fantasy, speculative fiction, African and African American history, magical realism, noir, and pulp—in order to trouble the rigid categories of popular culture that have traditionally marginalized Black people's participation in both mainstream arts and alternative subcultures. In this spirit, Afrofuturism does not have a set of rules or any agreement about a canon. Fundamentally, Afrofuturism is a way of thinking through the ways that culture, language, and embodiment come to matter in fictional worlds and, by extension, our own.
Thematically, Afrofuturism frequently explores the possibilities of human liberation from internal and external subjugation: while these works do not always refer directly to the political project of Black liberation, they dramatize striving for freedom. Afrofuturism is a liberatory aesthetic, one that mixes and remixes to show us something new about the duality of human nature: the inexhaustibility of the desire for freedom and the inescapable hierarchies that define much of our existence. The following titles provide an experiential journey through the genre from its pioneers to the present and a grounding in its scholarly analysis. Starred titles (
) are essential for most collections.
---
Kelly Besser is an Archivist at the UCLA Library Special Collections; Roderic Crooks is an Assistant Professor of Informatics, University of California, Irvine; Dalena Hunter is the librarian for the UCLA Ralph J. Bunche Center for African American Studies; and Shani Miller works on digital project coordination at the UCLA Ethnomusicology Archive
---
AUDIO & MUSIC
Monáe, Janelle. Metropolis: The Chase Suite. (Metropolis Suite, 1–5). 1 CD. 44 min. 2007–08. UPC 075678993282. $40.89; 2 vinyl records. UPC 075678982422. $54.99.
Monáe, Janelle. The ArchAndroid. 1 CD. 60 min. 2010. UPC 075678989834. $12.50; MP3-CD $9.50; 2 vinyl records. UPC 075678924606. $19.50.
Monáe, Janelle. The Electric Lady. 1 CD. 67 min. 2013. ISBN 9786315163197. $12.48; 2 vinyl records. UPC 075678677489. $22.98.
ea. vol: Bad Boy Records.
Android Cindi Mayweather travels back and forth in time to liberate other droids from an oppressive human elite in this fantastic musical journey across three albums.
Scott-Heron, Gil. Small Talk at 125th and Lenox. 1 vinyl record. 44 min. Flying Dutchman. 1970. $20.35; 1 CD. 1993. UPC 078636661124. $15.25.
This recording interrogates the racialized economic inequity between black and white America. In 1969, the year before Scott-Heron released this album, the United States spent billions of dollars to send three white men to the moon. Scott-Heron lays bare that in that same moment, working poor Black communities struggled to stay alive.
Sun Ra. Space Is the Place. 1 vinyl record. 43 min. Blue Thumb. 1973. $25.99; 1 CD. Impulse! 1998. UPC 00011105024921. $20.99.
Ra imagines an all-Black planet and invites teleportation through his music to another universe as freedom from temporality. Tune in, teleport, and absorb the vibrations of the musical collective known as the Sun Ra Arkestra.
CRITICISM & THEORY
Nelson, Alondra & others. Afrofuturism: A Special Issue of Social Text. Duke Univ. 2002. 156p. ISBN 9780822365457. $85.
This essay collection fuses social theory, African American studies, and popular culture to reinsert ideas of race, culture, and embodiment into the study of media and technology.
Parker, Kendra R. Black Female Vampires in African American Women's Novels, 1977–2011: She Bites Back. Lexington. 2018. 145p. ISBN 9781498553179. $90; ebk. ISBN 9781498553186.
This fascinating text invites readers along as representations of Black woman­hood are seen through a vampiric lens. Parker's work, part history and part sociology, ­explores how tropes of the vampire as harbinger of social and moral decay and sexual liberation can be turned on their heads when the vampire is a Black woman.
Schalk, Sami. Bodyminds Reimagined: (Dis)ability, Race, and Gender in Black Women's Speculative Fiction. Duke Univ. 2018. 180p. bibliog. index. ISBN 9780822370734. $89.95; pap. ISBN 9780822370888. $23.95; ebk. ISBN 9780822371830.
An intelligent foray into the main themes underpinning Afrofuturism as a genre and as an aesthetic. Schalk explores inter­sections between realistic portrayals of Black women's experiences in the United States and fantastic stories of survival and empowerment.
Womack, Ytasha. Afrofuturism: The World of Black Sci-fi and Fantasy Culture. Chicago Review. 2013. 224p. ISBN 9781613747964. pap. $13; ebk. ISBN 9781613747995.
An accessible overview of the genre, this book explains Afrofuturist writings and situates them within a framework that is simultaneously personal, historical, political, and scholarly.
FICTION/SHORT FICTION
Adjei-Brenyah, Nana Kwame. Friday Black. Mariner: Houghton Harcourt. 2018. 208p. ISBN 9781328911247. pap. $14.99; ebk. ISBN 9781328915139.
This short story collection and literary debut uses magical realism to combine biting criticism of consumer culture with fantastical and terrifying dramatizations of conflict and violence in American life. (LJ 8/18)
Butler, Octavia E. Bloodchild and Other Stories. 2d ed. Seven Stories. 2005. 224p. ISBN 9781583226988. pap. $14.
This short story collection traverses known and unknown worlds to relate tales of humans, almost all of them Black women, who find themselves adapting to radical changes wrought by catastrophe, changes that disrupt the most vital and intimate processes of human living and ­dying.
Butler, Octavia. Lilith's Brood. Aspect: Warner. 2000. 746p. ISBN 9780446676106. pap. $18.99.
A collection of the three novels that form the "Xenogenesis Trilogy" ( Dawn; Adulthood Rites; Imago), this opens when the titular character awakens to find that the world has ended, but she has been reborn. Lilith Iyapo must guide the few survivors of humanity through a permanent, uncertain bonding with the alien species that has revived them, or allow humans to again disappear from the world.
Butler, Octavia. Parable of the Sower. Seven Stories. 2017. 336p. ISBN 9781609807191. $24; ebk. ISBN 9781453263617.
The prophetic vision of Lauren Oya Olamina, a young woman sculpting Earthseed: The Books of the Living, a belief system rooted in change with its Destiny "to take root among the stars." (SLJ 7/94)
Clark, P. Djèlí. The Black God's Drums. Tor.com. 2018. 112p. ISBN 9781250294715. pap. $11.99; ebk. ISBN 9781250294708.
In this alternate history, the United States is fractured and the Confederate States of America (CSA) is an independent republic. Guiding the reader through this time line is Creeper, a 13-year-old orphaned Black girl, an adept pickpocket who moves about the French Quarter accompanied by the ancient goddess Oya. (SLJ 7/18)
Drayden, Nicky. The Prey of Gods. Harper Voyager. 2017. 400p. ISBN 9780062493033. pap. $15.99; ebk. ISBN 9780062493040.
This layered narrative is set in a future South Africa where robots serve as personal valets, genetic engineering is common­place, and demigoddesses live among the general populace. (LJ 5/15/17)
Due, Tananarive. My Soul To Keep. HarperCollins. 1998. 352p. pap. ISBN 9780061053665. $15.99; ebk. ISBN 9780062120618.
Jessica and David must protect their family against an ancient sect out to destroy them in the first book in the "African ­Immortals" series. ( SLJ 4/98)
Jemisin, N.K. The Fifth Season. Orbit: Hachette. 2015. 512p. ISBN 9780316229296. pap. $15; ebk. ISBN 9780316229302.
The first novel in the "Broken Earth" trilogy, this epic adventure is set on the Stillness, a world defined by its long history of seismic calamities. These books turn on the decisions of women who love fiercely in the wake of abandonment, discrimination, and horror. (LJ 6/15/15)
Okorafor, Nnedi. Binti. (Binti, Bk. 1). 2015. 96p. ISBN 9780765385253. pap. $4.99; ebk. ISBN 9780765384461. (LJ 3/1/16)
Okorafor, Nnedi. Binti: Home. (Binti, Bk. 2). 2017. 176p. ISBN 9780765393111. pap. $14.99; ebk. ISBN 9780765393104.
Okorafor, Nnedi. Binti: The Night Masquerade. (Binti, Bk. 3). 2018. 208p. ISBN 9780765393135. pap. $14.99; ebk. ISBN 9780765393128. ( LJ 11/15/17)
ea. vol: Tor.com.
Okorafor, who prefers the term African­futurism for her work, in the "Binti" trilogy presents a coming-of-age story and tour de force. Binti is a teenage Himba girl recently accepted to an extraterrestrial university. The series chronicles her efforts to balance tradition with a desire to experience other galaxies.
Solomon, Rivers. An Unkindness of Ghosts. Akashic. 2017. 340p. ISBN 9781617755880. pap. $15.95; ebk. ISBN 9781617755996.
Aster was born on the lower decks of the USS Matilda, a space vessel searching for a habitable planet after an ecological disaster on Earth. Only Aster grasps the means of melding science, tradition, and spirituality to heal from generational trauma so the ship can return safely. (LJ 10/15/17)
FILM & VIDEO
Crumbs. Miguel Llansó, dist. by IndiePix. 2015. DVD UPC 008456370029. $24.95.
Candy and Sayat are trying to make their way in a postapocalyptic Ethiopia. Both bizarre and charming, a beautifully filmed story whose characters valiantly attempt to build a life in a crumbling world.
Dirty Computer [Emotion Picture]. 48 min. Wondaland. 2018. Free. youtube.com/watch?v=jdH2Sy-BlNE
Music videos from Janelle Monáe's fourth album explode a repressive future with "Black Girl Magic." The film opens with Jane 57821 undergoing a memory cleanse by Zen. In resistance to this eradication of difference, Monáe delivers a dream of Black women who fill the screen with feminism, freedom, and queer desire.
Pumzi. 21 min. Focus Features. 2009. Free. https://www.youtube.com/watch?v=IlR7l_B86F
Asha must decide between obeying the laws of the Maitu council or pursuing the possibility of a new world.
Sankofa. 125 min. [Ennetbaden]. trigon-film. 2017. DVD $24.95.
The audience is forced to confront the physical and psychological effects of slavery on the African diaspora across time and space.
Sorry To Bother You. Boots Riley, dist. by Annapurna Pictures. 2018. DVD UPC 024543548997. $29.98; Blu-ray UPC 024543549031. $34.99.
Cassius Green lands a telemarketing gig at a multimillion dollar corporation run on slave labor in Oakland. The film engages magical realism and sf to speak to labor, class, racism, and corporate greed.
COMICS & GRAPHIC NOVELS
Bernardin, Marc & others. Genius. Vol. 1: Siege. Top Cow: Image. 2015. 160p. illus. ISBN 9781632152237. pap. $14.99.
Destiny, a teenager from South Central Los Angeles with the gift for clairvoyance, organizes her community in a visionary struggle to create an army of locals with nothing left to lose in the ultimate fight for justice.
Black Comix Returns. Lion Forge. 2018. 200p. ed. by John Jennings & Damian Duffy. illus. index. ISBN 9781942367376. $29.99.
The authors compile a wide range of comics artists whose work most readers will find appealing. The volume concludes with a helpful resource list for those interested in continuing their journey into "Black Comix" culture. ( LJ 11/1/18)
Coates, Ta-Nehisi (text) & Brian Stelfreeze (illus.). Black Panther: A Nation Under Our Feet. Bk. 1. 2016. 244p. ISBN 9781302904159. $34.99; pap. ISBN 9781302900533. $16.99. (LJ 11/15/16)
Coates, Ta-Nehisi (text) & Chris Sprouse (illus.). Black Panther: A Nation Under Our Feet. Bk. 2. 2017. 144p. ISBN 9781302900540. pap. $15.99.
Coates, Ta-Nehisi (text) & Brian Stelfreeze (illus.). Black Panther: A Nation Under Our Feet. Bk. 3. 2017. 144p. ISBN 9781302901912. pap. $16.99.
ea. vol: Marvel.
MacArthur Foundation Fellow and ­Atlantic journalist Coates's complex and layered reimagining of Jack Kirby and Stan Lee's King T'Challa, legendary warrior-king of Wakanda—with stylish art by Stelfreeze and Sprouse—weaves together political intrigue, mysticism, superscience, and family drama into a suspenseful and immersive epic.
Okorafor, Nnedi (text) & Leonardo Romero (illus.). Shuri: The Search for Black Panther. Marvel. May 2019. ISBN 9781302915230. pap. $15.99.
Shuri—former holder of the mantle of the Black Panther and chief scientist of Wakanda—takes center stage in a story about a hero learning her own power.
NONFICTION
Jones, Grace & Paul Morley. I'll Never Write My Memoirs. Gallery: S. & S. 2015. 400p. illus. ISBN 9781476765075. $26.99; pap. ISBN 9781476765082. $16.99; ebk. ISBN 9781476765099.
Music superstar Grace Beverly Jones begins in Spanish Town and enters the universe. In 1970s New York, she occupies a liberatory liminality: "I was black, but not black; woman, but not woman; American, but Jamaican; African, but science fiction." (LJ 9/15/15)
POETRY
Giovanni, Nikki. Quilting the Black-Eyed Pea, Poems and Not Quite Poems. Morrow. 2002. 110p. ISBN 9780060099527. $16.99; pap. Harper Perennial. 2010. ISBN 9780060099534. $12.99; ebk. ISBN 9780061978975.
The title poem, "Quilting the Black-Eyed Pea (We're Going to Mars)," envisions space travel for change. Giovanni urges NASA to call Black America as she maps this journey through the unknown universe to the Middle Passage. Her spaceship is packed with possibility. (LJ 11/15/02)
WEBSITES
Afropunk
Afropunk has gained momentum across the globe since its first music festival in 2005. The site has info related to the festivals and articles on art, fashion, music, health, and politics.
This site explores perspectives from Black millennials. Its goal is to engage and amplify those perspectives via research, ­articles, and direct action.
---
This article was originally published in Library Journal's February 2019 issue.