In the last weeks, working on Day of Dialog, the galley guides for BookExpo and the American Library Association conference in Washington, and United for Libraries events at ALA, I encountered these impressive nonfiction titles, destined for your shelves.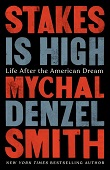 Chatelain, Marcia. Franchise: The Golden Arches in Black America. Liveright: Norton. Jan. 2020. 336p. ISBN 9781631493942 $28.95. ebk. ISBN 9781631493959. AFRICAN AMERICAN STUDIES/BUSINESS
African Americans are among the biggest customers of fast food restaurants, which are now concentrated in the poorest and most racially segregated neighborhoods. Yet fast food is blamed for the high incidence of diseases like diabetes among African Americans, who are then blamed for eating what's bad for them. Actually, argues Chatelain, places like MacDonald's went from being restricted to African Americans, to a perceived opportunity for business ownership by blacks, to institutions suspected of exploiting communities.
Seager, Sara. The Smallest Lights in the Universe: A Memoir. Crown Archetype. Feb. 2020. 304p. ISBN 9780525576259. $27; ebk. ISBN 9780525576273. MEMOIR/SCIENCE
MIT astrophysicist Seager has spent her time peering into the universe, looking for Earthlike exoplanets beyond our solar system. But all the lights went when her husband died unexpectedly, leaving her a widow at 40 with two small boys to raise on her own. Here she explains the comfort she took in the starry heavens, her children, the support group the Widows of Concord, and a matchup with an amateur astronomer that brought her the promise of new love. With a 100,000-copy first printing.
Smith, Mychal Denzel. Stakes Is High: Life After the American Dream. Bold Type: Hachette. Jan. 2020. 224p. ISBN 9781568588735. $26; ebk. ISBN 9781568588728. AFRICAN AMERICAN STUDIES
Smith follows up the New York Times best-selling Invisible Man, Got the Whole World Watching: A Young Black Man's Education, an impressive debut title, by expanding his aim to include educating all of us. Tops on his list in a book of wide-ranging, interlinked essays: a look at how white America prefers its mythologies to actual history, and how that affects everyone. With a 40,000-copy first printing.