A big memoir haul this month, with haunting personal stories from Zoetrope cofounder Brodeur, Running with Scissors Borroughs, Pushcart Prize winner Díaz, multi-award-winning poet Jones, National Book Award finalist Machado, and NPR tech correspondent Shanani. Plus Fox on her years hunting terrorists for the CIA and the mega-best-selling McDougall on training a rescue donkey to run competitively.
Brodeur, Adrienne. Wild Game: My Mother, Her Lover, and Me. Houghton Harcourt. Oct. 2019. 256p. ISBN 9781328519030. $27; ebk. ISBN 9781328519047. MEMOIR
Executive director of the Aspen Institute's Aspen Words and cofounder with Francis Ford Coppola of the magazine Zoetrope: All Story, Brodeur has her
own story to tell, with results that are being compared to Jeannette Walls's The Glass Castle. Told at age 14 by her mother, "Ben Souther just kissed me," Brodeur became an enthusiastic, then burdened confidante as her mother launched an affair with her husband's best friend. The long-term consequences? An ill-considered marriage of her own, followed by plummeting depression before she could shake off what had happened and move ahead with her life. With a 100,000-copy first printing.
Burroughs, Augusten. Toil & Trouble: A Memoir. St. Martin's. Oct. 2019. 336p. ISBN 9781250019950. $27.99; ebk. ISBN 9781250019967. CD. MEMOIR
The No. 1 New York Times best-selling author of numerous riveting memoirs, starting with Running with Scissors, Burroughs returns with another eye popper. Here he explains that from childhood he always knew things he couldn't have known, whether before they happened or from absence of experience, but he told only his mother. She explained that he was descended from a long line of witches, dating back to the time of the Pendle witches of Lancashire, England. That was a bond they shared until she famously dumped him in the care of her psychiatrist; now here's more of his long-unwinding story, witchily told. With a one-day national laydown on October 1.
Díaz, Jaquira. Ordinary Girls. Algonquin. Oct. 2019. 256p. ISBN 9781616209131. $26.95. MEMOIR
A two-time Pushcart Prize winner whose work has appeared in The Best American Essays, Díaz here tells the wrenching story of growing up queer and biracial in Puerto Rico and Miami and her struggle to find a place for herself as her family splinters apart and her mother succumbs to mental illness and addiction. Part of this story is Díaz's dealing with her own depression and drug abuse, as well as the particular difficulties created by Puerto Rico's colonial heritage. With a 50,000-copy first printing.
Fox, Amaryllis. Life Undercover: Coming of Age in the CIA. Knopf. Oct. 2019. 240p. ISBN 9780525654971. $27.95; ebk. ISBN 9780525654988. CD/downloadable. MEMOIR
In Fox's final undergraduate year at Oxford, where she was studying theology and international law, her writing mentor Daniel Pearl was captured and beheaded by terrorists. She was thus inspired to seek a Master's degree in conflict and terrorism at Georgetown's School of Foreign Service, creating a successful algorithm that predicted where terrorist cells would arise worldwide. Recruited by the CIA, Fox worked the Iraq desk in counterterrorism and eventually got the tough but highly desired job of spy under nonofficial cover, tracking terrorists in 16 countries while marrying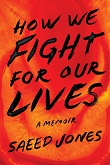 and giving birth to a daughter. With a 200,000-copy first printing.
Jones, Saeed. How We Fight for Our Lives: A Memoir. S. & S. Oct. 2019. 208p. ISBN 9781501132735. $26; ebk. ISBN 9781501132759. MEMOIR
Jones's Prelude to Bruise, winner of the PEN/Joyce Osterweil Award for Poetry and the Stonewall Book Award/Barbara Gittings Literature Award and an NBCC finalist to boot, is a brilliant, knife-sharp book that those who care about the intersection of race, sex, and power should read, even if they don't typically read verse. Jones is also co-host of BuzzFeed's morning show, AM to DM. Here he blends prose and poetry to tell the story of being young, black, and gay from the South, drawing upon relationships with friends and family, lovers and strangers to clarify how those relationships matter. With a 75,000-copy first printing.
McDougall, Christopher. Running with Sherman: The Donkey with the Heart of a Hero. Knopf. Oct. 2019. 352p. ISBN 9781524732363. $26.95; ebk. ISBN 9781524732370. CD/downloadable. MEMOIR
Former AP foreign correspondent McDougall follows up his Born To Run, a 1.3 million copy best seller about the swift-footed Tarahumara Indians, with the story of another runner: a rescue donkey named Sherman who arrived at McDougall's Lancaster, PA, farm in much worse shape than expected. The author decided to help Sherman mentally as well as physically by preparing him for the World Championship of burro racing in Colorado, which McDougal would run with him. To train Sherman, it took a village—burro racers, goat farmers, Amish running-club members, and a
group of dedicated female long-haul truckers—but in the end he triumphed. Based on a New York Times series that was one of the paper's most shared; with a 100,000-copy first printing. Go, Sherman!
Machado, Carmen Maria. In the Dream House: A Memoir. Graywolf. Oct. 2019. 272p. ISBN 9781644450031. $26. MEMOIR
Skyward-blazing Machado, whose short story collection Her Body and Other Parties was a finalist for the National Book Award and winner of the National Book Critics Circle's John Leonard Prize for best first book in any genre, returns with a formally inventive memoir that investigates an abusive relationship. Machado considers the full extent of her love for a woman at once alluring and explosive through chapters organized around various tropes, from the haunted house to the bildungsroman. Thus she shows that abuse does exist in lesbian relationships, though they are often seen as safe and stable. Hard-hitting yet full of Machado's pointed wit.
Shahani, Aarti Namdev. Here We Are: American Dreams, American Nightmares. Celadon: Macmillan. Oct. 2019. 320p. ISBN 9781250204752. $26.99; ebk. ISBN 9781250204738. MEMOIR
Born in Morocco of Indian heritage, Shahani arrived with her family in 1980s New York City, where they eventually acquired green cards and opened a small electronics store. All was well—Shanani even won a scholarship to a prestigious Manhattan prep school—but then the family inadvertently sold watches and calculators to members of the Cali drug cartel and got caught in a long-lasting legal wrangle that nearly destroyed her father. Here is the family's story, undoubtedly well told; Shahani is NPR's technology correspondent and has won several awards, including a regional Edward R. Murrow Award. She's also the youngest recipient of the Charles H. Revson Fellowship at Columbia University.