Personal finance is one of the most anxiety-producing subjects. The Federal Reserve released a report in 2019 stating that nearly 40 percent of U.S. households did not have enough savings to cover an unexpected expense of around $400. In April 2020, the Pew Research Center released a report that found only one in four lower-income households had enough funds to cover three months of expenses. The same report found that about half of middle-income and 75 percent of high-income household said they had at least a three-month buffer.
These reports are hardly shocking to anyone who has been living paycheck to paycheck over the last two decades, but they show that the work done by several government agencies and even the American Library Association in response to the Great Recession did not make a significant difference to financial security.
Then the COVID-19 pandemic began and created another global financial shock. As as many workers were faced with a reduction in income due to furloughs and layoffs, governments all over the world stepped in and provided stimulus programs like the Coronavirus Aid, Relief and Economic Security (CARES) Act in the U.S.
As the world tries to recover from the early effects of the pandemic, many are reassessing their financial situations. As the pandemic continues, people are undergoing major changes in how they manage their lives.
Retail stores and restaurants are having trouble finding staff to work for a minimum wage that hasn't increased in more than a decade—much less a tipped minimum wage that hasn't increased for 30 years. Healthcare and education professionals are reporting burnout in record numbers and looking for an exit strategy. A sizable portion of older Americans have decided to retire earlier than expected and even some among the younger generations are joining the Financial Independence, Retire Early (FIRE) movement to live off passive income.
Investment options for individuals have greatly diversified over the last few years, ranging from an already complicated mix of real estate, stocks, and bonds to cryptocurrencies, crowdfunded real estate investments, and other emerging possibilities. This year alone has seen Non-Fungible Tokens (NFTs), a renewed interest in cryptocurrency, and large investments in AMC and GameStop by online communities. There is also a housing crunch created by low interest rates and changes in work-life balance. It isn't clear how long these trends will last, and book publishing's long production schedules mean that podcasts and websites will remain the best place for timely and relevant information.
As public libraries aid patrons trying to navigate the many changes to the financial landscape, it may be time to renew the efforts started by the American Library Association's Financial Literacy Interest Group and to help patrons who seek assistance navigating these issues, while bearing in mind the lesson of the last round of such efforts. Financial education can help people best utilize tools available, like college savings account programs and 401K matches, and to avoid pitfalls like payday loans, but educating individuals is not a substitute for systemic change. An honest acknowledgment of those limitations may help gain patrons' trust and avoid an approach that might be perceived as victim-blaming. This list is designed to help public libraries expand their offerings and includes resources that reflect the current economic situation.
Starred (

) titles are considered essential for most libraries.
---
Financial Planning
Aliche, Tiffany. Get Good with Money: Ten Simple Steps to Becoming Financially Whole. Rodale. 2021. 368p. ISBN 9780593232743. $24.
Advice from the "Budgetnista" with a focus on the concept of financial wholeness. The book breaks down financial literacy into 10 key areas and teaches readers how to manage their finances.

Lowry, Erin. Broke Millennial Talks Money: Scripts, Stories, and Advice To Navigate Awkward Financial Conversations. TarcherPerigee. 2020. 304p. ISBN 9780143133650. $16.
Any of the books in the "Broke Millennial" series are strong guides for beginners, but this volume provides something unique: scripts and walkthroughs on how to talk about money with coworkers, family, and partners. Lowry offers the impetus to start having some tough talks about financial matters.

Ramsey, Dave. The Total Money Makeover: A Proven Plan for Financial Fitness. Thomas Nelson. 2013. 272p. ISBN 9781595555274. $26.99.
Ramsey has become one of the most trusted names in personal finance, and this book is the genesis for his philosophy, providing a solid foundation for understanding budgeting and debt. It is, however, starting to feel a bit dated.
Rapley, Tonya B. The Money Manual: A Practical Money Guide To Help You Succeed on Your Financial Journey. CreateSpace. 2018. 147p. ISBN 9781987614787. $12.99.
This practical guide from the creator of the My Fab Finance website offers a focused introduction to managing financial health. The book starts with a self-assessment worksheet that readers will use in chapters on savings, budgeting, and debt. Rapley does not cover investing but stays focused on creating achievable financial goals.
Robin, Vicki & Joe Dominguez. Your Money or Your Life: 9 Steps to Transforming Your Relationship with Money and Achieving Financial Independence. Penguin. 2018. 368p. ISBN 9780143115762. $18.
Relied upon for nearly 20 years and updated in 2018, this work remains a clear guide to financial planning for today and for long-term financial freedom.
Sethi, Ramit. I Will Teach You To Be Rich: No Guilt. No Excuses. No BS. Just a 6-Week Program That Works. 2nd ed. Workman. 2019. 352p. ISBN 9781523505746. $15.95.
Ramit promises a six-week program to get readers started on the road to financial security. The book and Ramit's brand are aimed at a younger audience and challenge the more conservative methods outlined in other titles on this list. While Ramit's tone is not for everyone, he reaches young investors. The book is also one of few that address the FIRE movement.
Sokunbi, Bola. Clever Girl Finance. Wiley. 2019. 240p. ISBN 9781119580836. $24.95.
A straightforward guide to establishing the right mindset for financial planning. Sokunbi also focuses on budgeting, debt reduction, and investing.
Retirement Planning

Orman, Suze. The Ultimate Retirement Guide for 50+: Winning Strategies To Make Your Money Last a Lifetime. Hay House. 2020. 320p. ISBN 9781401959920. $26.99.
Like Dave Ramsey, Orman is a known brand in the world of personal finance. This title addresses both the emotional and practical sides of retirement planning for readers at the end of their working years and through their retirement.

Quinn, Jane Bryant. How To Make Your Money Last, Completely Updated for Planning Today: The Indispensable Retirement Guide. S. & S. 2020. 432p. ISBN 9781982115838. $18.
This classic guide to retirement focuses on how readers can manage their money in years up to and through retirement. It was last updated in 2020 to reflect changes in tax legislation, health insurance, and investment opportunities.
Tresidder, Todd R. How Much Money Do I Need To Retire? Uncommon Financial Planning Wisdom for a Stress-Free Retirement. Todd Tresidder. 2020. 236p. ISBN 9781939273062. $17.95.
To help readers calculate how much money they need to retire, Tresidder uses three approaches: conventional planning, lifestyle planning, and cash flow planning. The book does not cover much about retirement beyond answering the titular question.
Podcasts
Friends Talk Money (friendstalkmoney.org)
This is one of the few podcasts specifically dedicated to addressing the financial concerns of retirement. The weekly episodes cover everything from Medicare to cash flow management and estate planning.
How To Money (howtomoney.com)
With about 400 episodes, this biweekly podcast helps younger listeners create an emergency fund, pay down debt, and invest. The two hosts are friends and keep each episode feeling conversational.
The Ramsey Show (ramseysolutions.com/shows/the-ramsey-show)
This podcast from Dave Ramsey is one of 11 shows that make up the Ramsey network. The show follows the call-in model focused on financial matters.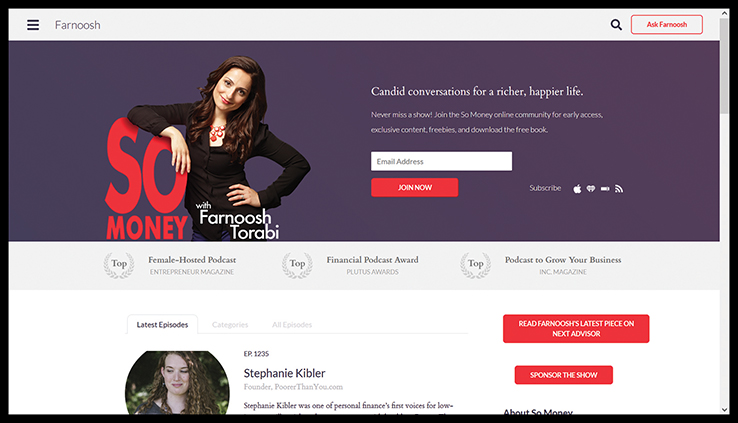 So Money with Farnoosh Torabi (podcast.farnoosh.tv)
With more than 1,200 episodes, So Money covers everything from talking to kids about money to understanding cryptocurrency. Torabi regularly interviews authors and other podcasters to provide multiple views on finance. n
Websites

360 Degrees of Financial Literacy (360financialliteracy.org)
The result of a national volunteer effort from Certified Public Accountants to help Americans understand their personal finances and develop money management skills, this site offers general information for managing personal finances and financial calculators for everything from retirement planning to disability insurance. Information is arranged by topic, including a section on COVID-19. The site is also available in Spanish.
America Saves (americasaves.org)
Part of a campaign coordinated by the nonprofit Consumer Federation of America, which is dedicated to helping individuals save money, reduce debt, and build wealth, this site focuses on budgeting and saving.

Consumer Financial Protection Bureau (Consumerfinance.gov)
This multimedia site has a wealth of resources for both consumers and educators. The consumer tools include videos and worksheets on a variety of financial matters. The site also includes the Ask CFPB page, an FAQ database of answers to personal finance topics. It is available in nine languages.
Financial Literacy in Public Libraries: A Guide for Building Collections (libguides.ala.org/finra-ore/personalfinance)
This LibGuide from the American Library Association's Financial Literacy Interest Group was created to address the "gaps within the personal finance collections of public libraries and, ultimately, enhance financial capability in the community." The guide focuses on 20 subject areas and includes books, periodicals, websites, and databases. It also includes resources for libraries for continued community outreach.
FINRA (finra.org/investors/personal-finance)
This is a government-authorized nonprofit organization dedicated to protecting investors and safeguarding market integrity. It is a solid resource to help beginning investors understand personal finance and the basics of investing.
Investopedia (investopedia.com)
This site helps more than 16 million people per month understand financial concepts, improve their investing skills, and learn how to manage their money. Highlights include a financial dictionary, simulations, and educational resources for beginners and experienced investors.
Money Smart (fdic.gov/resources/consumers/money-smart/index.html)
The Federal Deposit Insurance Corporation manages this website dedicated to educating Americans about their finances. Resources are organized around the five principles of financial literacy. The site is also available in Spanish.
MyMoney.gov (mymoney.gov)
Created by the Federal Financial Literacy and Education Commission, this website offers content similar to that on Money Smart, but provides a more basic introduction to topics. The site is also easier to navigate. Users will find the MyMoneyFive and Life Events pages organized around common topics like buying a house and having children. The site is also available in Spanish.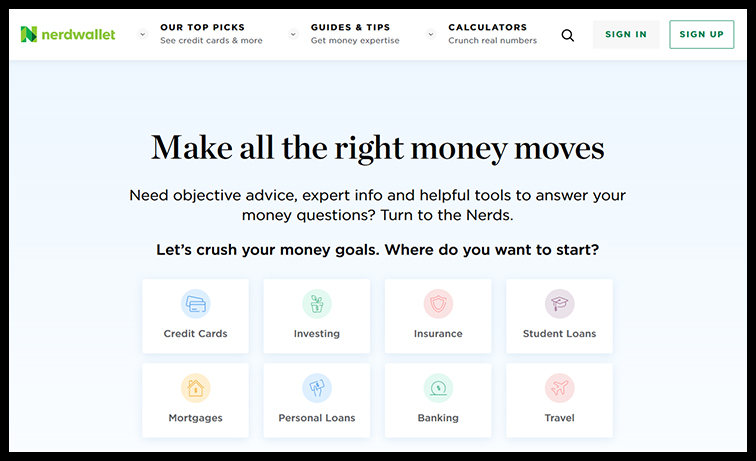 NerdWallet (nerdwallet.com)
This resource provides financial advice that focuses on the big picture as well as simple transactions. The site includes guides to credit cards, mortgages, loans, and even travel. Each section offers side-by-side comparisons of services, financial calculators, and simulations. The company offers a plethora of services to all users, but more tailored service is available for those with accounts.
---
John Rodzvilla is Assistant Professor at Emerson College, where he teaches in both the Writing, Literature, and Publishing department and the Business of Creative Enterprises program.