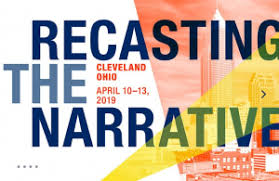 The theme of the Association of College and Research Libraries (ACRL) 2019 conference, "Recasting the Narrative," was in evidence throughout the event. Offerings at the conference, held April 10–13 in Cleveland, OH, took on a range of subjects that reflected the ways academic libraries—and librarianship—are changing, from new tools to shifting roles for libraries and those who work in them to a growing focus on the importance of centering equity, diversity, and inclusion in the library's work.
The conference attracted 3,335 onsite attendees, along with 1,033 exhibitors. An additional 337 attendees participated remotely through the Virtual Conference.
EAT, PLAY, LISTEN
Attendees ate well, thanks to the fleet of food trucks outside the Huntington Convention Center at lunchtime, and partied exuberantly at the Rock & Roll Hall of Fame, which offered both a cover band and silent disco (a DJ spinning tunes playing over dancers' headphones). The conference reception was held in the handsome reading room of "the People's University," the Cleveland Public Library.
The three conference speakers covered a range of ground. Opening keynoter Michele Norris, host of National Public Radio's All Things Considered, spoke about the Race Card Project. The project, which she founded in 2010, invites people to tell their stories about race in six words, and has received hundreds of thousands of responses. As a girl of color with a speech delay, said Norris, libraries saved her life, and she offered her own six words on race: "Still more work to be done."
Author Viet Thanh Nguyen, whose novel The Sympathizer (Grove) won the Pulitzer Prize for Fiction and a Carnegie Medal for Excellence in Fiction in 2016, gave a pointed speech on his identity as an immigrant and the need to go beyond simply celebrating other voices. "The problem isn't that we're voiceless," he said, "but that we're unheard." In order to recast the narrative, he said, "Representation matters, but it's not enough. We need decolonization."
For the final keynote, cartoonist and author Alison Bechdel (Dykes to Watch Out For, Fun Home) spoke to the power of words, pictures, and storytelling as avenues for truth-telling, both personally and for the culture at large. A self-described "librarian manqué"—she spent time behind the Oberlin College circulation desk for a work-study job—Bechdel noted that in today's climate, words were becoming tools to obliterate meaning, but libraries had the power to save us all. "Maybe you can't feed people the truth," she said, "but you can find ways to give more of them access."
SERVING STUDENTS, STAFF
Access, and giving students what they need to succeed, was an unsurprisingly recurring theme—as was a focus on helping library employees do their jobs. Student support and retention surfaced often, such as "Connect the Campus Dots: Using Institutional Systems to Support Students When They Need It Most," which featured Megan Oakleaf, associate professor at the Syracuse University iSchool, NY; Scott Walter, university librarian at DePaul University, IL; Kate Peterson, information literacy librarian at the University of Minnesota–Twin Cities; James Hodgkin, associate director of library, technology, and information and university librarian at the University of Gloucestershire, UK; and Anne Barker, humanities librarian and head of research services at the University of Missouri discussing what worked—and what needed work—on their campuses when it came to reaching students at their point of need. Drops in graduation rates, and the simultaneous rise in student debt, disproportionately impact students of color and those from low-income families, and while the collection and use of student data grows more sophisticated, libraries need to be able to locate themselves within those numbers. Panelists cited Educause's Integrated Planning and Advising Services (IPAS) as valuable for tracking student progress, as well as a number of early alert and student engagement tracking initiatives on their campuses.
"From Survey to Social Network: Building New Services through Connections" looked at the library role in incubating relationships and expanding its repertoire of new services—and how those functions can both complement and compete with each other. DePaul University's Heather Jagman, coordinator of reference, instruction and academic engagement, and Ana Lucic, digital scholarship librarian, examined the library's levels of outreach. Responses from the university's Liberal Arts, Science and Health, and Digital Media college faculty varied widely, and the panelists considered the reasons and ways to boost levels of connection.
"Free Speech on Campus: Current Issues" convened a panel strong on intellectual freedom issues to offer professional perspective on how libraries could step up in the event of a presidential executive order or other initiative threatening free speech on campus.
In "The Cost of Speaking Out: Do Librarians Truly Experience Academic Freedom?" Danya Leebaw, director of social sciences and professional programs at the University of Minnesota Libraries, and Alexis Logsdon, reference and instruction librarian, fine arts and humanities, at Macalester College dug into the ways academic freedom, or the lack of it, affects librarians. While 77% of the librarians surveyed stated that academic freedom was very important to them, and 61% said their institution had an academic freedom policy in place, their experience of freedom to express themselves, as well as repercussions for doing so, varied widely depending on race and ethnicity, faculty status, and financial safety net—discrepancies that they found "sobering," and which strongly impacted librarians' sense of mental and physical well-being at work.
FOCUS ON EQUITY
The critical work of interrogating equity on campus, both within and outside of libraries, was front of mind throughout the conference.
In "Challenging the 'Good Fit' Narrative: Creating Inclusive Recruitment Practices in Academic Libraries," Sojourna Cunningham and Samantha Guss, social sciences librarians at the University of Richmond, VA, and Jennifer Stout, teaching and learning librarian at Virginia Commonwealth University Libraries, looked at the concept of "fit" when it came to hiring practices, how it fed into institutional confirmation biases, and what steps search committees can take to avoid it. Similarly, in "Outsiders Turned Insiders: Expanding Skillsets through Non-MLS Hiring," Wes Smith, studio librarian, and writing center director Beth Leahy, both non-degreed employees at the University of Tennessee at Chattanooga Libraries, examined hiring committee responses to applicants without an MLS. "We're not saying drop the requirement," noted Smith. "We just want to amplify the conversation."
Diversity and Inclusion Planning: Fostering Culture and Community in Academic Libraries discussed first steps toward developing a library diversity and inclusion plan for a range of institution types. Panelists considered ways to set protocols in the library—including standards for collection development, websites, and hiring practices—as well as knowing when to look for outside advisement.
Ohio State University's assistant professor and head of teaching and learning Amanda Folk and human sciences and sociology librarian Tracey Overbey surveyed students of color about their library experiences both before and during college in "Narratives of (Dis)Engagement: Exploring Black/African-American Undergraduate Students' Experiences with Libraries." Although most had been regular users of their public libraries, they found, they experienced a level of disengagement in academic library services, for reasons ranging from the lack of librarians of color to negative interactions and experiences of implicit bias. Their message to librarians: Pay more attention to students of color.
Another major takeaway was to be found in title of the session "Getting Uncomfortable is Good for You: Turning Narrative into Action with Allyship and Advocacy," featuring Lilly Ramin, instructional technologies librarian at the University of North Texas Libraries; Jesse Silva, social sciences and government information librarian at the University of California, Berkeley; Colleen Sanders, reference librarian at Clackamas Community College, Oregon City, OR; and Maria Cunningham, special collections librarian and archivist and Annie Downey, associate college librarian, both of Reed College, Portland, OR. The panel considered how those in libraries can work to become more welcoming to staff members from underrepresented groups, from expanding collections to examining aspects of white supremacy culture within the library. Above all, they reinforced, always believe people who report issues, and always engage with them rather than try to make the problem disappear.
ACRL RESEARCH
The role of the library on campus is an evergreen topic, and the report from ACRL's most recent cohort of grant recipients on Academic Library Impact highlighted a range of queries as to where libraries' energies might be directed. Eight researchers presented on projects that studied the library's impact on students, communication with faculty and how library instruction services map to faculty needs, library data for student success assessment and its alignment with institutional data as a whole, the ways the library can empower parents of first-year students, and peer support within the library.
ACRL's new Research Agenda for Scholarly Communications and the Research Environment, to be published in early summer, has turned the association-sponsored research focus outward. The agenda, initiated by the ACRL Research and Scholarly Environment Committee (ReSEC), will concentrate on how scholarly communication can become more open, equitable, and inclusive—core values of ACRL as well as the American Library Association (ALA). Representatives of the ReSEC team—chair Yasmeen Shorish, associate professor at James Madison University Libraries, Harrisonburg, VA; Rebecca Kennison, executive director of K|N Consultants; and ReSEC vice chair Nathan Hall, director of digital imaging and preservation services at Virginia Tech, Blacksburg—presented on their research process and results.
The team conducted extensive community outreach on issues and definitions of open, equitable, and inclusion through online surveys, focus groups, in-person round tables, and public feedback on drafts. While all were interconnected, said Kennison, potential research areas coalesced into three main themes: people, content, and systems. Sample questions were developed tying each area to the three inclusion goals, less to set out a course of inquiry than "to seed research questions people might want to explore."
ACRL also debuted Project Outcome for Academic Libraries, based on the model developed by the Public Library Association (PLA). The free toolkit provides standardized surveys, an easy-to-use process for measuring and analyzing outcomes, and the resources libraries need to leverage their results to effect change in their institutions and beyond.
DISMANTLE BEFORE RECASTING
Some of the conference's offerings proposed that existing narratives required dismantling before they could be recast.
"From Value to Values: Information Literacy, Capitalism, and Resistance" featured panelists Eamon Tewell, reference and instruction librarian at Columbia University, New York; Nora Almeida, instructional librarian at New York City College of Technology, City University of New York; Romel Espinel, web services librarian at Stevens Institute of Technology, Hoboken, NJ; and Lisa Janicke Hinchliffe, professor/coordinator of information literacy services and instruction at the University of Illinois at Urbana-Champaign looked at some of the inequities—socioeconomic, political, and cultural—around traditional information literacy instruction. Infolit is a construct that is inherently political, noted Tewell, intertwined with libraries demand to prove their value and relevance to their institutions, and linked to "the commodification of information since the moment the term was coined."
Speaking to a packed room on the final day of the conference, Fobazi Ettarh, undergraduate success librarian at Rutgers University, Newark, NJ, struck a nerve advocating for pushback in "Becoming a Proud 'Bad Librarian': Dismantling Vocational Awe in Librarianship." The rhetoric around librarianship propagates the exploitative nature of the "noble calling," said Ettarh, blurring lines between the personal and professional, leading to "job creep," and setting up librarians for burnout and failure. Set your boundaries and refuse to cross them, she suggested; check back on your job description as a regular reminder, don't answer email on weekends (you can include that fact in your signature), and get peer support—you may only have one or two managers, but you have a lot of coworkers in the same boat. Ettarh not only received not only a standing ovation but a shout-out from Bechdel—who admitted to vocational awe about librarians in her keynote—and with that, the ACRL conference adjourned until 2021, when it will be held in Seattle.